5 Tips for a Plant Based Diet
Many are jumping on the plant-based diet bandwagon lately. While there are those who are vegan and plant-based for ethical reasons (abuse of animals), a diet is a different thing altogether. Since many are adopting a plant-based diet to help heal their bodies, I thought we could share some 5 Tips for a Plant Based Diet from those who have been successful with this type of dietary change.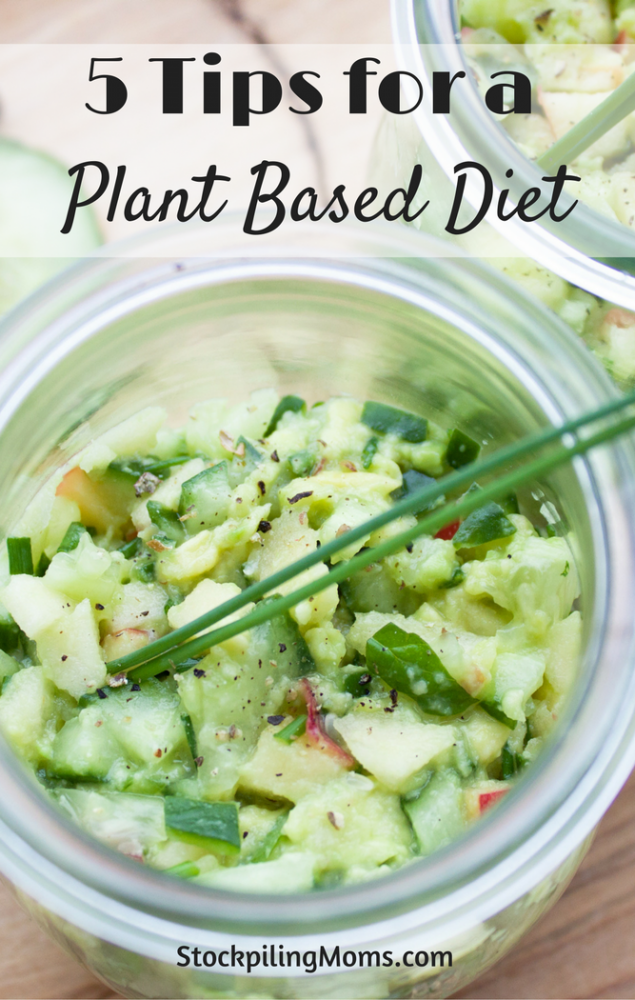 5 Tips for a Plant-Based Diet
Start with some transitional foods on hand.
Many really struggle with the ability to go cold turkey without meats and cheeses overnight. If that is you, then don't hesitate to include a few transitional foods at first. While they will help you to transition to a fully plant-based diet, they should be used sparingly to prevent added sodium and fats from being in your diet.
Some of our favorites are:
Gardein Mock Meat products
Kite Hill and Chao almond milk cheeses
Unsweetened Vanilla Almond Milk
Frozen Riced Cauliflower
Don't worry about the protein argument
So many people worry about getting enough protein. The reality is, that if you are eating a well-balanced diet of things like beans, grains, vegetables, and nuts, you will not have any imbalance in regards to your protein. However, you may want to add a simple B12 supplement or grab some nutritional yeast to sprinkle on things like popcorn and salads for an added benefit.
Read every nutritional label
Meat and animal products are found in much more than you expect. This includes things like powdered milk, powdered chicken or beef, and whey protein. If you are serious about being completely plant-based, then take the time to read every single label. Even things you don't think have meat or dairy, may actually include some powdered version for flavor.
Use Vegan guides for restaurant tips.
The app, The Happy Cow, is a great option for checking out your local area for the best plant-based friendly restaurants. You will find that many things you don't expect, much like mentioned above, will have meat or dairy. For instance, McDonald's French Fries actually include beef. How crazy is that?! Even if there isn't something listed as vegan or plant-based, take advantage of the side menu or salads for a healthy and appropriate meal.
Join Plant Based support groups.
One of the best things you can do is to find a local or online plant-based support group. Those who have gone through this transition before will have a wealth of information to share with you. I love the Plant-Based Eating groups on Facebook, but make sure that they will fit your unique needs. Make sure, however, when joining, that you understand that plant-based and vegan are two different things. While they may very well eat similarly, there is a lot of underlying information that will be important to acknowledge and understand.
Make sure to keep up with all of our dietary tips by checking out our other popular posts below!
Ultimate Ketogenic Diet Tips for Beginners
How to Follow a Keto Weight Watchers Plan
How to do a Low Carb Weight Watchers Diet
7 Tips for Ultimate Weight Watchers Success
Melissa is a football and soccer mom who has been married to her best friend for 24 years. She loves sharing recipes, travel reviews and tips that focus on helping busy families make memories.