5 Must Have Items For Moving With Dogs
As we get ready for our big move, these 5 Must-Have Items for Moving with Dogs are on my mind. You already know how important our dogs are. They are a part of our family and that means making this transition easy for them is really important. These tips are ideal for making a move with dogs.
5 Must Have Items for Moving with Dogs
Updated vaccinations and records. This is a must for any move with pets. Many states even request that you actually have this before moving across state lines with your dog. While I don't know how strictly they enforce these regulations, it is a good idea to make sure your pets are up to date.
Not only do you want to schedule a visit with your vet for a checkup and updates on vaccines, but you'll want to grab a copy of their records while you are there. This will help you when it is time to visit a new vet in the future.
Flea and tick prevention. While you may not have a problem with this in your current home, you want to be prepared for a new location. Dogs are obviously pets that spend time both inside and outside regularly and keeping them safe from these pests is vital to their health and yours. New locations will have different types of ticks and fleas, and often you will encounter worse problems in areas with more wooded lots or brush. Being prepared before you move is ideal.
There are many popular brands of flea and tick prevention out there. Check with your vet for their recommendations for what suits your dog and their needs before investing in any product.
Comfort items they already love. Just like your child may need something to remind them of their home, so will your pet. Bringing their toys, blankets, and bedding is important for them to feel comfortable and safe. Since you can't tell them what is happening in a way they can understand, this is a way to help them to understand and feel safe during the move. Bringing those things that are familiar and smell like home is a must.
Their crate or bedding easily accessible. Those first days in your new home will be tough to manage with boxes being unpacked and furniture moving around. Make sure you keep your dog's crate or bedding easily accessible in the car or moving truck. This makes it easy for you to pull it out and have ready when you arrive for them to settle in and feel comfortable relaxing in their new home.
Collar with contact ID tag. Moving with dogs is one instance when you may easily get separated from your pet. Even if you are used to traveling with them, this new transition means a lot of people in and out of the home and doors opening a lot. A dog can easily slip out unnoticed in the midst, and that can become a lost pet in no time. Making sure your pets are always wearing their collars with up-to-date contact information is a must. Pet ID Tags are fairly inexpensive and easy to grab with your updated address. I also recommend talking to your vet about getting your pets microchipped just in case you get separated.
Start planning ahead if you have pets for your move. These items are things you must have or must do before moving with dogs.
More Moving Tips: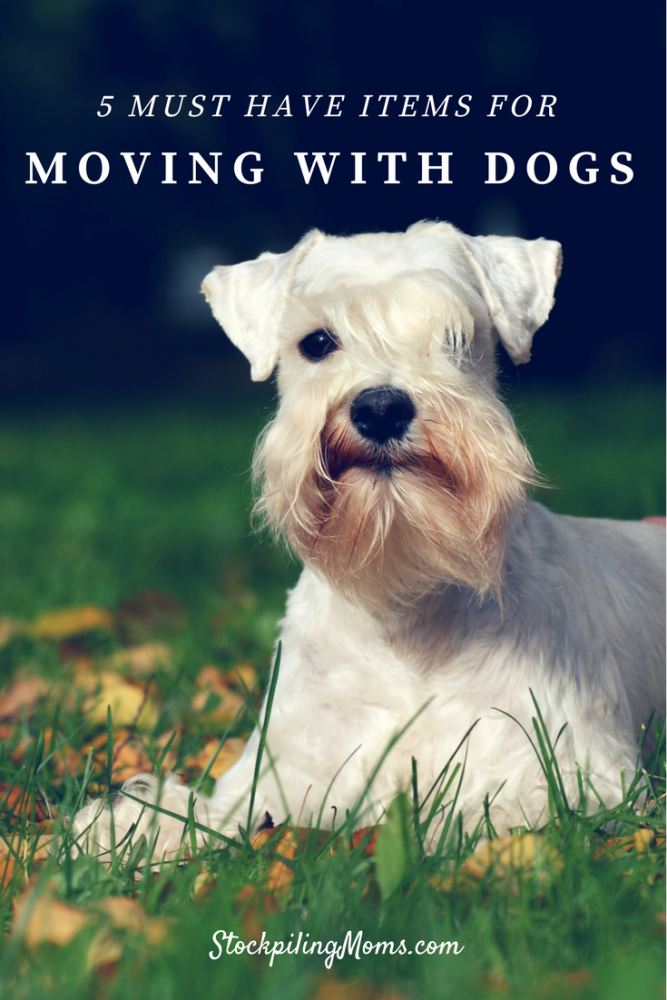 Melissa is a football and soccer mom who has been married to her best friend for 24 years. She loves sharing recipes, travel reviews and tips that focus on helping busy families make memories.