30 Easy Back To School Organizing Tips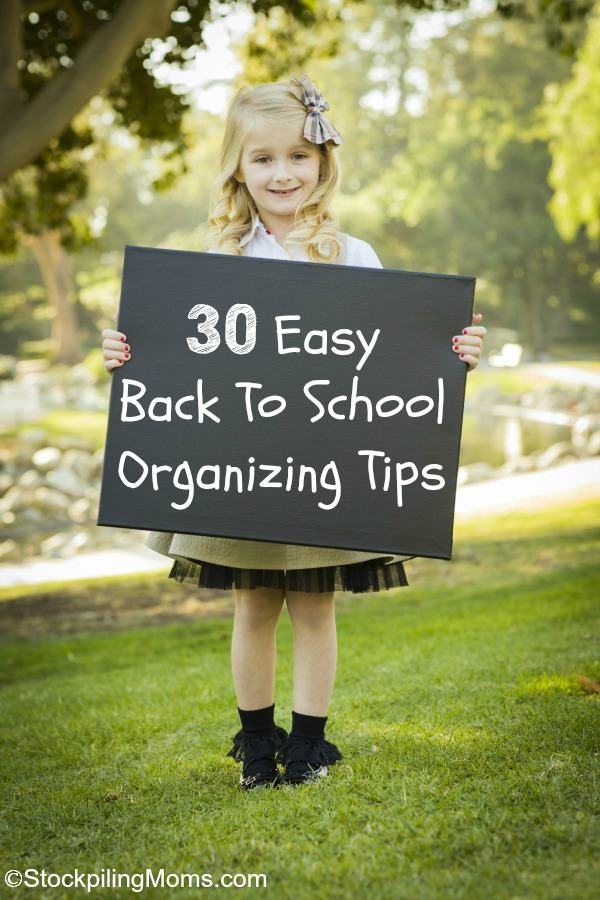 It may not seem time to consider back to school yet, but it is fast approaching and with it comes the need to be prepared and organized. Here are 30 Easy Back To School Organizing Tips that are sure to make the transition easy for your family this school year. Not only will you find fun things to involve your kids in doing, but things that will simply help you to save your sanity while transitioning back into the early morning school routines.
30 Easy Back To School Organizing Tips
Pick out clothes for each day on Sunday night so children only have to pull from the stack each morning.
Color coordinate lunch box and backpack for each child so there is no confusion in mornings on who gets what.
Make Freezer Breakfasts ahead of time to make your mornings easier.
In the evening portion cereal into bowls with lids so that the kids can pour milk, eat and go. Add fresh fruit that they can add to their cereal in a separate bowl. You can even portion out milk into a small container too. Keep it simple!
Create a fun chore board for the family to use to keep track of daily tasks. Dry erase boards, markers and fun magnets are a great way to mix it up.
Create a Homework Station that will keep kids on track when they have work to do after school.
Make their supplies unique with a few pieces of Washi Tape or Fashion Duct Tape, so they are more likely to keep track of them or consider ordering labels.
Save time and money with these easy DIY Lunchbox Icepacks
Sync the family schedule to your phone for easy reminders with the Google Calendar App.
Give your kids a boost of love with these fun Lunchbox Love Notes each day.
Create a simple bath and shower schedule so morning toilets are quick, easy and without arguments and fighting.
Start your earlier bedtime schedule at least two weeks before school starts to help kids adjust easily to the changes.
Print this Free Back To School Morning Routine Printable to help you stay organized this Fall.
Buy an extra set of school supplies to have at home so there is no need to worry about forgetting to take back to school each day.
Give everyone in the family an "inbox" for paperwork that needs to be signed, completed or returned to school. This will cut back on missing assignments and make back to school organization a breeze.
Buy only clothes that easily mix and match so there are no morning arguments over strange pairings by younger kids.
Update your mudroom with a simple wall hanging coat rack that will double as a back to school backpack organization hook.
Conquer Back To School frustrations with an afternoon "date" with each child within the first few weeks.
Turn off wifi and unplug electronics each evening until homework is completed.
That goes for Mom & Dad too. Make yourself available to your kids each day while they attend to homework so you can see what they are doing and give them needed encouragement and help.
Only allow each child to choose one sport or extra curricular activity each semester. This prevents them being overwhelmed and your schedule being overbooked.
Make a menu plan that lets everyone in the family choose at least one meal a week they want to have. When it comes to back to school organizing, having food scheduled and planned in advance will save you at least 4-5 hours a week of panic and frustration.
Stick to your menu plan instead of grabbing take out.
Use over the door shoe organizers to store craft and school supplies in your office for easy access.
Use your Crock Pot. Not sure where to begin? Check out our Crock Pot Recipes.
Give your kids daily chores and hold them responsible. Feeding pets, doing dishes, taking out trash and keeping their rooms tidy are easy and help relieve your stress level.
Don't forget to stop and listen to your kids needs.
Create a chalkboard wall with inexpensive chalkboard paint or vinyl decals.
Make a Back To School Organization Board with a cork or peg board like this one shown in Parents Magazine.
Make time for a glass of wine, a bubble bath or your favorite reality TV show at least once a week. You deserve to relax and clear your head to start over again the next day.
No matter what your kids school routine is like these 30 Easy Back To School Organization Tips are sure to help you conquer the insanity that is the first several weeks of school. Not only can you rest easy that their needs are taken care of, but you'll know you have created more time in your own schedule to spend listening to them, hanging out and creating memories with your children this year.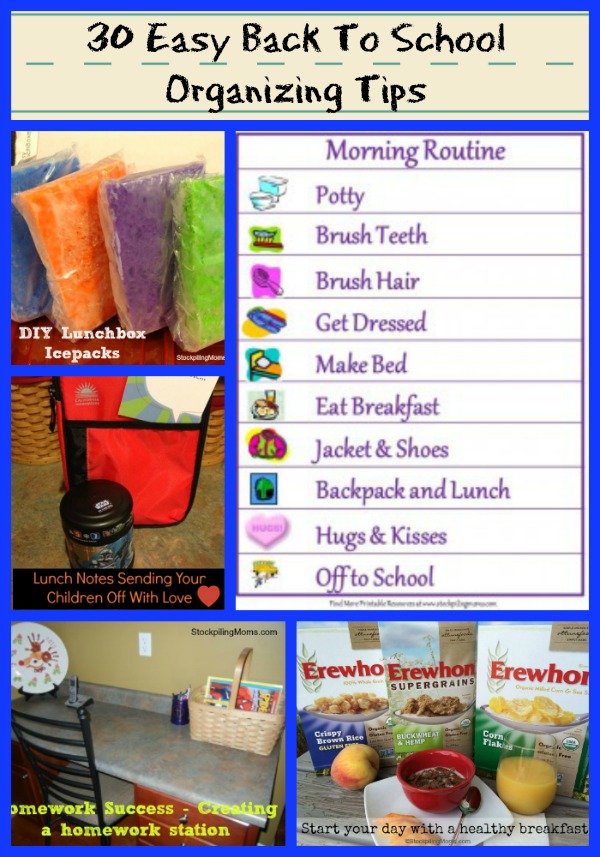 Of course sending your kids off to school with a healthy breakfast is the key! Check out Erewhon Organic Cereals. They are Non GMO, made with a short list of natural ingredients that you can actually pronounce and they taste good too! They are also allergy friendly. I have been enjoying them for three years and love the Buckwheat & Hemp Cereal.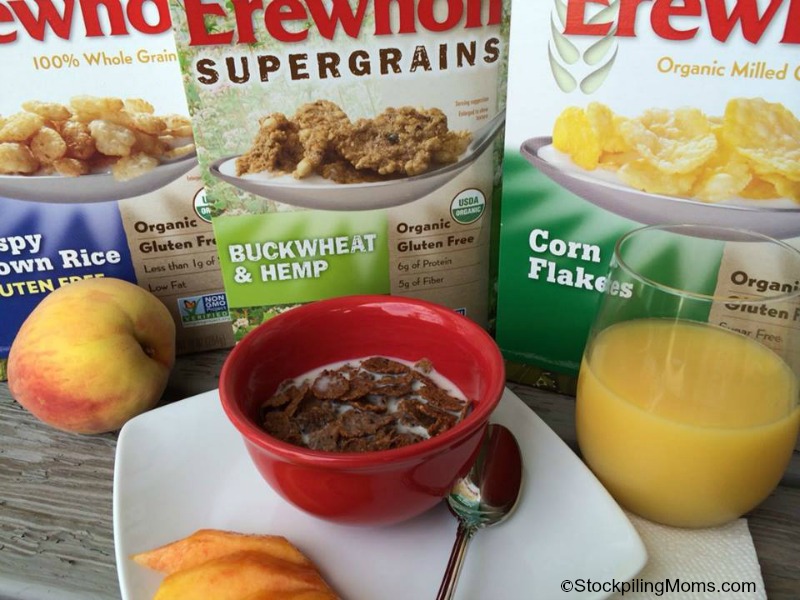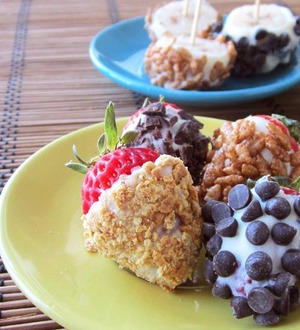 If you are looking for a yummy after school snack then check out these Frozen Yogurt Fruit Bites made with Erewhon Cereals and Graham Crackers.
Disclosure: This is a sponsored post on behalf of Attune Foods however all opinions are 100% my own. I personally love Erewhon cereal and have been eating it for 3 years. My personal favorite is the Buckwheat & Hemp.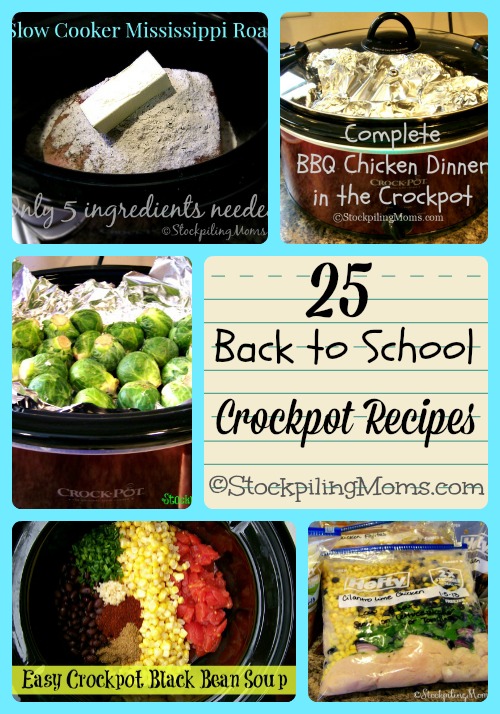 Melissa is a football and soccer mom who has been married to her best friend for 24 years. She loves sharing recipes, travel reviews and tips that focus on helping busy families make memories.