3 for 3 Lunch Challenge – Lunchbox Ideas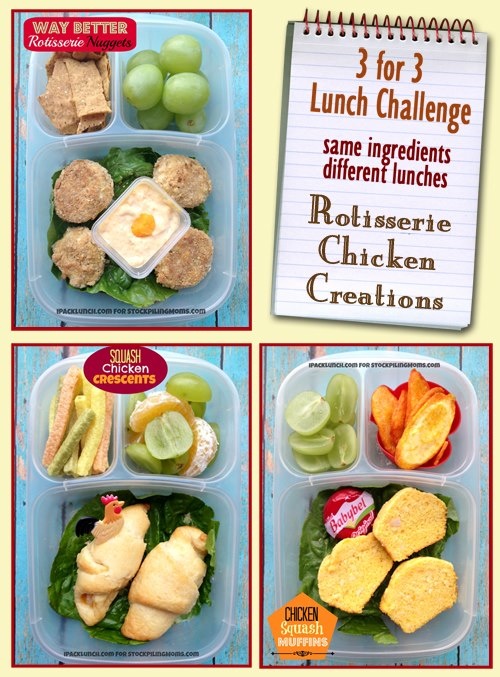 Welcome to our 3 for 3 Lunch Challenge. Each week I will try to help you stretch your food budget by showcasing 3 different ways to serve 3 main ingredients in your lunchboxes. I will use additional ingredients but will try to keep them limited to common pantry or refrigerator items. At times I will also suggest tools and techniques to help enhance your lunch packing. I have not accounted for any dietary considerations but please swap out for Gluten Free, Nut Free or other types of products as appropriate for your family!
Rotisserie Chicken (purchased already cooked at my local grocery store), Pureed Butternut Squash, Green Grapes
#1 Chicken Squash Muffins (pictured above)
Follow the instructions for your favorite corn muffin mix whether boxed or from scratch. To the completed mix add 1/3 cup diced rotisserie chicken and 1/3 cup pureed squash. Bake muffins as directed. I used one and a half muffins in the lunch box shown above.
Added for snacks was a Babybel Cheese, some Carrot Chips and fresh green grapes cut in half.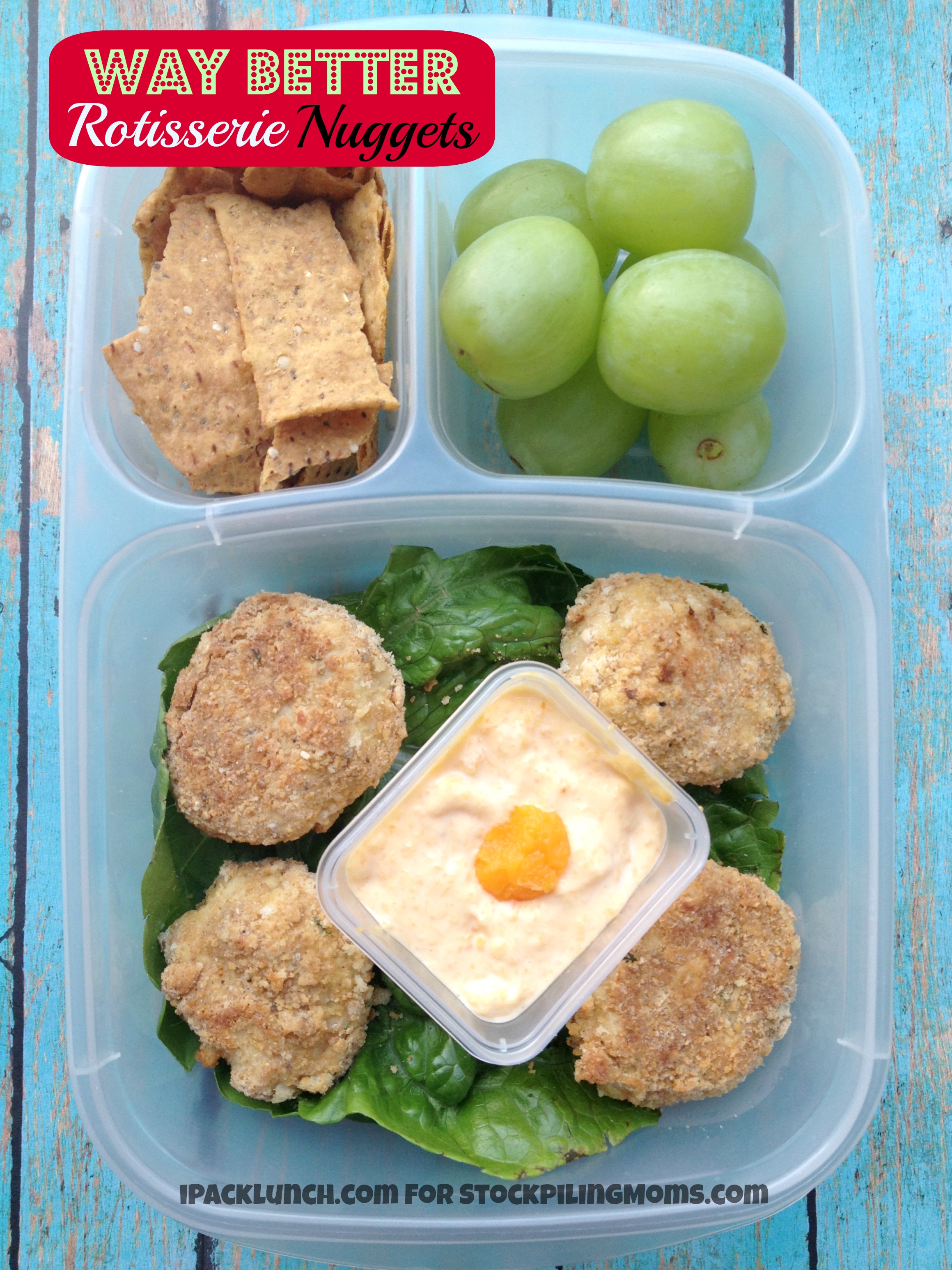 #2 Chicken Nuggets (pictured above)
I made chicken nuggets by grinding 2 cups of rotisserie chicken in a food processor and then combined with 1 egg and 1/4 cup of panko bread crumbs. I seasoned the chicken mixture to taste. In this case I used salt, pepper, garlic powder and oregano. I then made a crumb coating by grinding up 1 cup of Way Better Snacks Sweet Potato Tortilla chips and combining with 1/4 cup Panko bread crumbs. Next I formed the mixture into nugget shapes and then dredged in flour, then egg and then the crumb mix. I placed coated nuggets on a cookie sheet sprayed with cooking spray. I then sprayed the nuggets themselves with the cooking spray. I baked the nuggets at 400 degrees for about 12-15 minutes turning the nuggets over roughly halfway through to be sure both sides browned. This will make roughly 1 dozen nuggets. Serve 3-6 nuggets in your lunchbox based upon who you are feeding. (Yes, it is ok to eat nuggets cold as they are fully cooked.)
Then as a dipping sauce I combined mayo with pureed squash until I achieved a taste I liked (use more squash then mayo). You can sprinkle in some cinnamon as well.
For snacks I added Way Better Snacks Sweet Potato Tortilla Chips (since I had them out for the crumb coating). I tossed in some whole green grapes to round this box out.
#3 Squash Chicken Crescents (pictured below)
I laid out the uncooked refrigerated crescent rolls on a cutting board (use your favorite purchased brand or make your own). I spread a thin layer of cream cheese along the wide end of the roll and then topped with about 2 teaspoons of pureed squash. I added a piece of the cooked rotisserie chicken and then rolled up and baked as instructed on the package. Allow to cool completely when you remove the rolls from the oven. I have served 2 rolls in this lunch box but add more or less based upon who you are serving.
For snacks I have added green grapes halved mixed with clementine oranges (both fruits are available in the colder season in most markets, you can skip the oranges). I also added Sensible Portions Garden Veggie Straws.
OK yes, the food pick is technically a rooster and not a chicken but I still thought it was fun! 😉
Always substitute for the snack of your choice and make adjustments for dietary considerations as necessary!
Please adjust portions for your family members, lunches shown in photos are just for a reference!
Tip: Remember to add crunchy snacks in the morning so they stay crunchy!
Tip: Food picks can be found in most party stores or stores with a party section. Food picks can also be ordered online.
All three lunches are shown in an Easy Lunch Box.
You may also enjoy:
3 for 3 Lunch Challenge – 9/30
3 for 3 Lunch Challenge – 10/7
3 for 3 Lunch Challenge – 10/14
3 for 3 Lunch Challenge – 10/21
3 for 3 Lunch Challenge – 10/28
3 for 3 Lunch Challenge – 11/4
3 for 3 Lunch Challenge – 11/11
3 for 3 Lunch Challenge – 11/18
3 for 3 Lunch Challenge – 11/25
3 for 3 Lunch Challenge – 12/2
You may also want to check out:
Here is a how to get started Menu Planning Monthly. We believe it helps us to stay on budget and cook from our Stockpile and save more!
Melissa is a football and soccer mom who has been married to her best friend for 24 years. She loves sharing recipes, travel reviews and tips that focus on helping busy families make memories.