Organic & Gluten Free Easter Candy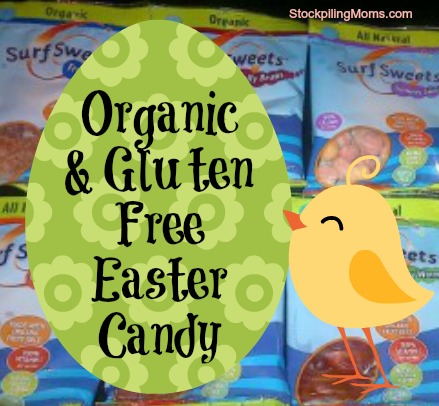 Organic & Gluten Free Easter Candy. It is time to start thinking about Easter and filling my son's basket is always on that list. If you have not had the opportunity to check out Surf Sweets®, it is the leading brand of organically sweetened, fruitfully delicious and naturally good gummy candies and jellybeans. Surf Sweets sent me some Gluten Free and Organic candy to taste, and I have to be honest it didn't last till Easter 🙂
I am a huge gummy fan, and the Surf Sweets candy was so good! It had a "clean and natural" taste if that makes sense. What I love is the products are Gluten Free, so they are safe for me to enjoy too! They are free of artificial colors and flavors and are organic and taste so good!
"More and more parents are looking for better-for-you, more natural options for treating their families," says Bert Cohen, President and Founder of TruSweets, LLC. "Our Surf Sweets team is no different," he adds. "As parents ourselves, we're always looking for unique products for our families that are made by like-minded companies committed to making 'better for you' products that help our planet."
Surf Sweets delicious new 8-ounce seasonal spring mix of its popular Organic Jellybeans for only $4.49. The new seasonal spring mix includes six new fruitfully delicious and naturally good flavors: tropical punch, lemonade, mixed berry, pineapple, tangerine and watermelon.
Surf Sweets Organic Jellybeans use certified USDA organic ingredients grown the way nature intended. When a product is certified USDA organic, its ingredients have been grown free of artificial fertilizers and harsh chemical pesticides.
Organic agricultural practices enhance the biological structure and nutrients of the soil resulting in a pure, high-quality harvest and the long-term sustainability of the farm. Add Surf Sweets Organic Jelly Beans to your Easter baskets with the confidence that you are making a better choice for your family and your planet.
Here are some tips for filling your Easter Basket Organically:
A tisket, a tasket, buy just one Easter basket. It's smart to invest in just one Easter basket per child and reuse them year after year. Buying new baskets each year can be wasteful. Better yet, repurpose an old basket with a fresh coat of paint. Whatever you do, avoid buying a basket made from petroleum-based plastic.
Shred your own Easter grass. We have a great new use for your shredder…Easter basket grass! Prevent landfills from filling up post-Easter season with fake plastic grass by shredding grass yourself with old newspapers or magazines. We did this with the Sunday Funny Paper and my son got a real kick out of it.
Fill Easter Baskets with items that can be used outside. Such as sidewalk chalk, gardening tools and seeds, bubbles, jump rope and art supplies.
Surf Sweets offers eight unique varieties of its mouth-watering organic and natural gummy candies and jelly beans, all of which are made with organic fruit juice and sweeteners:
Gummy Bears
Gummy Worms
Organic Jelly Beans
Sour Worms
Organic Fruity Bears
Gummy Swirls
Sour Berry Bears
Organic Fruity Hearts
Check out our Gluten Free Resources on the blog too!
Melissa is a football and soccer mom who has been married to her best friend for 24 years. She loves sharing recipes, travel reviews and tips that focus on helping busy families make memories.