Parent's Choice Formula – Your Choice Matters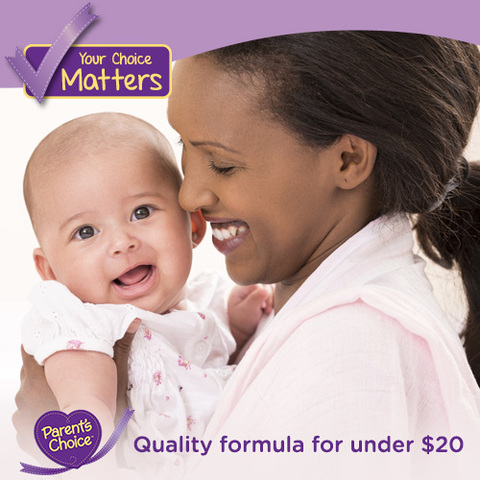 Parent's Choice Formula – Your Choice Matters. When you have a newborn, friends and family are quick to offer opinions on feeding methods, sleep schedules, and everything in between. New Mothers appreciate well intentioned advice, but sometimes a new mom simply needs the affirmation that her choice matters.
I can remember when I was waiting for Peyton to come home from Guatemala, I got so much advice that my head was literally swimming. Whether mom breastfeeds, bottle feeds, or supplements with formula, let's not give her too many "opinions" and instead let's support her for making the best choice for her baby and for mom too! It is important to empower new moms and make them feel secure in their choices. It really is time to make them feel like "mom knows best".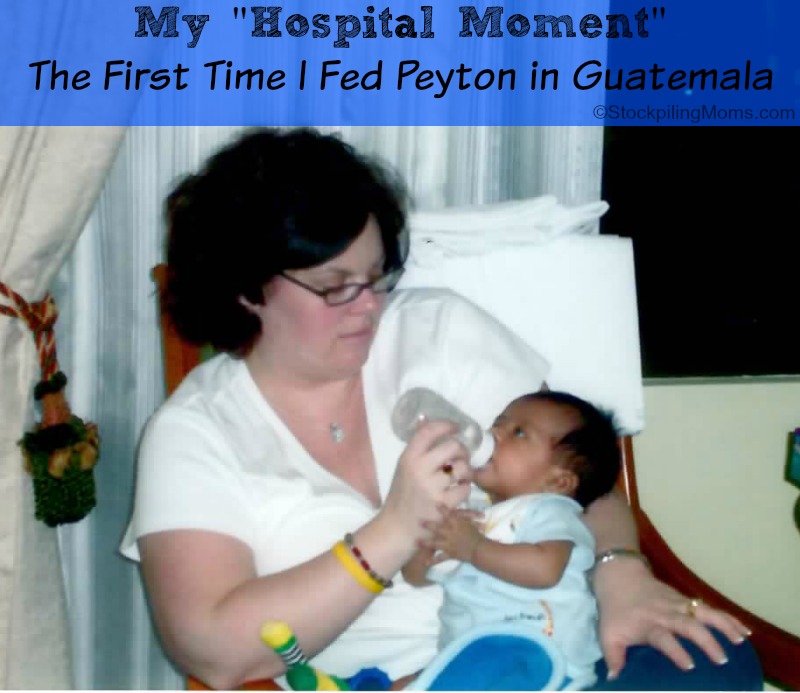 Eleven years ago, when Peyton came home from Guatemala, he was fed a well-known, nationally advertised "name brand" infant formula. My former students called this photo my "hospital moment" and I couldn't agree more. There is nothing more precious than the first moment you hold your baby and feed him. Peyton was 3 months old, and we were at the Marriott in Guatemala City but "this is my hospital moment".
Once we arrived in the United States and we went to his first doctor appointment, we were handed a different "name brand" canister of infant formula. We asked our pediatrician if one formula brand was better than the other, and he explained to us that no, all formula brands meet the same FDA standards. Choosing an infant formula is a personal preference. All infant formulas sold in the United States provide complete nutrition for a baby's first year. So, the 2nd question. What is the difference? Brand name recognition. WOW! All you are really paying for is the brand name on the canister. We decided to do some of our own infant formula price and ingredient comparison before selecting a formula for Peyton.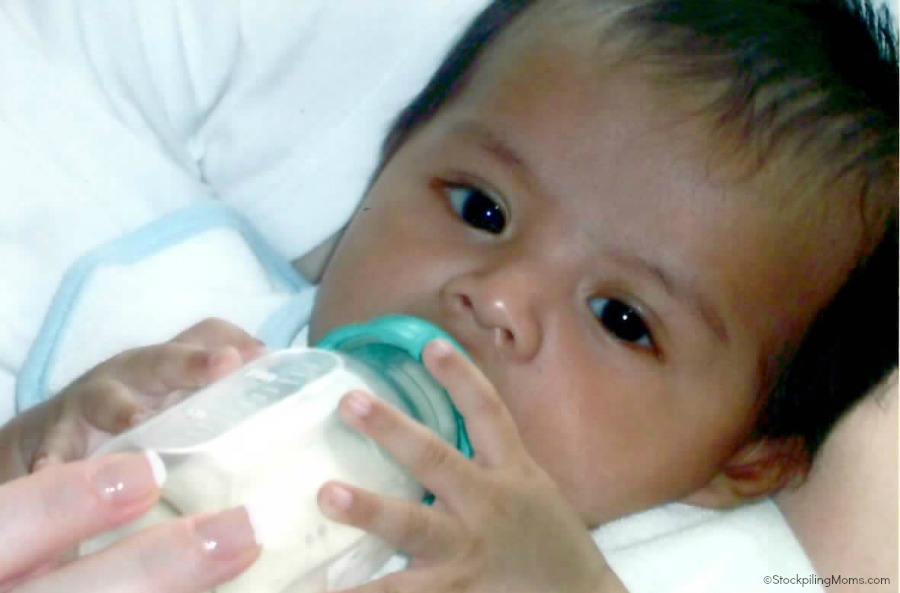 Comparing Infant Formula
My husband went to the store to purchase the formula. He inspected the labels and found the Store Brand Formula had the exact same ingredient list as the advertised brand we received from our pediatrician. My husband called me from the store and said, "The Store Brand Formula has the same exact ingredients and costs much less per container than the name brand". I will never forget that day. I thought, well he is used to the brand he has been using BUT with the savings per container, that really adds up! So, we made the switch to the store brand and never looked back. It was a huge way for us to save on baby expenses. My husband figured out that decision saved us hundreds of dollars.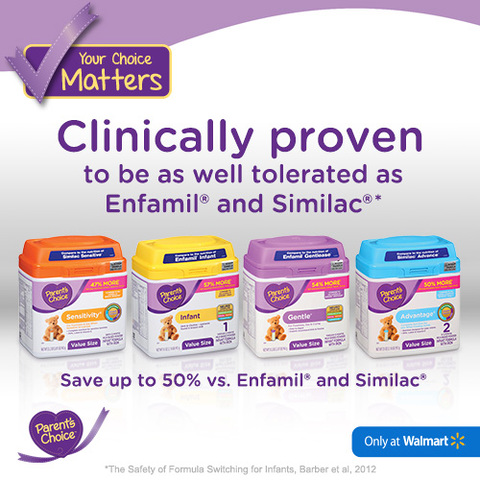 Parent's Choice® baby and toddler products are available exclusively at Walmart. In addition to saving up to $600 a year over alternative formulas, shoppers who choose Parent's Choice® will discover an infant formula that is:
Nutritionally comparable to more expensive national brand infant formulas, including Enfamil®, Similac®, and Gerber®.
Compliant with FDA nutritional standards and the recommendations of the AAP – the American Academy of Pediatrics.
Clinically proven to support growth and development.
Easy to digest and has been well tolerated by millions of babies.
Clinically proven to be as well tolerated by infants as national brand formulas.
Exclusive to Walmart since 1998, Parent's Choice® Infant Formula has been a leading choice for feeding babies with millions of parents across the United States.
Today, this private label brand extends beyond infant formula to include:
Baby and Toddler Foods (Yogurt Bites, Cereals, Cereal Bars, Little Puffs®, Little Fruits®, Little Munchers™, and Little Wheels™)
Toddler Formula for Older Infants
Ready-to-Drink Pediatric Nutritional Beverages
Pediatric Electrolyte Rehydration Solution and Powder Sticks
Be sure to check out the different varieties:
Parent's Choice® Premium Powder Infant Formula
Value Size 35oz- Makes 65, 4 oz. bottles

Clinically proven to support growth and development
Parent's Choice® Advantage Tub Powder Stage 2 Formula
Value Size 35oz

Suitable for babies 6-12 months
Parent's Choice® Sensitivity Canned Powder Infant Formula
Available in Value Size 33.2oz – Makes 59, 4oz bottles

For fussiness & gas
Parent's Choice® Gentle Infant Formula with Iron
Available in Value Size 33.2oz – Makes 60, 4 oz. bottles

For fussiness, gas and crying
Regardless of if you choose to breast feed, bottle feed or supplement the choice is yours and don't let anyone pressure you or feel bad regardless of what you decide because your choice matters!
Disclosure: Post sponsored by Mirum Shopper but all opinions are my own.
Melissa is a football and soccer mom who has been married to her best friend for 24 years. She loves sharing recipes, travel reviews and tips that focus on helping busy families make memories.