How to prepare your body for hot yoga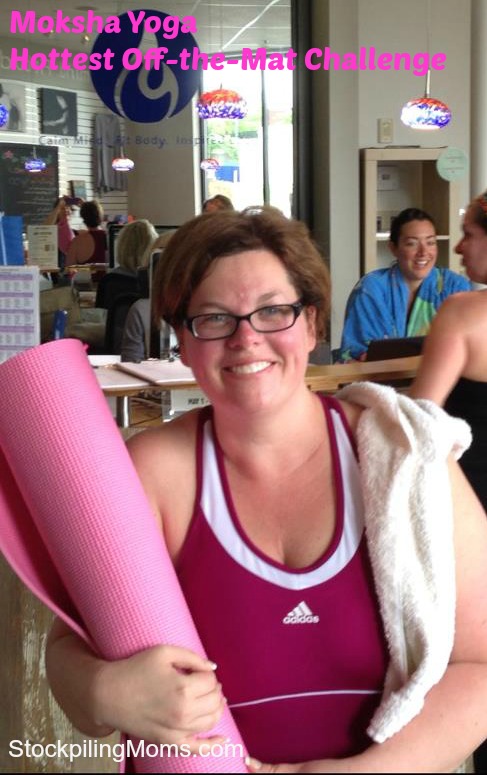 How to prepare your body for hot yoga. I just took the Moksha Yoga Hottest Off-the-Mat Challenge – Yes this is me after a 75-minute Hot Yoga class! I am excited to share some tips with you on how to prepare your body for hot yoga.
How to prepare your body for hot yoga:
Moksha Yoga's third annual Grow Your Yoga campaign launched on May 1st! It's a 30-day off-the-mat yoga challenge focusing on the seven pillars of Moksha including health, peace, accessibility and support for others.
I had the opportunity to go and try it firsthand. I had NEVER tried yoga before, so I was more than a little nervous about it. Not only was I trying yoga for the first time it was Moksha (hot yoga) I worried that I wouldn't make it through the class. In preparation or my first class I drank 90 ounces of water the day prior.
That morning I got up at 6:30 am and I drank 24 oz of water and prepared a green smoothie and I ate two boiled eggs. I wanted to be sure I was hydrated and had some protein. I took a 24 oz water bottle with me to class and I also packed another 24 oz bottle of water for after the class. I also packed another green smoothie for after the class in case I needed it (and I am glad I did).
I attended a class at Moksha Yoga NKY. I arrived early and took a tour of the studio. I had the opportunity to talk to the instructor prior to the class which gave me some peace of mind. The instructor advised that I might want to place my mat closes tot he door. I did decide to place my mat closest to the door in case I needed to "escape". I took my own yoga mat and a couple of towels plus my water bottle into class.
Before going to the class I used some essential oils which helped center me and take away my worries. I am proud to say that not only did I "make it" – I LOVED it! It was an amazing workout and I left with the desire for more. Hopefully soon!
The best part of Grow Your Yoga? Anyone can participate. Simply follow the weekly challenges and share via the hashtag #GrowYourYoga. I was a first timer and didn't get embarrassed It was truly an amazing experience. I sweat more than I ever have in my life and when I left my mind felt clear and my body felt good. It was a great experience for mind/body/soul.
About Moksha:
Moksha hot yoga is a unique series of postures taught with accessibility in mind. The series is a cardiovascular workout that strengthens and tones the muscles and increases flexibility while calming the mind and reducing stress. The "hot" in hot yoga means we practice in a room heated to 100 degrees and 40-50% humidity. The heated environment allows for deep, safe stretching and promotes detoxification of the skin, blood and muscles through sweat. Most classes are suitable for all levels of ability.
The 30-day off-the-mat challenge hopes to raise $100,000 for the Maasai Wilderness Conservation Trust. Funds raised during the challenge will go to the Maasai Wilderness Conservation Trust (MWCT)—an organization backed by actor and activist Edward Norton that works to protect the legendary ecosystems and astounding biodiversity of East Africa.
The Challenge is broken down by week with specific goals.
Week 1: Be Healthy
Eat environmentally sustainable foods including locally grown, vegetarian, organic or vegan and share a recipe or image of your dish online with hashtag #growyouryoga. 20 participants will receive a cookbook by Renee Loux.
Week 2: Be Peace
Practice 10 minutes of meditation every day and pay attention to what your voice is saying when your mind is silent. Share your reaction to this challenge, an image or quote that evokes peace online with hashtag #growyouryoga. 20 participants will receive a Manduka meditation and travel cushion.
Week 3: Be Accessible
Practice one week of no gossip and be accessible to deeper conversations. Share the impact listening rather than reacting has on you via the #growyouryoga hashtag. As a bonus – bring a friend to class for free. 20 participants will receive a 90-minute Moksha CD.
Week 4: Reach out
Participate in the Maasai Wilderness Conservation Trust Fundraiser and help Moksha reach its goal of $100,000. Share the fundraiser URL on Facebook, Twitter and Instagram or upload your cutest animal photo using the #growyouryoga. 20 participants will receive handmade Maasai bracelets.
For more information on Moksha Yoga – Visit www.mokshayoga.ca
I personally attended at class locally at Moksha Yoga NKY – there is also a location in Cincinnati. I had an amazing experience and I would encourage you to consider yoga or Moksha. They offer a $40 introductory month of unlimited classes is available to new students!
What a DEAL! In addition, after attending my class I was rewarded with 10 points and after I registered with my information, I got an email with a FREE class on my birthday which is just 12 days away!
mokshayogacincinnati.com
mokshayoganky.com
Disclaimer: This is not a sponsored post – I did receive a free Moksha Yoga class however all opinions are 100% my own. Always consult your physician before you start a new exercise routine.
You May Also Enjoy:
Four Yoga Poses to Reduce Stress, Anxiety and Depression
Part Two – Four Yoga Poses to Reduce Stress, Anxiety and Depression
Part Three – Four Yoga Poses to Reduce Stress, Anxiety and Depression
Melissa is a football and soccer mom who has been married to her best friend for 24 years. She loves sharing recipes, travel reviews and tips that focus on helping busy families make memories.