A Mardi Gras celebration is not complete without a colorful ring shaped pastry with a surprise inside! Everyone will enjoy the fun of this festive and delicious Mardi Gras King Cake.
Drizzled with icing, sprinkled with green, gold, and purple sugar sprinkles, this yummy cake also features a secret surprise – a little plastic toy baby baked into the pastry! Pick the piece with the toy baby inside, and you're crowned king or queen of the party! It is fun to present the King or Queen with a crown when they find it!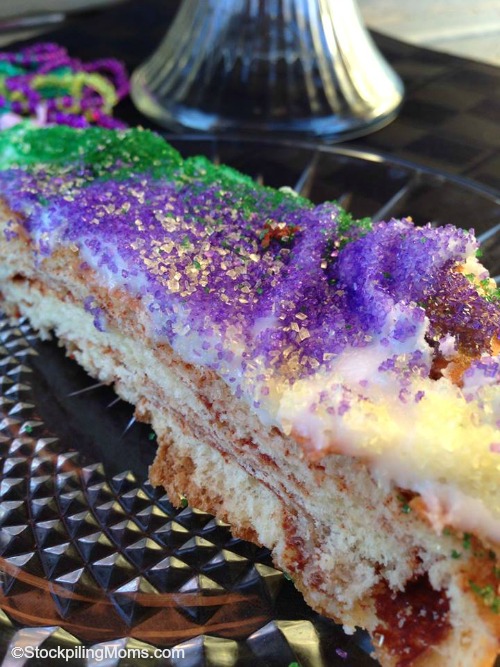 Mardi Gras King Cake is similar to coffee cake. A sweet bread that is perfect for dessert! To hide the toy baby into the cake, insert it into the cake while it is slightly warm from baking. The icing and sugar crystals should cover where you inserted it. Be cautious when serving a King Cake to young children.

Mardi Gras is French for Fat Tuesday, referring to the practice of the last night of eating richer, fatty foods before the ritual fasting of the Lenten season, which begins on Ash Wednesday.
The king cake tradition began in France in the 19th century, and honors the Christian story of the three kings traveling with gifts for the Christ child. The cake's three colors represent justice (purple), faith (green), and power (gold). The cake's shape symbolizes the unity of all Christians as well as the shape of a king's crown.
Before plastic toy babies, bakers added coins or whole pecans to bring wealth, luck, and to pick the Mardi Gras king and queen. Today people of all faiths enjoy king cakes between Twelfth Night (Epiphany) and Mardi Gras. We hope you have fun if you choose to bake a Mardi Gras King Cake. Our family loved it!
Mardi Gras King Cake Recipe
Mardi Gras Kings Cake Recipe - No Fat Tuesday Celebration is complete without it!
Print Recipe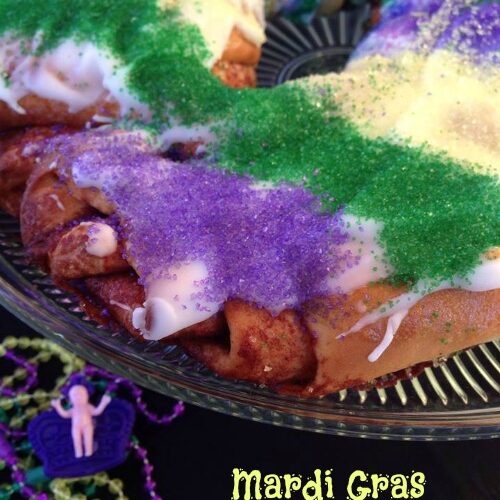 Ingredients
Pastry:
1

cup

milk

1/4

cup

butter

unsalted

2

.25 ounce packages active dry yeast

2/3

cup

warm water

must be warm to activate the yeast

1/2

cup

granulated sugar

2

eggs

1 1/2

teaspoons

salt

1/2

teaspoon

nutmeg

5 1/2

cups

all-purpose flour
Filling:
1

cup

packed brown sugar

1

tablespoon

ground cinnamon

1/2

cup

all-purpose flour

1/2

cup

melted butter
Icing:
1

cup

confectioners

powdered sugar

1

tablespoon

water

Yellow

Green and Purple Sprinkles
Instructions
Scald milk, remove from heat and stir in 1/4 cup of butter. Allow mixture to cool to room temperature.

In a large bowl, dissolve yeast in the warm water with 1 tablespoon of granulated sugar. Let stand for 10 minutes.

When yeast mixture is bubbling, add the cooled milk mixture. Whisk in the eggs. Stir in the remaining granulated sugar, salt and nutmeg.

Beat the flour into the milk/egg mixture 1 cup at a time. When the dough has pulled together, turn it out onto a lightly floured surface and knead until smooth and elastic, about 8 to 10 minutes.

Lightly oil a large bowl, place the dough in the bowl and turn to coat with oil. Cover with a damp cloth or plastic wrap and let rise in a warm place until doubled in volume, about 2 hours. When risen, punch down and divide dough in half.

Preheat oven to 375 degrees F.

Grease 2 cookie sheets or line with parchment paper.

To Make Filling: Combine the brown sugar, ground cinnamon and 1/2 cup flour. Pour 1/2 cup melted butter over the cinnamon mixture and mix until crumbly.

Roll dough halves out into large rectangles (approximately 10x16 inches or so). Sprinkle the filling evenly over the dough and roll up each half tightly like a jelly roll, beginning at the wide side (you want it to be a vertical roll).

Bring the ends of each roll together to form 2 oval shaped rings. Place each ring on a greased cookie sheet.

With scissors make cuts 1/3 of the way through the rings at 1 inch intervals. Let rise in a warm spot until doubled in size, about 45 minutes.

Bake in preheated oven for 30 minutes.

Push the doll into the bottom of the cake.

Frost while warm with the icing and then decorate with green, purple and yellow sugar sprinkles.
Lent Recipes:
Melissa is a football and soccer mom who has been married to her best friend for 24 years. She loves sharing recipes, travel reviews and tips that focus on helping busy families make memories.