How to Thaw a Frozen Turkey
Are you preparing Thanksgiving for your family? If so you want to check out this post on how to thaw a frozen turkey before cooking it. It is important that it is thawed safely as you don't want anyone to get ill from your meal.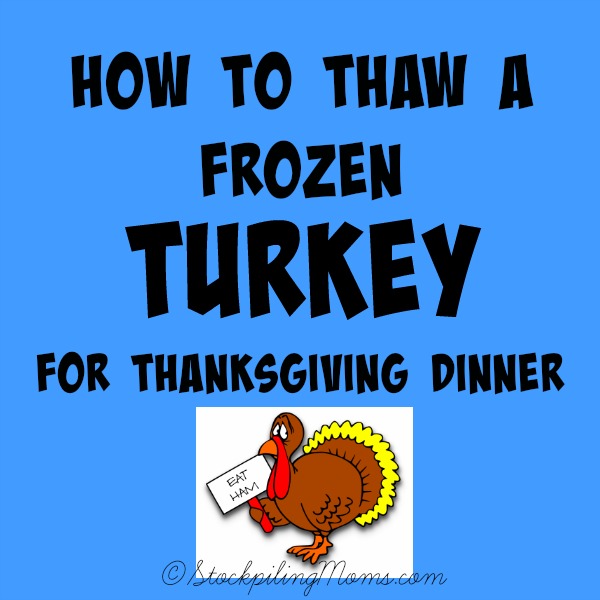 HOW TO THAW A FROZEN TURKEY:
How to Thaw a Frozen Turkey in time for your Thanksgiving dinner. A lot of people have been asking lately what is the best way to thaw a turkey or how long should I thaw a turkey to be ready to cook. So of course we had to write an article to help everyone out. So this post goes over the time guideline for thawing. How to Thaw a Frozen Turkey: Part 2 post has step by step directions on different thawing methods.
How to Thaw a Frozen Turkey
Refrigerator Thawing Times
For a Whole Turkey or Turkey Breast:
4 to 12 pounds — 1 to 3 days
12 to 16 pounds — 3 to 4 days
16 to 20 pounds — 4 to 5 days
20 to 24 pounds —5 to 6 days
A thawed turkey can remain in the refrigerator for 1 or 2 days before cooking. Foods thawed in the refrigerator can be refrozen without cooking but there may be some loss of quality according to USDA website. (( I (Stephanie) personally would not recommend doing this)). However, I will leave that up to you to decide.
Cold Water Thawing Times
4 to 12 pounds — 2 to 6 hours
12 to 16 pounds — 6 to 8 hours
16 to 20 pounds — 8 to 10 hours
20 to 24 pounds — 10 to 12 hours
A turkey thawed by the cold water method should be cooked immediately. After cooking, meat from the turkey can be refrozen.
For leftover turkey after it has been cooked you can freeze it for future recipes and to keep it fresh longer. Learn how by clicking here —>How to FREEZE leftover Turkey
Turkey Recipes You May Enjoy:
2 Ingredient Slow Cooker Turkey Breast
Smoked Turkey Cranberry-Orange Sandwiches
Turkey & Gravy Thanksgiving Leftovers Recipe
Tastes Like Thanksgiving Casserole
THANKSGIVING CRAFT IDEAS:
BEST EVER THANKSGIVING CROCKPOT RECIPES:
Shelley is a boy mom, marine wife, and is blessed with an amazing family. She loves sharing recipes, travel reviews and tips that focus on helping busy families make memories.