How To Do A Low Carb Weight Watchers Diet
This week in our 52 Weeks to Wellness series we are going to look at How to Do a Low Carb Weight Watchers Diet. We have already covered how to do Weight Watchers for free so if you haven't checked those tips out take a look before you begin with this. Once you have familiarized yourself with what your points are and where to go to figure points, it's time to start thinking about how you can manage incorporating a low carb diet into this plan as well.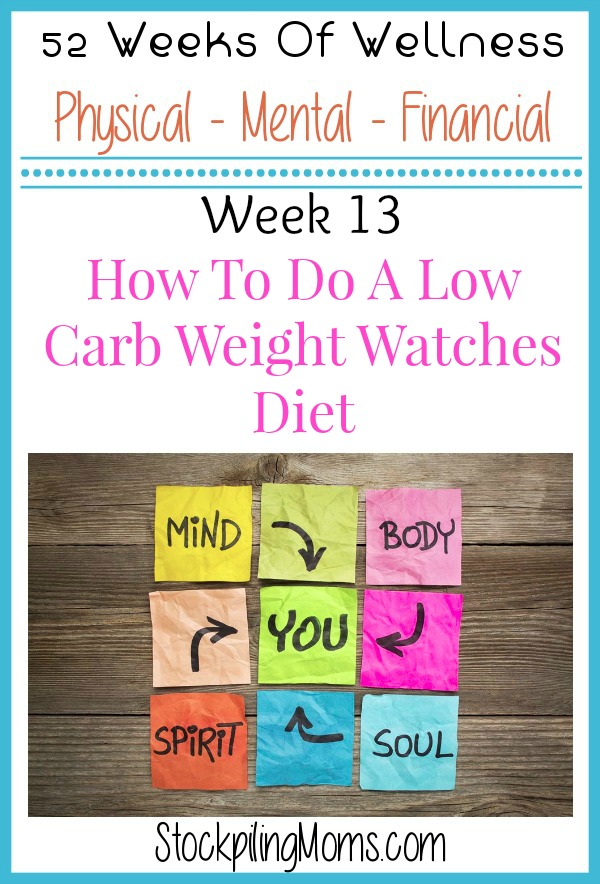 How To Do A Low Carb Weight Watchers Diet
Understand Good Carbs versus Bad Carbs: One of the biggest parts of dieting is understanding what good and bad choices are. When you look at nutritional information on many foods and products, you will be surprised to see such high carbohydrate counts on your favorite fruits and vegetables. This doesn't mean you should avoid them. It means you should eat them in normal quantities while avoiding the overly processed grain-based carbohydrate counterparts.
Opt for Lean Meats: Just because the traditional low carb diet encourages a lot of protein-based meals doesn't mean that is the best choice for you. Opt for well balanced meals that include lean meats like skinless chicken breasts, lean pork, turkey breasts and fish like Tilapia, Flounder or even shrimp. Lean meats should be portion controlled. Don't go out and grab all the beef jerky, luncheon meats and beef like some other diets recommend. Remember that while you can eat anything on the Weight Watchers diet, you should still use moderation and think reasonably.
Suggestions of what to eat:
Portion controlled fresh fruit and vegetables (raw) like apples, bananas, grapes, mango, carrots, celery, spinach and cauliflower or broccoli
Limited starches like breads, muffins, cereals and corn
Lean meats like chicken breasts, turkey breasts, lean pork, ground chicken or turkey, shrimp, Tilapia, Flounder, Perch, Bass, and Venison
Make sure you are eating plenty of fiber rich vegetables and drinking plenty of water. Enjoy your favorite lean meats and fresh fruits occasionally. Just because you wish to limit your diet doesn't mean you have to do without the things that you love.
Paleo/Low Carb Recipes:
Paleo Veggie Filled Fish Rolls
Paleo Grilled Pumpkin Chicken Breasts
Melissa is a football and soccer mom who has been married to her best friend for 24 years. She loves sharing recipes, travel reviews and tips that focus on helping busy families make memories.