Homemade Non Chemical Windshield De-Icer
Frost-Proof Your Windows with this all natural non chemical windshield de-icer. We've all had to wait that dreaded 10-15 minutes every winter morning for the car windows to defrost.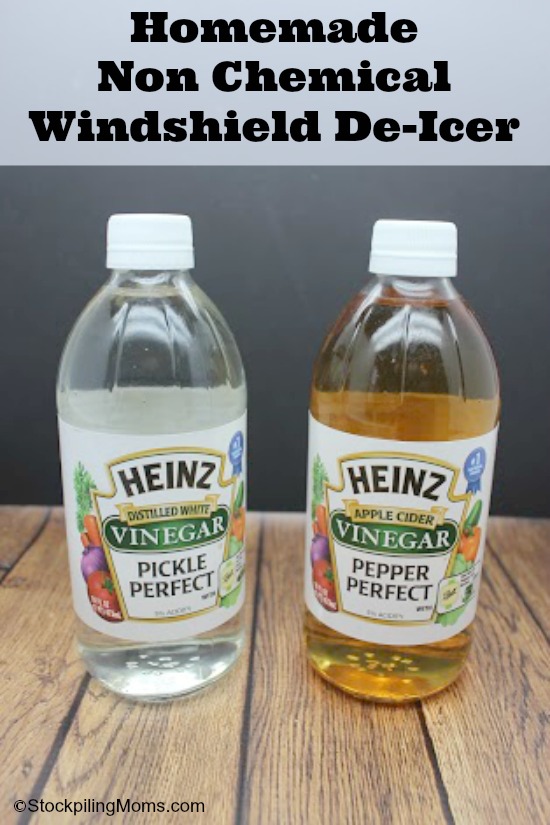 As they are slowly clearing up and you're already 10 minutes late for work. You can keep Jack Frost off your windows by spraying a solution that's 3 parts vinegar and 1 part water on your car windows every few weeks or the night before you are expecting bad weather. Another great tip is to lift your windshield wipers the night prior on your vehicle. We do this and it really saves extra time and wear and tear on our wipers.
Homemade Non Chemical Windshield De-Icer:
For Prevention:
Mix 3 parts vinegar with 1 part water in a spray bottle and apply to all your vehicle's windows in the evening or before the weather arrives. This should prevent ice or snow from sticking to your windshield. It is a great tip to apply every few weeks so that you aren't surprised with an ice storm.
For Removal:
Mix one part water to two parts rubbing alcohol in a spray bottle and apply to the windows. The ice should come right off. Another choice is to use a bottle of 70 percent isopropyl alcohol with a few drops of liquid dish soap. Apply to windows with a spray bottle.
Another great tip is to add alcohol to your washer fluid (a 50/50 mix) to keep the wiper lines from freezing. If you are using traditional washer fluid this will keep it from freezing.
Be sure to label your Homemade Non Chemical Windshield De-Icer. You can pick up an inexpensive spray bottle at your local dollar store.
Snow Day Activities Roundup:
Need some ideas to help make a snow day FUN! Be sure to check out these fun activities.
Can you turn boiling water to snow
Frugal Family Fun = Dance Party
Playing Cards = Cheap Entertainment
Winter Craft Project – Snowman Lantern
Eco Friendly Winter Craft – Soup Can Snowman
Melissa is a football and soccer mom who has been married to her best friend for 24 years. She loves sharing recipes, travel reviews and tips that focus on helping busy families make memories.