Home Canned Bread and Butter Pickles
I am so excited to share this recipe for Home Canned Bread and Butter Pickles today on the blog. I am swimming in a sea of cucumbers this year from my garden. This recipe is perfect for you if you are in the same boat.

Bread and Butter Pickles:
My good high school friend Crystal shared her recipe with me for Home Canned Bread and Butter Pickles and I just couldn't wait to try it myself. I have to say that I am in love with this recipe! If you have never canned I would suggest picking up a copy of the Ball Canning Book. It is the bible when it comes to canning. I was given a copy by my neighbor in 2010 and I love this book. It is full of great tips and ticks for canning.
Be sure to read about head space and proper techniques for canning. When you find yourself in a sea of cucumbers from your summer garden this recipe is a sure way to use them. You will be prepared for the winter months by having your own Home Canned Bread and Butter Pickles. I say roll up your sleeves, crank the music and get to canning!
It is a great way to save money by gardening and to can your own produce. I love to make my own bread and butter pickles. They are perfect to enjoy with a burger and then all winter long.
Home Canned Bread and Butter Pickles
Home Canned Bread and Butter Pickles are easy to make and perfect for summer canning
Print Recipe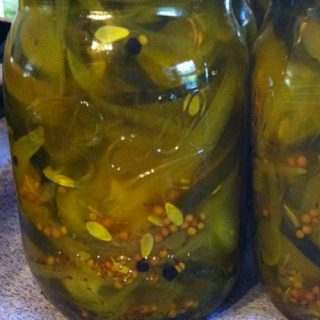 Ingredients
4

pounds

4 to 6 inch in length cucumbers, cut into 1/4 inch slices

2

pounds

onions, thinly sliced

1/3

cup

canning salt

2

cups

sugar

2

tablespoons

mustard seed

2

teaspoons

turmeric

2

teaspoons

celery seed

1

teaspoon

peppercorn

3

cups

vinegar
Instructions
Combine cucumber and onion slices in a large bowl, layering with salt cover with ice.

Let stand 1 1/2 hours.

Drain, rinse, drain again.

Combine remaining ingredients in a large saucepot; bring to a boil.

Add drained cucumbers and onions and return to a boil.

Pack hot pickles and liquid into hot jars, leaving 1/4 inch headspace.

Remove air bubbles.

Adjust two piece caps.

Process 10 minutes in a boiling water canner.

Allow 4-6 weeks to cure and develop best flavor.
Recipes:
How to make Strawberry Freezer Jam
Crockpot Homemade Strawberry Jam
Melissa is a football and soccer mom who has been married to her best friend for 24 years. She loves sharing recipes, travel reviews and tips that focus on helping busy families make memories.