Holiday World & Splashin' Safari is the Best Quick Trip from CVG
Disclosure: Holiday World provided our tickets for our review. All opinions are 100% our own.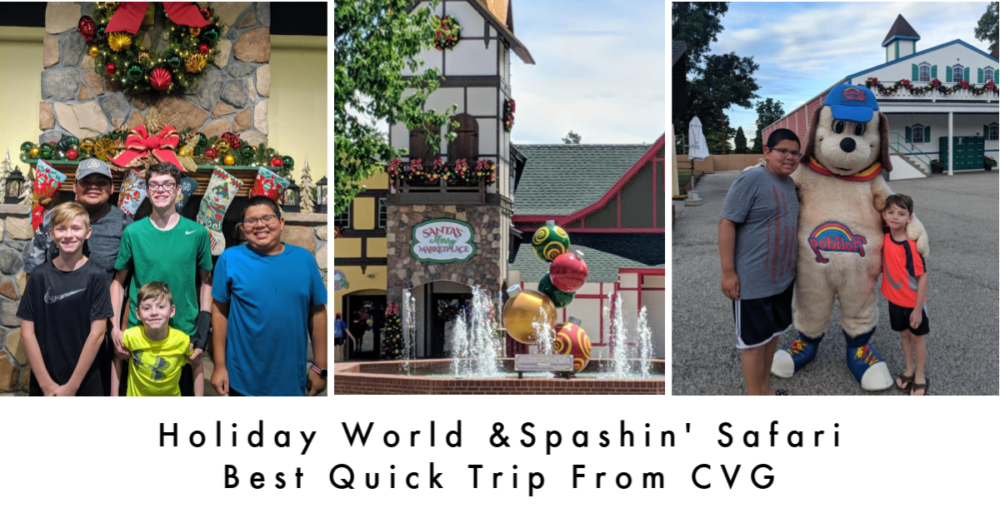 Holiday World & Splashin' Safari is the best quick trip from CVG. This trip is around two and a half hours and a beautiful drive! When you have beautiful surroundings, a trip goes so much smoother. When I asked my kids where they wanted to visit this summer, they were quick with an answer. We travel a lot, so I was waiting for some big places and amusement park names.
I was so happy when they all agreed Holiday World & Splashin' Safari was their choice. Santa Claus, Indiana is a hidden gem with so many things to do and spend quality time with your family. I would choose this trip over most! If you love the outdoors and a small town feel this is your place to visit.
Holiday World & Splashin' Safari is the Best Quick Trip from CVG
Holiday World has become one of our favorite parks! What is not to love? The price is always right, the food is not going to break the bank, and it is one of the cleanest parks I have ever been too! Holiday World wants to bring quality to your family vacation and less worry. They offer Free unlimited soft drinks, free sunscreen, and free parking. If you go to amusement parks often you know how important this is. I could easily spend $100 on parking and drinks at any other park.
The fact that you can celebrate any holiday in any month is entertaining. The park is split in to four sections plus a water park. There are so many things to do as a family and plenty of rides to satisfy your dare devils! If you want to celebrate Thanksgiving in June or Christmas in July this is your place! We have some favorite things in each section of the park that you do not want to miss.
Christmas (The Christmas section is for your new and/or younger riders.)
Prancer's Merry-Go-Round – This Child Size Merry-Go-Round will satisfy your new riders.
Reindeer Games – This is a drop ride for the smaller riders.
Rudolph's Roundup – Sit in the front and control Santa's Sleigh. Admit it everyone wants to drive the Sleigh. This ride is fun at night when it is glowing with all the lights.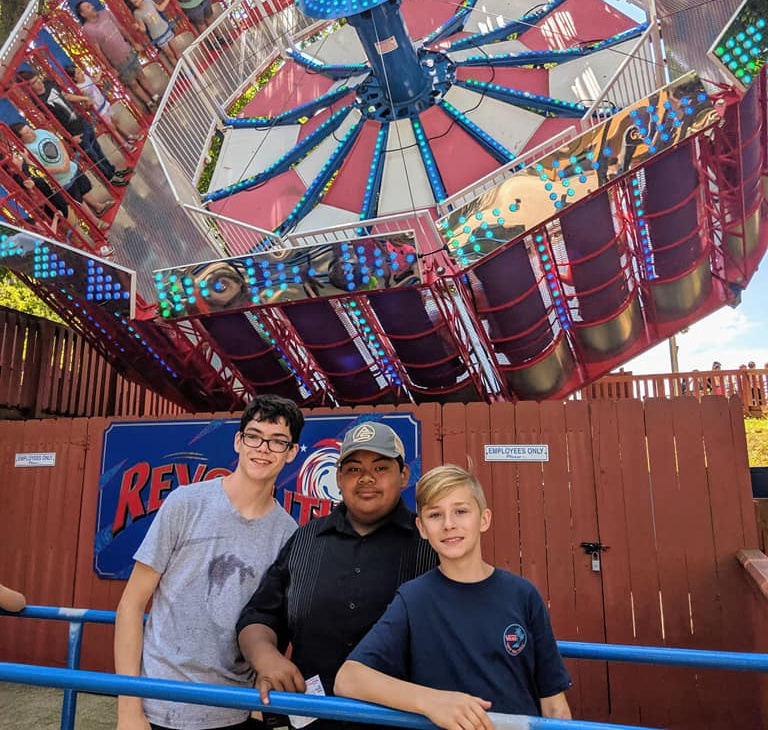 Fourth of July
Revolution – This is just like the old carnival ride where you stand up and it spins you! I remember as a child being stuck to the wall while we were spinning. I loved it back then but now I can't spin. I am getting old for sure! This is a perfect physics lesson for the kids!
Raging Rapids – Everyone's favorite raft water ride! Don't forget you will GET WET!
Star Spangled Carousel – Everyone loves a Carousel ride!
Lewis & Clark Trail – Remember the old days by taking a ride in a "Tin Lizzie" antique car! Let the kids drive and you will see what your insurance is going to look like someday!
Halloween
The Legend – A wooden roller coaster you don't want to miss! The Legend will drop you at 113 feet, 77 feet, and 64 feet (the 77-foot drop features the world's first spiral drop). The track is a total of 4,042 feet!
The Raven – This wooden roller coaster will take you through the wooded hillside of Holiday World! This is one of the kids favorites!
Thanksgiving
Thunderbird Steel Roller Coaster – This is our favorite ride in the park! Are you ready to ride a steel coaster that will launch you 0-60 mph in 3.5 seconds? I am!!
Gobbler Getaway – So much fun for everyone! It's time for a little Friendly Family Competition! Use your "turkey caller" to round up as many birds as you can! I can't lie, I have been a winner many times! I am a great shot! This is one ride your family will want to ride again and again! They must win sometime right?
The Voyage – You will love this because everyone loves to experience 24.3 seconds of zero-G! This is a must ride!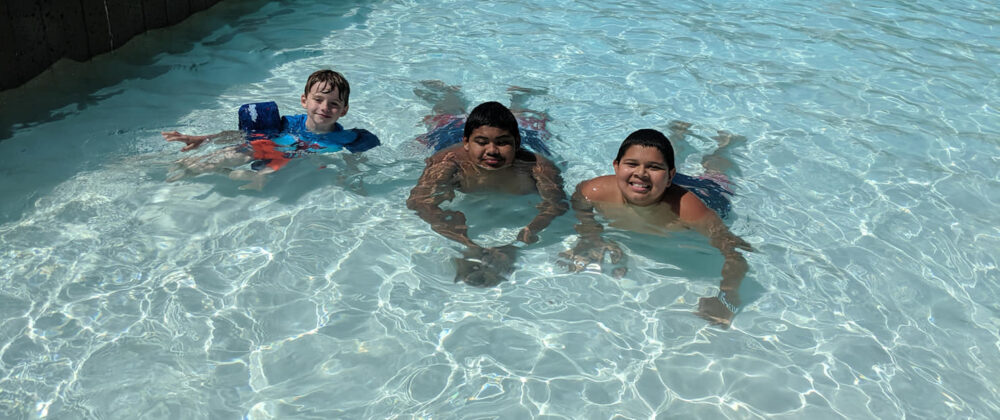 Spashin' Safari
This is a park within itself! We LOVE the water park so much we spent a whole day there. There are so many fun rides and plenty for all ages to do! I have to say I love snacking at the water park. They have everything from smoothies, icees, ice cream, dole whips, pretzels, funnel cakes, loaded fries, potato skins, and about anything you want.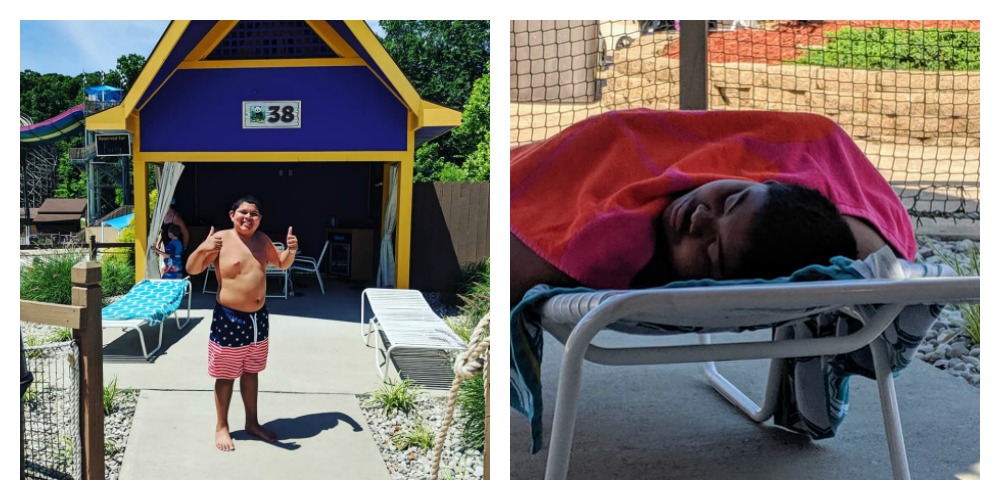 This trip we decided to rent a cabana. I have always wondered if they were worth it. Well, I have to say it was an amazing thing to have. Since the kids are all different ages it gave us a meeting place, a place to eat together and have privacy, a very spacious dining area, locked storage, and a refrigerator with 8 bottles of water.
The cabana comes with 8 wrist bands (children 3 and older must have a wrist band) you must wear to enter the cabana. I think all the kids took a short nap in our lounge chairs outside of the cabana. It was so nice to have an area we could relax and enjoy time together. Be careful though, the storage area is so big that one of your children may get locked in it! #Justsayin
Another great perk of the cabana was the ability to order food and have it delivered. Cabana Premium Meal Service has so many options that will satisfy everyone in the family. Meal reservations can be made by phone 812-937-4401 extension 2642 or by visiting the service desk at the entrance of the water park.
They ask you allow a minimum of 1 hour from order time to delivery. Their options for meal delivery are cheeseburger platters, chicken tender meals, wraps, pizza, fruit platters, chips and dip, veggie tray, and cookies and treat platter. All the options are family style and serve 4+ people. Check the serving size at the park.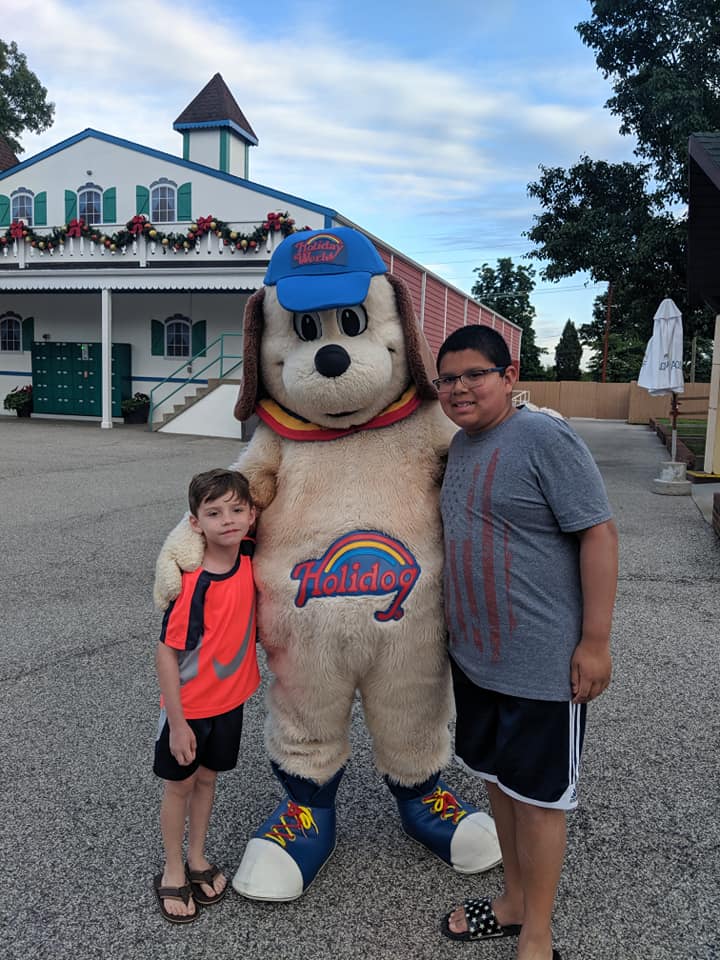 We have a few favorite rides at the water park too!
Bahari River – Hop on a float it is time to relax! This is an awesome "lazy river."
Bahari Wave Pool – We all agree this is the best wave pool we have ever been to! The waves are awesome, and the pool side dancing is extra fun! Do a little dance or participate in a limbo contest! This part of the park will make you smile!
Mammoth Water Coaster – BY FAR THE BEST water slide ever! Talking about airtime! You are in a large raft with 6 other people which makes it that much more fun! This is truly a coaster. You will never believe what this thing can do! If you don't ride this, you are missing out!
Parrot Cove – This is perfect for your little ones! They have a little water park just for them!
There are some new things going on at Holiday World. They have updated their Santa's Merry Marketplace. You can get all kinds of great food, ice cream, and don't forget to visit the Candy Cane Confectionery. You can pick up all kinds of treats! FYI the fudge is amazing!
This year they also introduced me to the Guided Tours: Keys to the World. I did not participate in this with all the kids, but I may if we go back just adults. I am planning an adult trip soon! The information below is from the information sheets they gave me and the Holiday World website. Please click the link for more details.
Early Bird Tour
Climb Voyage's Lift Hill
Behind the Scenes at Thunderbird
Morning's first public launch on Thunderbird
Quick Access Passes
HoliCash, Souvenir Lanyard
On-ride Photo Print.
$199 per person + Park Admission
Guide to Ride
4 Hours of Escorted Front of Line Access
Water Coasters included
HoliCash & Souvenir Lanyard
On-ride Photo Print
$249 per person + Park Admission
There are so many things going on at Holiday World Daily but here is an upcoming 2019 Schedule:
Every Friday Fireworks from June 28th – July 26th
4th of July Celebration Firework Extravaganza on July 4th and July 5th
Kid's World weekends from August 17th – September 14th
Happy Halloween Weekends September 21st – October 27th
You will never regret a family trip to Holiday World. The price is right, the drive is beautiful, and the memories will last a lifetime. This is our 4th trip to Holiday World and we will keep on going back. The kids we take range from 7-14 (5 kids total) and they all enjoy every minute and so will you.
You will never regret taking this adventure! Holiday World & Splashin' Safari is the Best Quick Trip from CVG!
Check out other articles written on this area:
10 Reasons To Visit Holiday World
Lake Rudolph Campground & RV Resort
Horseback Riding at Santa's Stables
Disclosure: Holiday World provided our tickets for our review. All opinions are 100% our own.
Shelley is a boy mom, marine wife, and is blessed with an amazing family. She loves sharing recipes, travel reviews and tips that focus on helping busy families make memories.