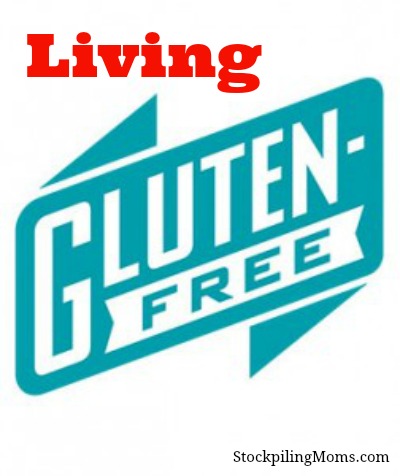 Living Gluten FREE. Shelley at Stockpiling Moms asked me to write a little about being gluten-free and living the frugal lifestyle. As you may or may not know, to be gluten-free is to cut out all things with wheat gluten in your diet.
Living Gluten FREE:
This includes, but does not limit, all breads and bread products, barley, rye, anything made with all-purpose flours, and much more. Wheat gluten is also found in many popular products on the market that you don't normally think would have wheat, including most commercial soups, some flavorings and spices, and even malt beverages.
The list is expansive. Some folks cut out gluten as a choice, whether to eat healthier or more naturally, or because they notice their bodies just feel better without gluten. Some MUST cut out gluten because they are allergic or have Celiac Disease, a wheat gluten allergy that causes damage to the intestines as well as causes other long-term illnesses over a lifetime.
I am a carb girl at the core, and I couldn't just let go of my breads when I was diagnosed with Celiac Disease. So, I switched to gluten free brands of breads, pastas, etc.…, and my grocery bill skyrocketed. No longer could I stockpile with the coupons from the Sunday paper that Stockpiling Moms taught me to do. Also, instead of buying a $2 loaf of bread, I had to buy a $5 loaf of disgustingness that looked, felt and tasted like a brick!
I knew that I had to do something that could lessen the blow to my pocketbook. Obviously, I couldn't ignore the doctor any longer and the diet was a must. So, I began to re-teach myself how to cook. I read books, the internet, and talked to experts. Cooking from scratch is my way of keeping the cost down a bit. I make my own sandwich bread and desserts now from other flours and starches, mostly sorghum flour (I find it tastes better than rice flour).
I recently found a way to stockpile again…well, sort of. I found that Whole Foods is cheaper than my normal store, and they have coupons available too. Many organic coupon websites offer coupons for gluten free products, including Mambo Sprouts and Be Free For Me.
When Whole Foods has a sale on that particular coupon, that's when I stock up. I only stockpile gluten-free foods that store well. My pantry currently has a pile of Midel's ginger snap cookies, a variety of Envirokidz cereals and cereal bars, Blue Diamond Nut-Thins, DeBoles multi-grain gluten-free pastas, San-J Teriyaki sauce and Robbie's Worcestershire sauce.
Quite honestly, other than that, I use mostly fresh ingredients to make my meals, and I try to have more produce and dairy items in my grocery cart on a weekly basis than anything else. Stockpiling gluten-free foods is a work in progress, for sure, and I'm just now starting to get the hang of it.
You can read Part Two of Living Gluten Free HERE.
Disclaimer: Information on Stockpiling Moms is intended to help those living a gluten free lifestyle to do so within their budget. In no way is the information to be construed as medical or health advice. You should consult your medical or health professional for advice in your particular situation, and please always confirm the safety and allergy free status of any product before consuming it.
Shelley is a boy mom, marine wife, and is blessed with an amazing family. She loves sharing recipes, travel reviews and tips that focus on helping busy families make memories.