Are you a candy or chocolate lover! I am! The holidays are my favorite because I get to indulge and make amazing food! You don't have to wait for the holidays to enjoy and amazing treat! Take a look at our Favorite Candy Recipes!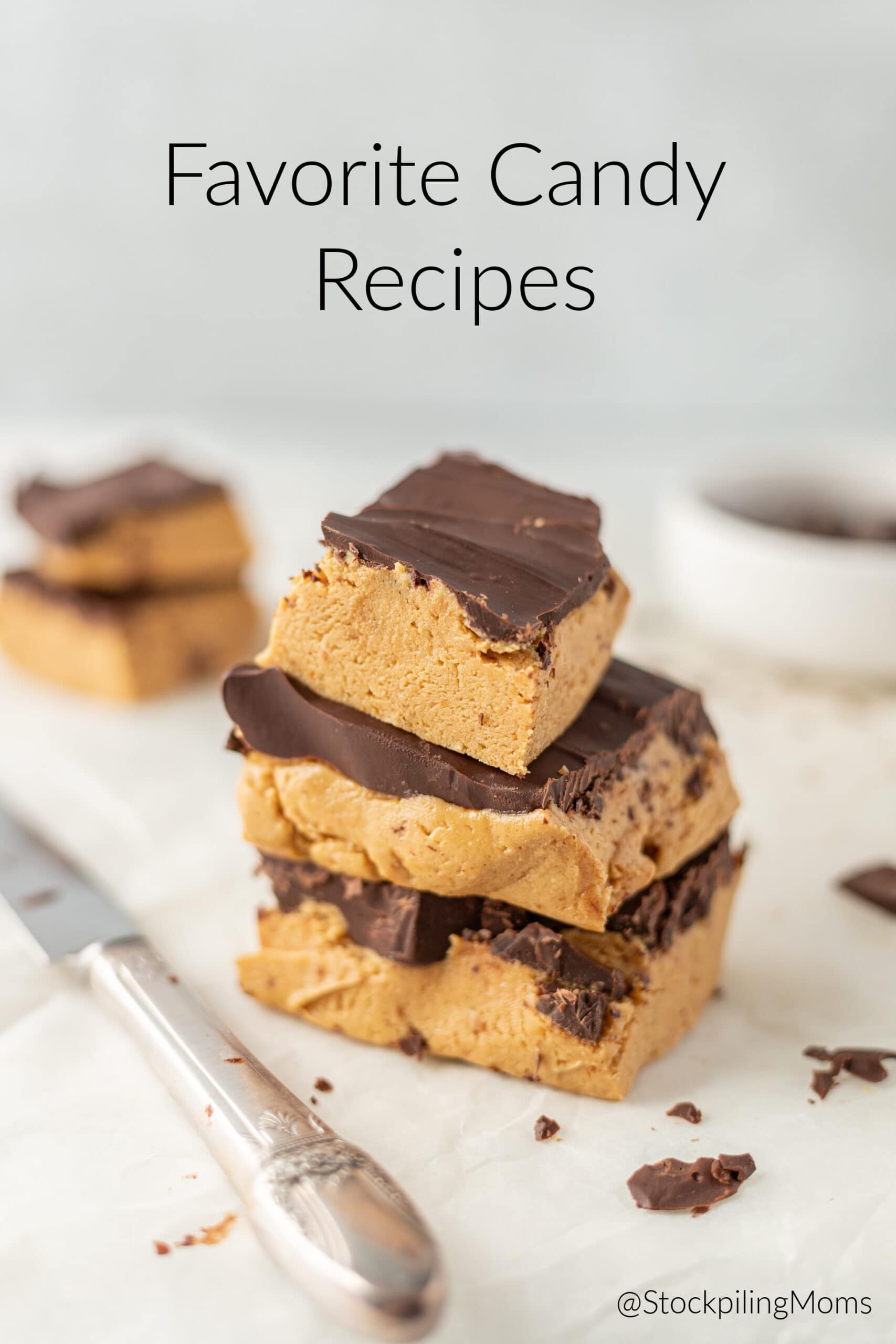 Favorite Candy Recipes
3 Ingredient Fudge – You can't get any easier than 3 ingredient chocolate fudge! This is the easiest recipe I have ever seen for Chocolate Fudge and it doesn't require a candy thermometer.
Crockpot Easter Candy Recipe – This is the easiest slow cooker candy/dessert recipe you will ever make!
Crockpot Candy Crack – The hardest part is waiting for the chocolate clusters to harden. What I like most about this recipe is it makes a large quantity, so you can use it for gift giving and parties.
Easy Potato Candy – This is a great recipe for Easy Potato Candy that can be made in 10 minutes!
Easy Peanut Butter Fudge – You can't get any easier than this Easy Peanut Butter Fudge recipe. If you are looking for a no-fail recipe for fudge this is it!
White Chocolate Dipped Candy Canes – Have you ever thought of dipping a candy cane in chocolate? We did and it is AMAZING!
Candy Corn Mix – Candy Corn Mix is AMAZING! My husband shared this treat with me and it tastes exactly like a payday candy bar!
Rocky Road Candy – This easy recipe is a family favorite! It only needs four ingredients and NO candy thermometer.
Ritz Cracker Bombs – You may wonder why we call these Ritz Cracker Bombs! Well, it's because they are the BOMB!!
Orange Fudge Recipe – If you are looking for a different twist on the traditional chocolate or peanut butter fudge then this Orange Fudge Recipe is for you!
Peppermint Chocolate Fudge – Declared this to be the world's best Peppermint Chocolate Fudge, by us of course!
World's Best Chocolate Fudge – My husband has declared this to be the best chocolate fudge he has ever eaten. Now, that is the huge compliment tfrom a true chocoholic.
Peanut Butter Chocolate Fudge – Our friend Paula shared with us her recipe for Peanut Butter Chocolate Fudge. It actually comes from her MIL. Thanks for allowing us to share it with our readers.
Homemade Chocolate Caramel Turtles– These are one of my favorite indulgences! I also like that in this recipe it uses pretzels and no pecans. I am not a fan of nuts.
Oreo Truffles – We made these Oreo Truffles during the Holidays and they were a huge hit among everyone! They are so simple to make and they will not last long.
Valentine Pretzel Buttons– This treat is a super cute and a delicious dessert recipe. You can't eat just one!
Buckeye Bark – Do you love Buckeye Balls but hate the task of rolling them??? Then this recipe, for tasty Buckeye Bark, is for YOU!
DIY Snickers Bars – They are amazing and there is seriously nothing better than a Snickers Bar.
DIY Twix Bars – We call them Trillion Dollar Bars but it taste like a Twix!
Chocolate Turtle Rolos – Chocolate Turtles are so easy to prepare. They are our favorite Christmas candy for sure! They can easily be made gluten free.
Chocolate Caramel Pecan Sandies – We love to make Chocolate Caramel Pecan Sandies Pretzels at Christmas! This is a twist on the classic Chocolate Caramel Pretzel because you add Pecan Sandies to the top.
Shelley is a boy mom, marine wife, and is blessed with an amazing family. She loves sharing recipes, travel reviews and tips that focus on helping busy families make memories.