Cough Medicine for Kids that actually tastes GOOD!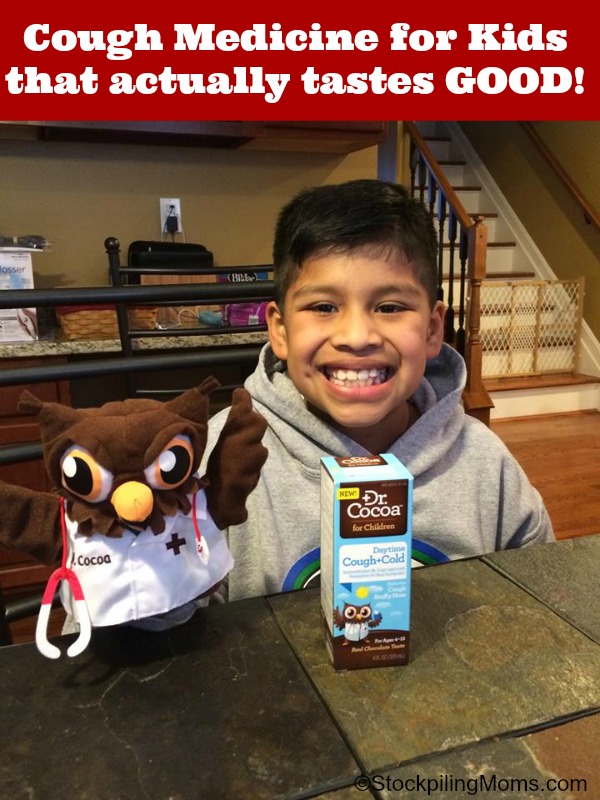 It is cold season and we have been hit HARD. It started with Peyton and then trickled to Tim and finally it hit me HARD. We have been sick for the past two weeks and I don't see any light at the end of the tunnel. If you are like us and a virus has hit your home you know that the only thing you can do is wait it out. That is why I am so excited about this Cough Medicine for Kids that actually tastes GOOD!
Cough Medicine for Kids:
I called our pediatrician and he suggested NOT coming in. He said that the cold/virus that is going around right now takes up to two weeks to run it full course. Luckily Peyton was only really sick for three days but Mom and Dad haven't been so lucky. In fact I would have to say that we are completely miserable.
We recently got a new product to try and my hope was that we would have need for it this season but I was wrong and not only have we needed it, we have used it. We got a package with a product from Dr. Cocoa. Dr. Cocoa™ for Children is the first-ever chocolate flavored, over-the-counter liquid cough and cold medicine line for children ages 4-13! The great chocolate taste, made with real cocoa, combined with trusted, effective ingredients, means kids are happy to take the medicine and moms are happy that their children will get cough and cold relief. If your kids love chocolate (and I mean what kid doesn't) then you are going to be excited about this product line.
So why does the taste matter? According to Dr. Cocoa's new national Harris survey of U.S. parents of school-aged children (ages 4-13), almost 40% of parents said it isn't easy to give their children over-the-counter liquid cough/cold medicines, with one third of parents believing the taste of the medicine impacted how easy it was to give their child the recommended dose. Dr. Cocoa™ for Children was developed with its real chocolate flavor just for this reason.
Peyton is NOT a fan of traditional cough medication because of the taste. He would sooner NOT take it and suffer than take it because of the flavor. In fact he often gags when he does reluctantly take it. He was super excited to open this package and learn more. Best of all this product is gluten free! That is a win/win for me!
Right now you can visit the Dr. Cocoa website to print a $4 coupon to help save on your purchase of Dr. Cocoa. It is a great way to try this new product and save while you do!
Visit www.drcocoa.com for a $4 coupon and follow the brand on Facebook and Pinterest for more product info, sick day activities, and fun giveaways!
This is a product-provided, sponsored conversation that contains affiliate links. However, all opinions, text and experiences are my own
Melissa is a football and soccer mom who has been married to her best friend for 24 years. She loves sharing recipes, travel reviews and tips that focus on helping busy families make memories.