Christmas Gift Guide for Adults 2020
We are sharing Christmas Guide for Adults 2020 to help you with your gift giving list! Christmas is right around the corner and if you are having a difficult time coming up with creative gifts we are here to help!
There is nothing worse than striking out when it comes to gift giving. Don't find yourself out wandering around on Christmas Eve shopping for a last minute gift.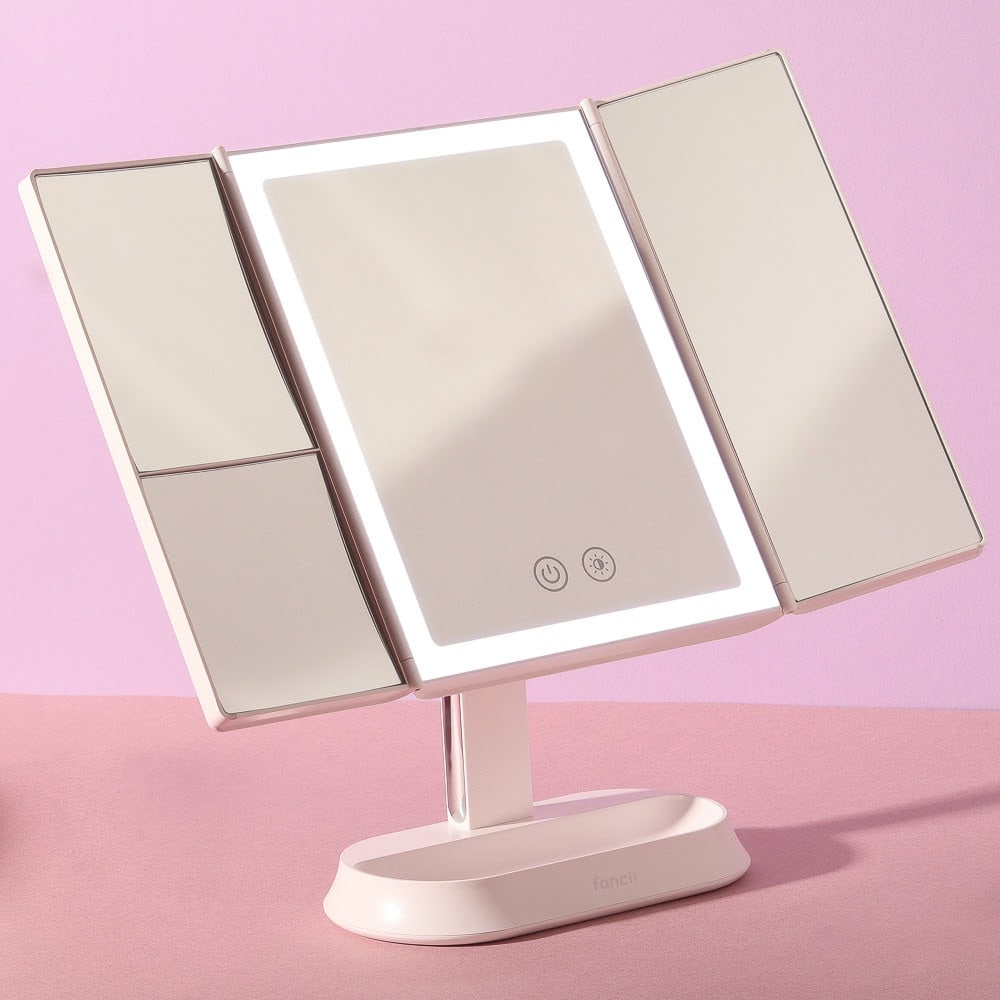 Fancii Vanity Mirror – Fancii designs innovative beauty tools for skincare, nail care, and makeup endeavors. Natural daylight is proven to be the best light for makeup application but finding that perfect ray of sunshine at home or on-the-go can be a struggle. Their mirrors are built with natural daylight LED lights to eliminate Bad Beauty Lighting for all men and women, at home and on-the-go. Fancii's mission is simple, to make beauty routines easier, more effective, and even a bit more glamorous. Expanding their brand into beauty tools, Fancii is elevating at-home beauty routines to help women look good and feel amazing. This is seriously the gift of 2020 for any adult on your list. My pick is the Zora Mirror. Price: $69.00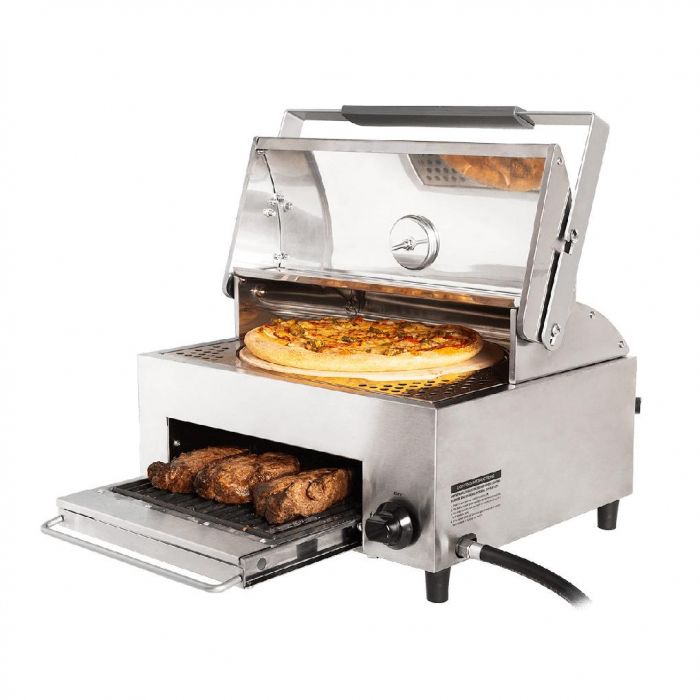 Capt'N Cook OvenPlus Salamander Grill – This is the grill that everyone will love! The perfect combination of a pizza oven and a smokeless grill. It can work as an oven, grill, and gas cooker at the same time. With free pizza cutter and peel. This multifunctional Pizza oven + stove and top-down gas grill combined is perfect for every home chef and BBQ fanatic.
The butterfly burner is designed so there will be no flare-ups. It is energy-efficient. 20 lbs. gas tank can offer up to 20 hours grilling time! It also offers smart grilling. The inner structure is especially designed to enhance the thermal convection, maintaining the temperature within the grill to heat evenly and reduce cold spots, leading to high quality cooking for everyday cooks. The multi-grill raises the heat to 500°F within 15 minutes and maintains the temperature to match unparalleled cooking. It is a gift the whole family will enjoy and will provide family time enjoying a variety of family dinners. It is the gift that keeps on giving. On sale for $299.00.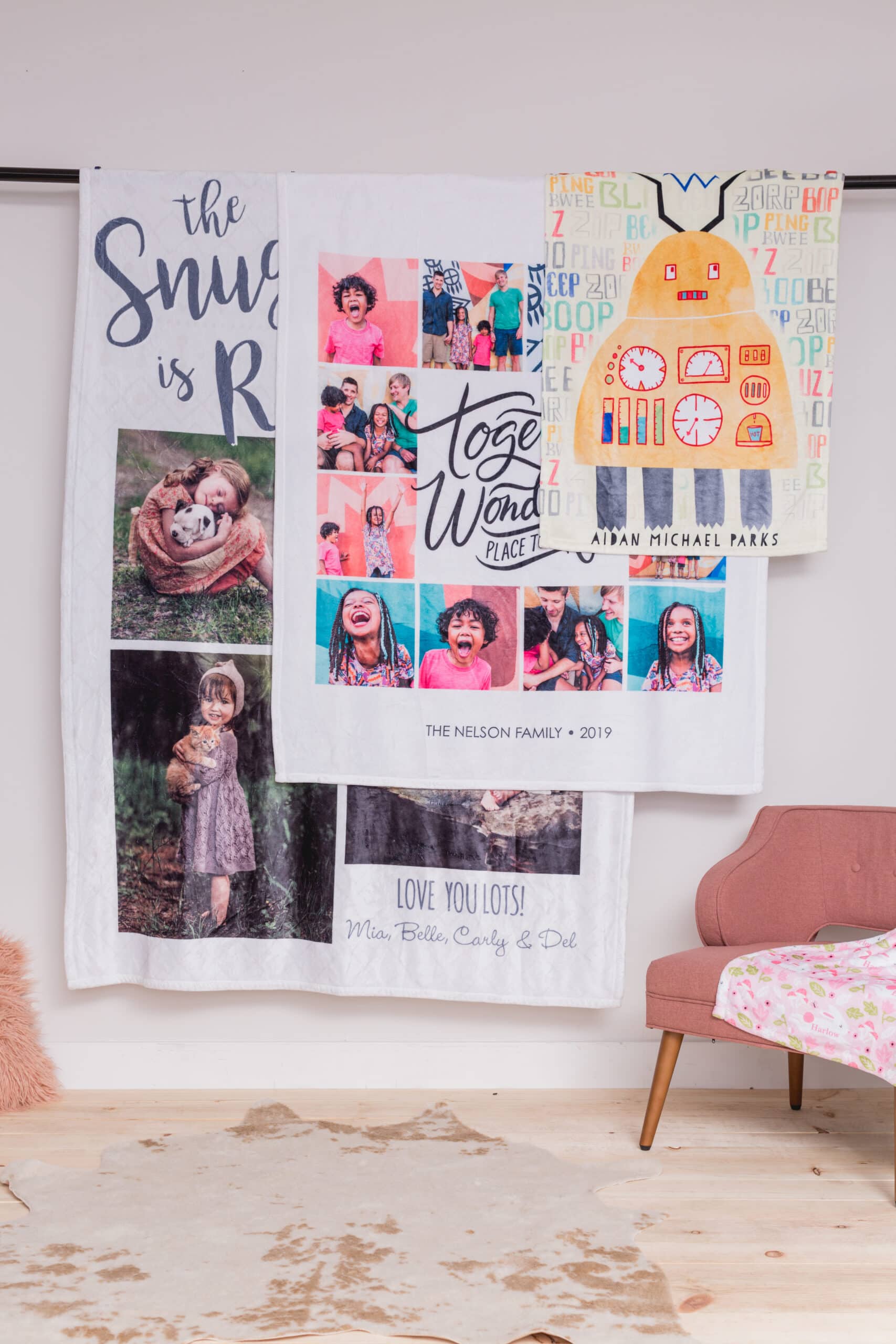 Personalized Gifts – There is nothing I enjoy more than a personalized gift. Right now more than ever we are all missing time with loved ones. I think these Personalized Blankets are the gift to give this season. I mean who doesn't enjoy snuggling up and watching a movie or reading a book. Why not do it with someone you love even if they can't be with you in person. These personalized soft plush fleece blankets are machine washable and so cozy. Add a family or pet name for the perfect living room throw blanket, or celebrate your newborn with a photo collage blanket for the nursery. I think this is the perfect gift this holiday season.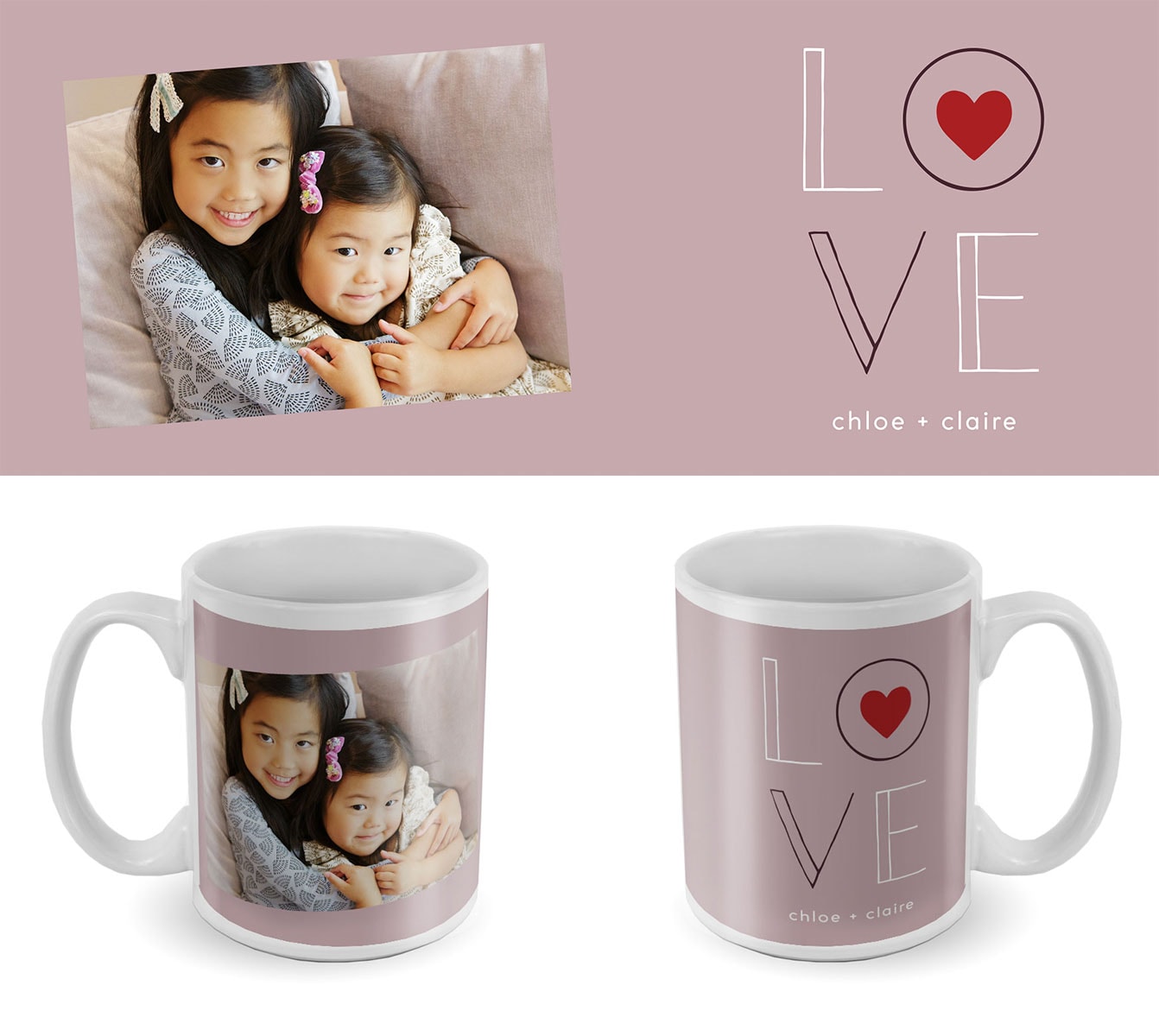 Other ideas depending on your budget include photo books, photo coasters, photo mugs, photo face masks and photo ornaments. All of these would be something that I would love to receive. Check it out online at MPix. The quality is top notch! A photographer friend of mine recommended Mpix.com years ago and I have been a loyal shopper since. Trust me you will have a happy recipient when you gift them one of these.
Home Chef – Offers fresh, pre-portioned ingredients and easy to follow recipes delivered weekly and is designed for anyone to be able to cook and enjoy. With a variety 19 different recipes that rotate on a weekly basis, most recipes include a "Customize It" option to accommodate any dietary needs or preferences. Home Chef is the perfect gift for families, couples, elderly relatives, and anyone else who loves to enjoy a home cooked meal without all the bells and whistles and is delivered right to your home! I don't know about you but this is what I want for Christmas! No more asking what is for dinner! I LOVE it!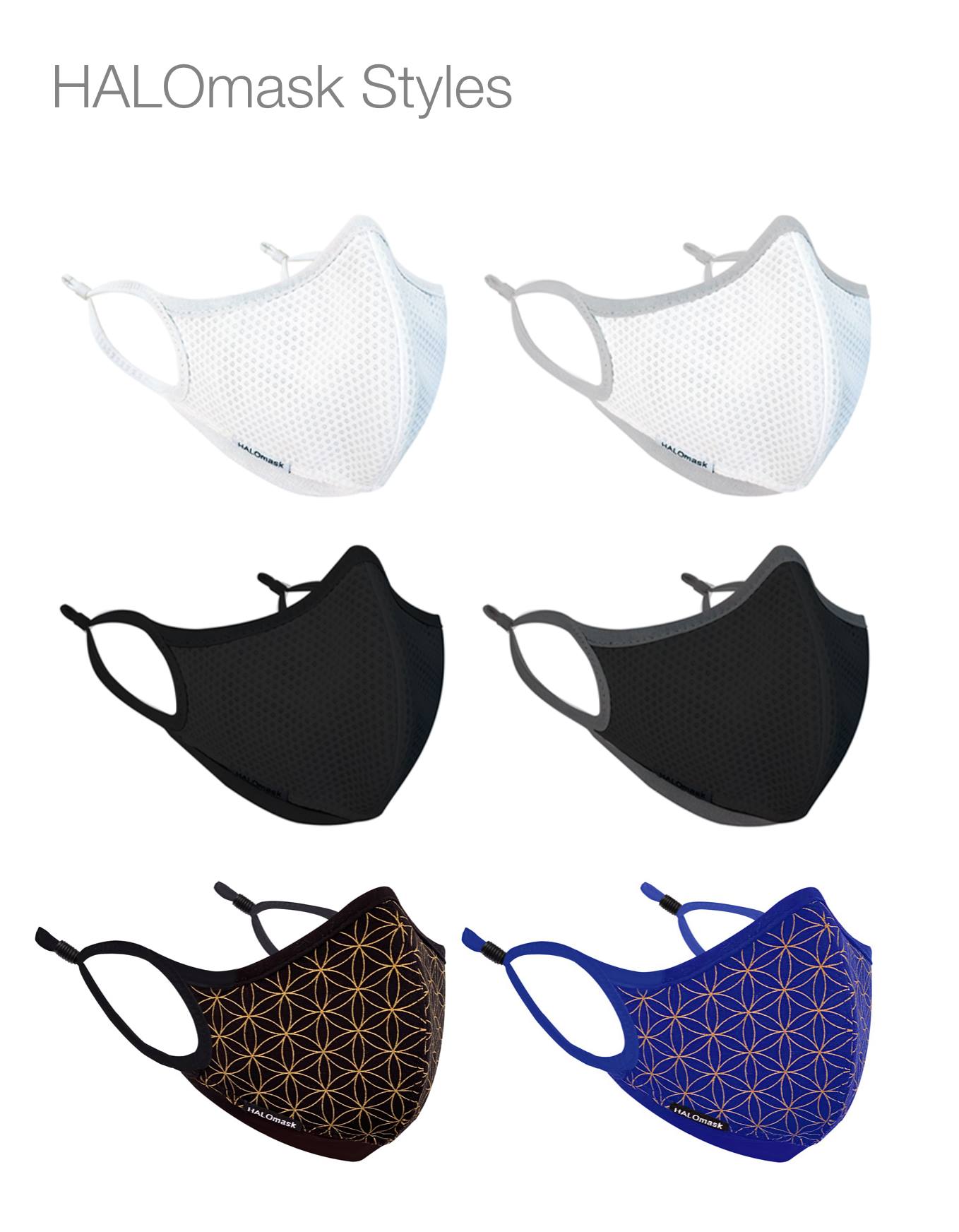 HALOLIFE Face Mask – Did you ever think a face mask would be on a gift giving guide? A year ago I would have thought you to be crazy and now here we are looking for the best and most comfortable mask. Well you can stop looking! This is it! Utilizing the highest quality nanofilter in the world, HALOLIFE offers the most powerful full-spectrum protection in a wafer thin filter that allows incredibly easy breathing. Don't suffocate and swelter in a 50-year-old paper mask design any longer! Your days of walking around with fogged up glasses and looking like you just got discharged from the hospital are OVER. With HALOmask, you can be fashionable, comfortable and safe! It really is so comfortable! I have never found a mask that stands up to this one. What's more, for every order placed on Amazon or at HALOLIFE, the company gives a mask to those in need.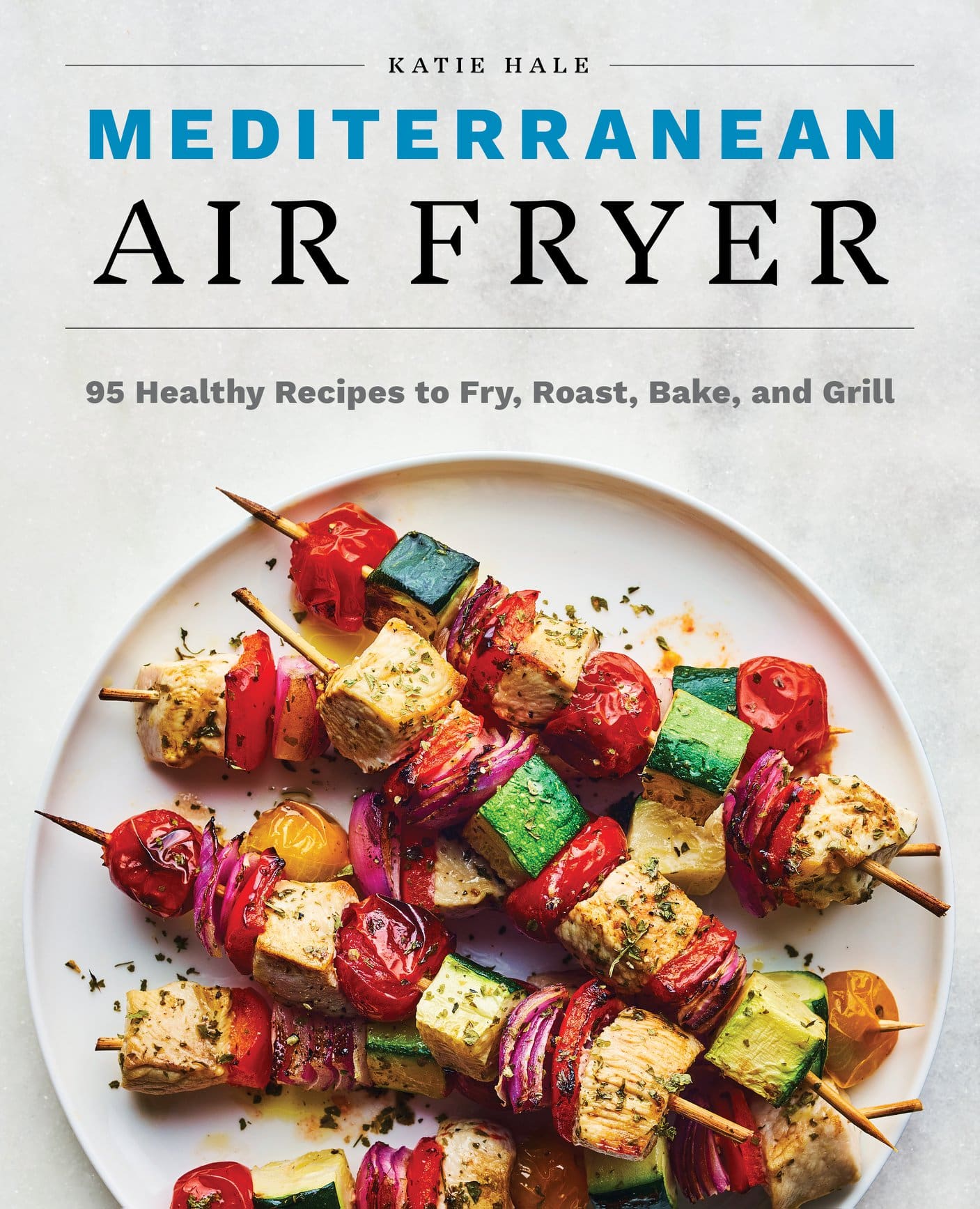 Mediterranean Air Fryer Cookbook: If you love your air fryer or know someone who does this is the perfect gift! It includes 95 Healthy Recipes to Fry, Roast, Bake, and Grill. Whether it's fried favorites or grilled classics, air fryers allow you to enjoy the food you want without breaking from your diet goals. The Mediterranean Air Fryer cookbook is your go-to guide to eating delicious and healthy Mediterranean diet recipes with a crispy twist.
From breakfast frittatas and whole-wheat baked goods to seared tuna steaks, the Mediterranean Air Fryer has all meals covered. Along with an overview of the health benefits of the Mediterranean diet, you'll learn how the air fryer works, what cooking essentials to keep in the kitchen, and tips for cleaning and care. Sticking with a healthy Mediterranean lifestyle has never been easier or tastier. I love this cookbook and it is perfect for the New Year! Price is $13.99.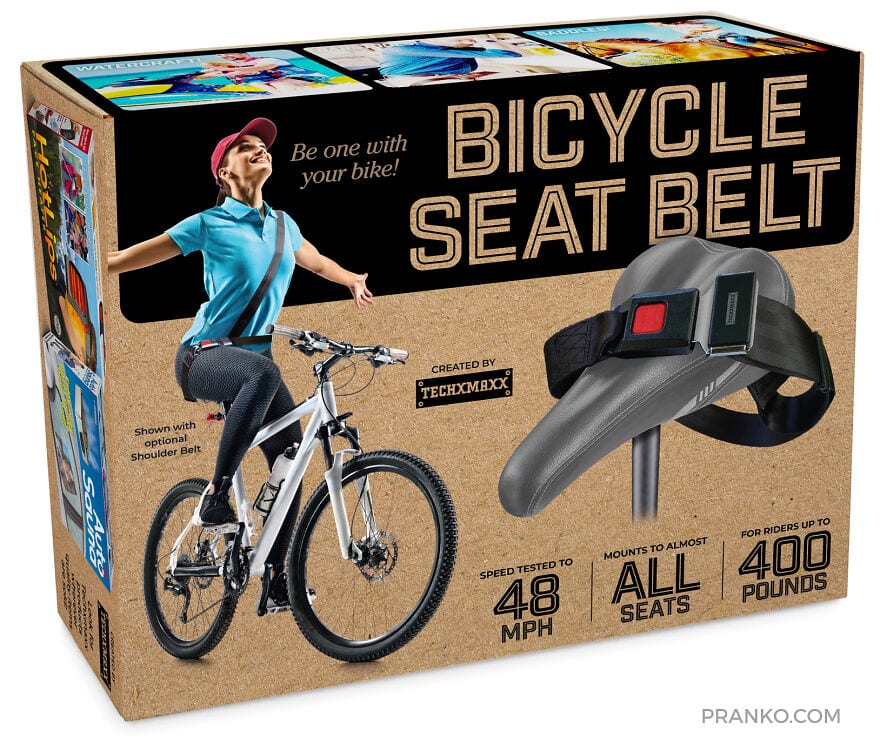 Prank-O Gifts – The holidays will definitely look different this year. Family may not all be together, gift spending may not be as high, and Christmas gatherings around the world are likely to have a few Zoom participants. Whatever the challenges this holiday season, Prank-O will provide new ways to ensure loved ones still feel the joy, surprise, and laughter this holiday season. Prank-O lets you unwrap more laughs this holiday season, during a time when everybody could use a few extra laughs.
Prank-O gifts are available at Pranko.com and Amazon where thousands of 4 to 5-star reviews speak for themselves. Also available at Walmart, Bed Bath & Beyond, Kohl's, Meijer, American Eagle, and more.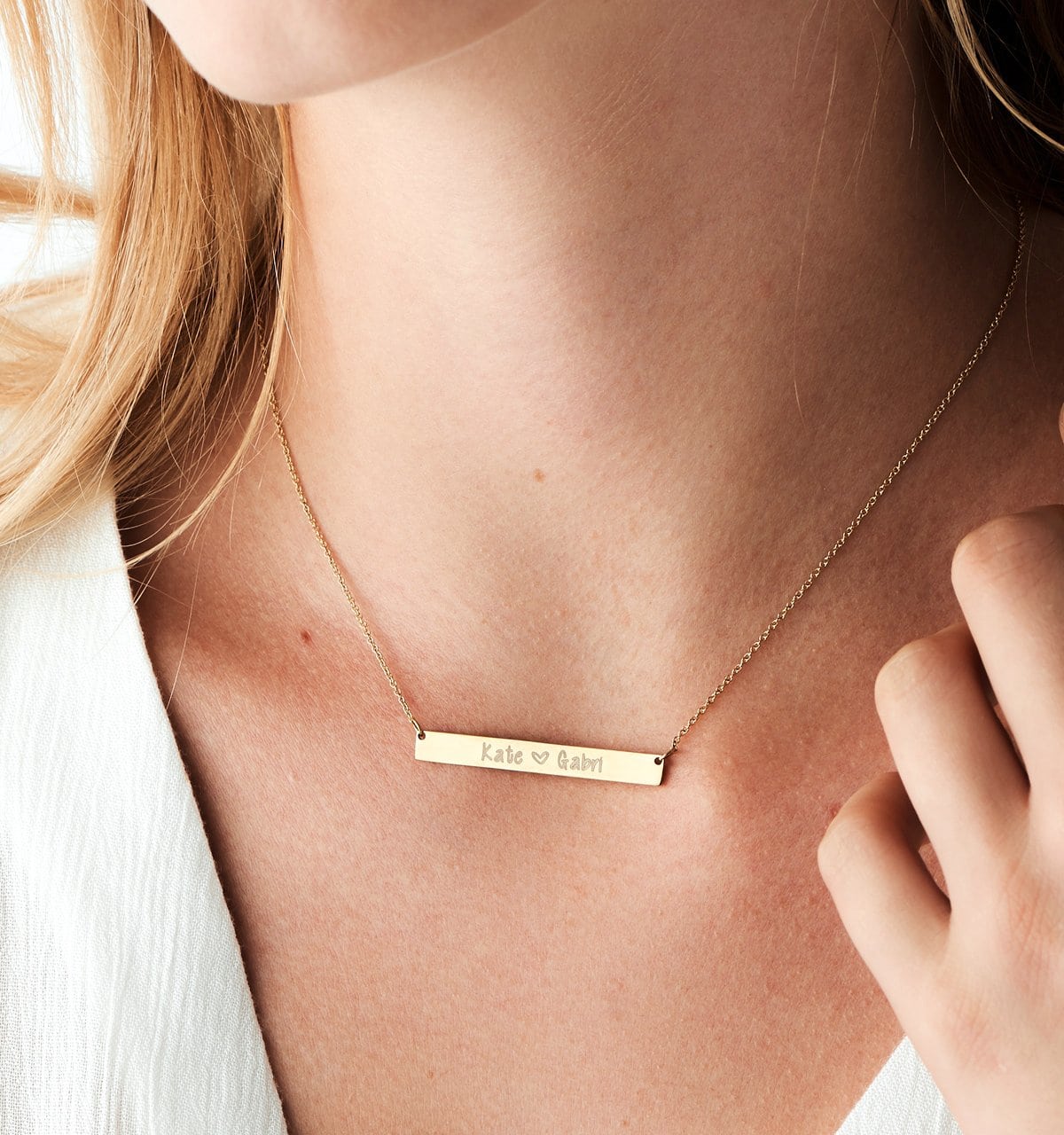 Bar Necklace – This Bar Necklace has a larger canvas that let you engrave the front and the flip side with names, initials, coordinates and more. Made to carry what matters most. I am in LOVE with this! It is the perfect gift idea for every Mom and Grandma on your gift giving list. Really the sky is the limit with this one! This piece is available in Sterling Silver, 18K Gold Over Sterling Silver and 14K Solid Gold. Personalize this necklace with names, initials, coordinates, roman numeral dates, or a favorite phrase! Each piece is individually gift wrapped ready to delight. It is also made in the USA! Prices start at $85.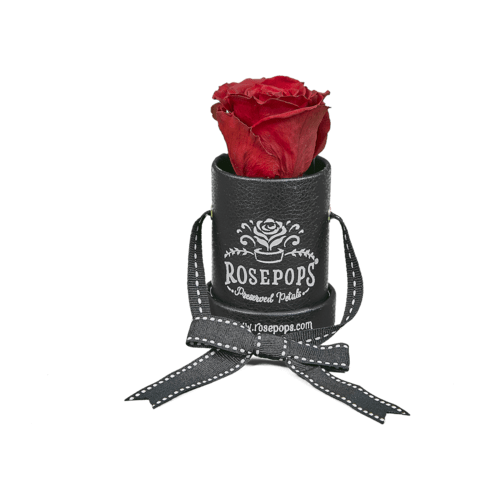 Rosepops – With all the fun designs, charms, and color options Rosepops is the perfect special décor item for everyone on your shopping list. Rosepops specializes in handmade 100% authentic rose arrangements. Working with the finest Ecuadorian roses, Rosepops roses have been organically preserved to last and last. When Rosepops recipients open their POPs, they are wowed by a burst of blooms enabled by Rosepops' patent pending POP-up packaging! Pair this delightful presentation with your special message, photo, monogram, charms, and more for a gift like no other! This is a great gift idea. Price: $25+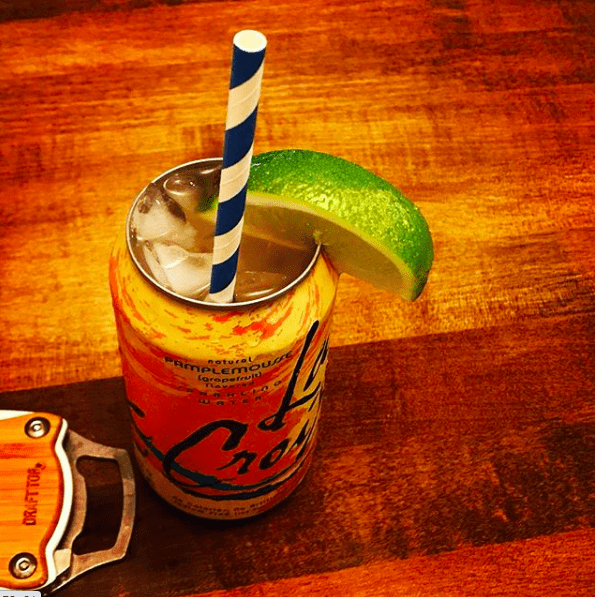 Draft Top – Are you looking for the gift for someone who loves canned drinks? This is it! Taking your cans on the go runs the risk of cutting yourself while adding the lemon to your Diet Coke or the lime to your Corona or the cream to your cold brew and everything in between. Until now. Draft Top is the ultimate tool for enjoying a drink your way! Conveniently cut the top off of aluminum cans in 3 easy steps: open the tool, insert onto the can and twist! Use it for garnishing drinks and/or to turn your can into a cup! We love how easy it is to turn your can into a cup with this tool. This is a really unusual and useful gift for any adult on your list! Best of all it is American made. The price is only $24.99.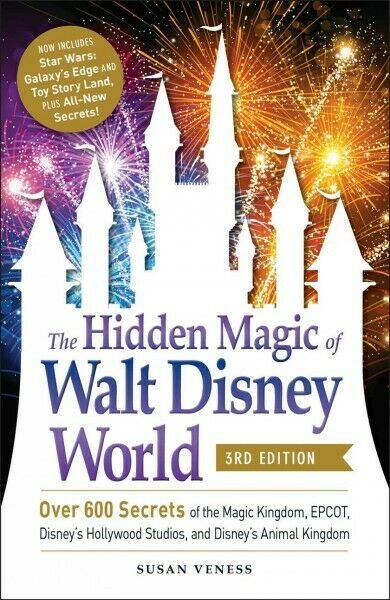 The Hidden Magic of Walt Disney World, 3rd Edition – For the Disney Fanatic on your list! Check out the newest edition now featuring all new 'story-behind-the-story' gems from Pandora—The World of Avatar, Toy Story Land, Mickey and Minnie's Runaway Railway, and Star Wars: Galaxy's Edge in addition to all the other subtle, elusive details that make any trip to the parks an even richer and more meaningful experience than expected. All told, there are over 600 hidden details presented in the book, in the order in which you might tour the parks, acting as a behind-the-scenes tour guide showing you how — in SO MANY WAYS — this really is the most magical place on earth!
There is no better way to celebrate the Mouse than going behind the scenes and into the brilliant minds of Disney's Imagineers, whether you're a die-hard Disney fan, a casual visitor, or a soon-to-be guest who suspects there's more to the magic but doesn't know where to look. Nothing is placed in a park or attraction without a reason, and with the 3rd Edition of The Hidden Magic of Walt Disney World, you'll discover them all! Written by Susan Veness. Only $15.99 Paperback.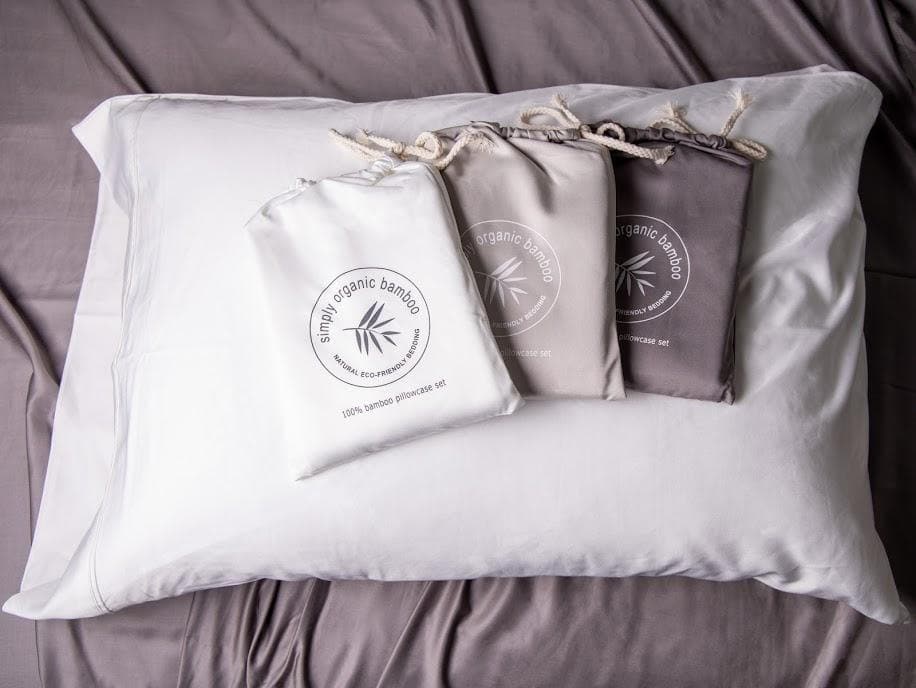 Simply Organic Bamboo Sheets – The perfect gift that are crafted from only 100% certified organic bamboo. Their luxurious sateen weave creates a buttery smooth texture that invites a beautiful night's sleep so you can dream well and wake refreshed. Transform your bedroom into a sanctuary with our matching duvet cover and comforter. Cool, breathable, soft and comfortable – bamboo is natural and sustainable and great for sensitive skin or anyone with allergies. These products get softer with every wash! Check out their sheets, comforters, eye masks and throw blankets!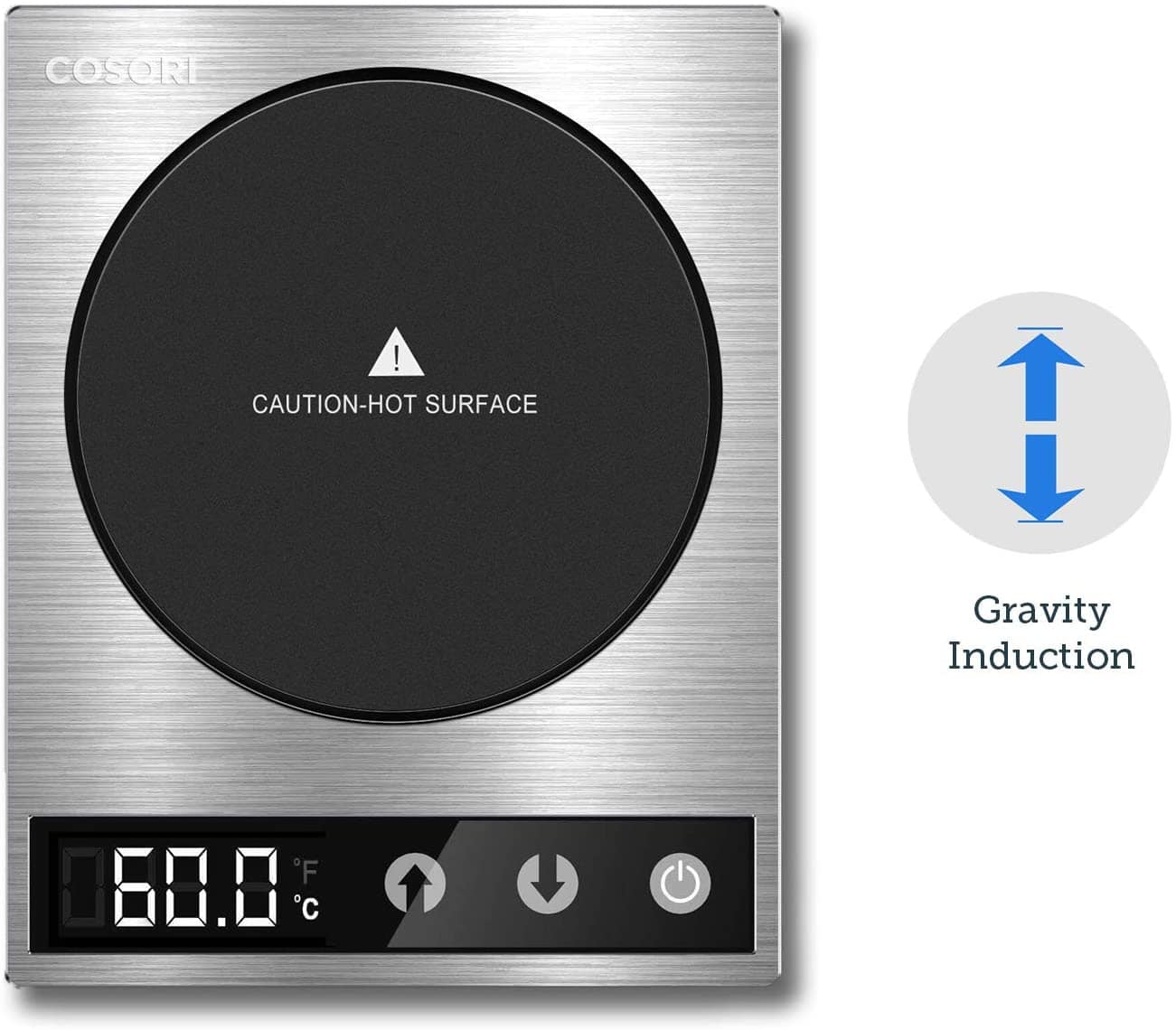 COSORI Coffee Warmer – Do you have a coffee lover on your gift giving list? Check out this new coffee warmer from Cosori. It features an automatic shutoff after 8 hours of activity or if your cup is removed for more than 60 seconds. I love that! After a long day you don't have to worry that you left it on when you leave the office (or at your house). With the gravity induction technology, when you lift your drink off the coffee warmer, the warmer will stop producing heat until you place your cup back on the surface. You can also customize the temperatures. Simply adjust the surface temperature of the coffee warmer from 77°–194°F / 25°C–90°C to maintain the perfect warmth for any beverage. So regardless if you enjoy hot coffee or hot tea this warmer is for you. The perfect Christmas gift!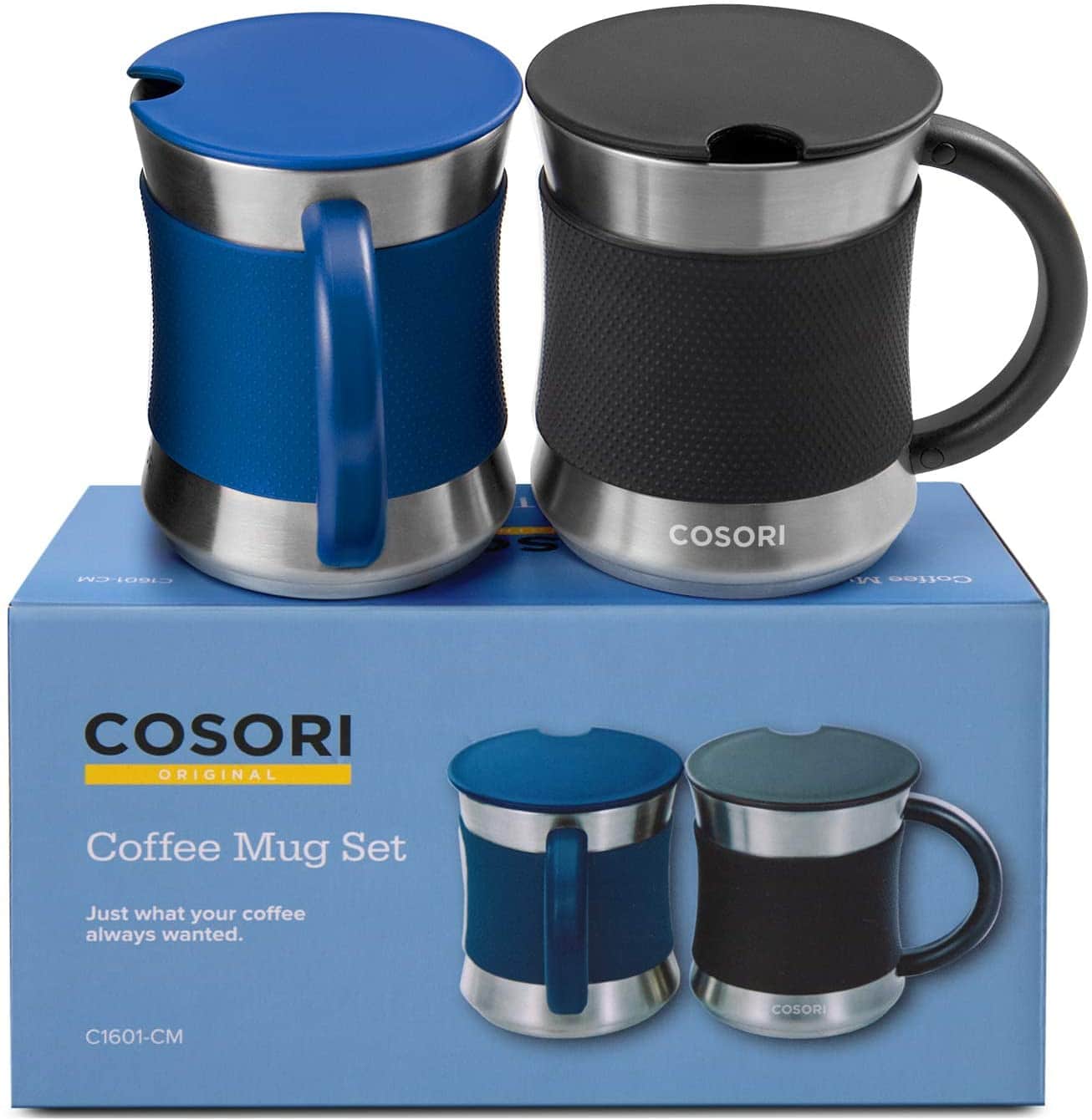 I would also suggest the Coffee Mug that goes hand in hand with the warmer. At only $25.99 for a set of two it is a great price. It also comes with lids. The slip-resistant silicone sleeve around the Coffee mugs helps drinks remain non-slip, and the wide flat mug bottom makes full contact with a warming plate. We just love this combo! This is a huge win if you have a coffee drinker on your list.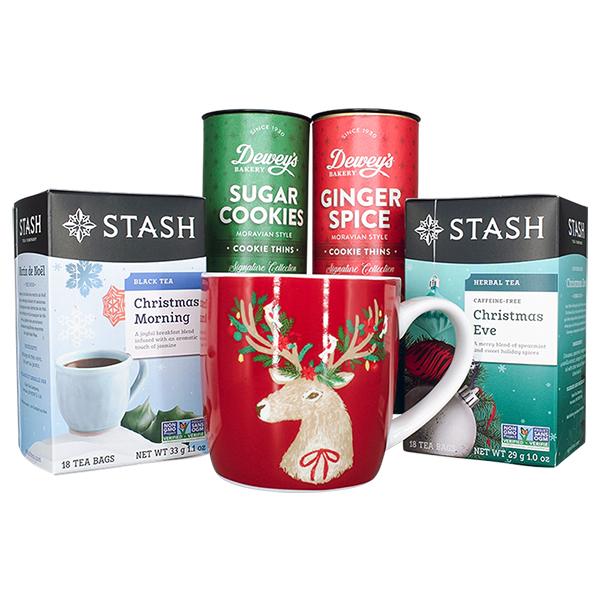 STASH Tea – From tea experts to tea newbies, STASH Tea has fantastic gifts for everyone on your list. STASH Tea is thrilled to bring their beloved Limited Edition Fall Teas back for 2020 to give you the opportunity to celebrate in the most fun and festive ways possible! The four delightful and inviting flavors are Cinnamon Vanilla, Cranberry Pomegranate, Decaf Pumpkin Spice, and Maple Apple Cider.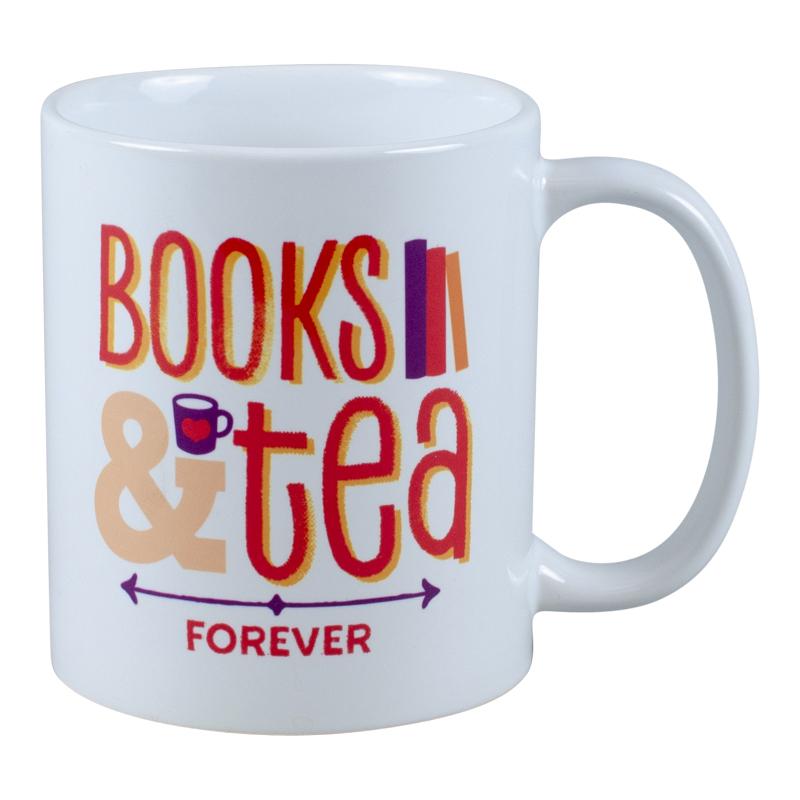 They offer some amazing tea gift sets and teaware gifts. Both are perfect for the tea lover on your gift giving list. This is a great gift for someone who is looking to destress, relax and unwind.
Reshoevn8r –
is one of the leading sneaker cleaning systems in the world. This is the perfect gift for any stylish sneaker lover in your life! My son is one that is for sure! The
Reshoevn8r's Essential Shoe Cleaning Kit i
ncludes all of the essentials to keep your favorite sneakers looking brand new. It's about having the right tools for the job — from shoe cleaning solution, to a variety of bristle brushes to shoe stain repellent — you name it and Reshoevn8r has every shoe fanatic covered! It provides everything you need for effective cleaning on a wide variety of sneaker materials. Perfect for a stocking stuffer as well! Priced at $35.00.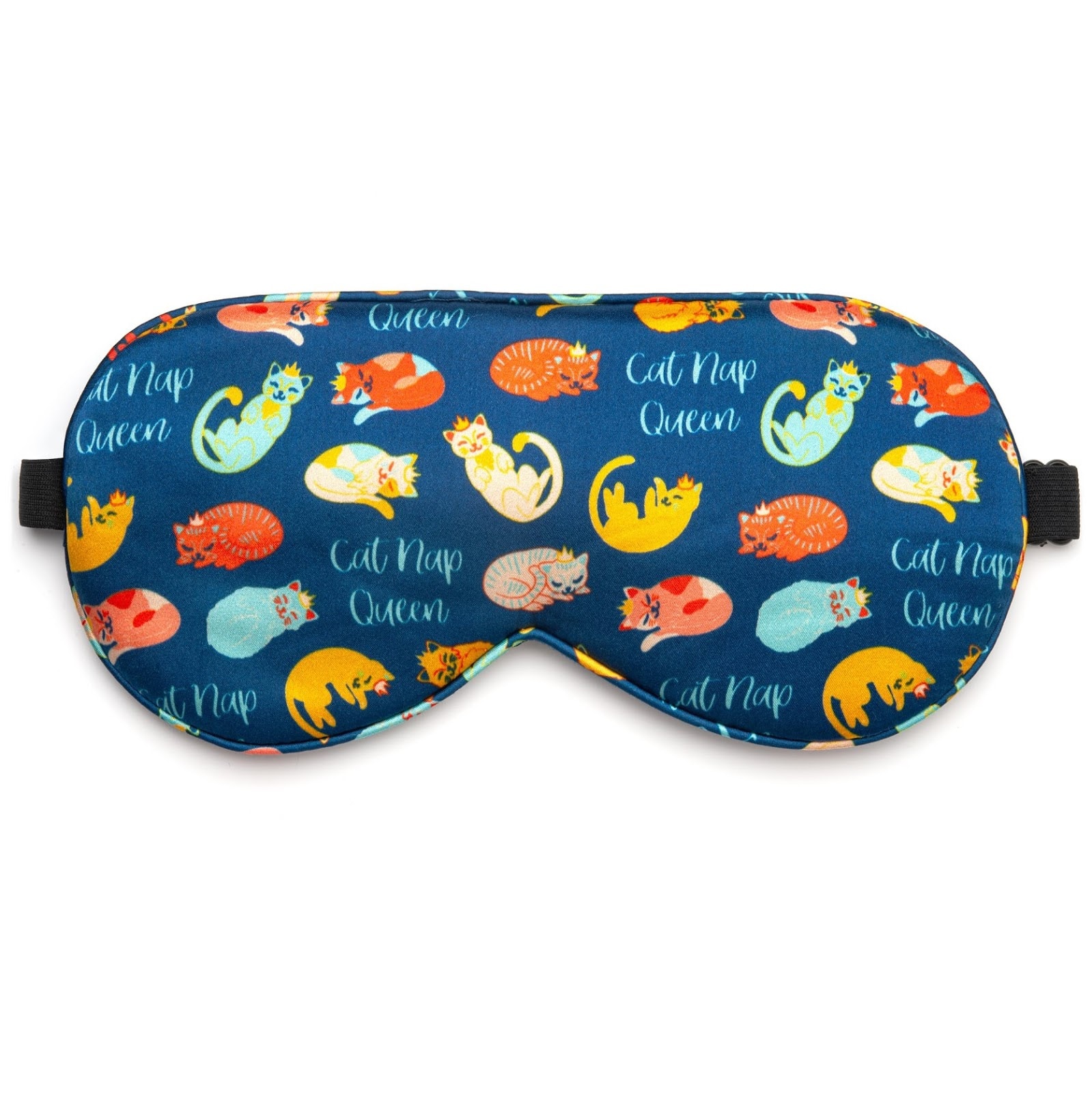 Catnap Queen Silk Sleep Mask – Lavley Sleep Masks not only have a refreshing look and feel, they are also made with super soft 100% 16mm Natural Mulberry Silk, a hypoallergenic material, to help improve your quality of sleep! Perfect for blocking out light at night, during naps, travel or meditation. Lavley sleep masks are filled with a hot melt polyester padding which is eco-friendly, so you can rest easy at night knowing it's safe for both you and the environment!
At 8" x 3.75" the sleep mask is designed to provide a good fit for both men and women. The 1.5cm wide elastic band provides a more comfortable fit without tangling your hair and allows for easy adjustment to accommodate any head size. Simply tighten the strap as needed to block out more light. This is the perfect and affordable gift for every adult on your gift giving list. Price is $8.95.

Healthy On You Spice Blends – If you have someone on your gift giving list that loves to cook this is the perfect gift idea. This spice box is for the adventurer in us all. Everything is going to be "all spice" with No Woman No Spice-an exotic blend from the Caribbean island of Jamaica where the spicy habanero/scotch bonnet peppers take the center stage. It packs just the right amount of heat for seafood, meats, and stews. Moroccan Round the Clock will transport you back to Marrakech with coriander, cumin, and allspice flavors. The Saffron and Winding Roads takes you for a spin with a turmeric and saffron sea salt infusion that's perfect on everything from eggs to risottos.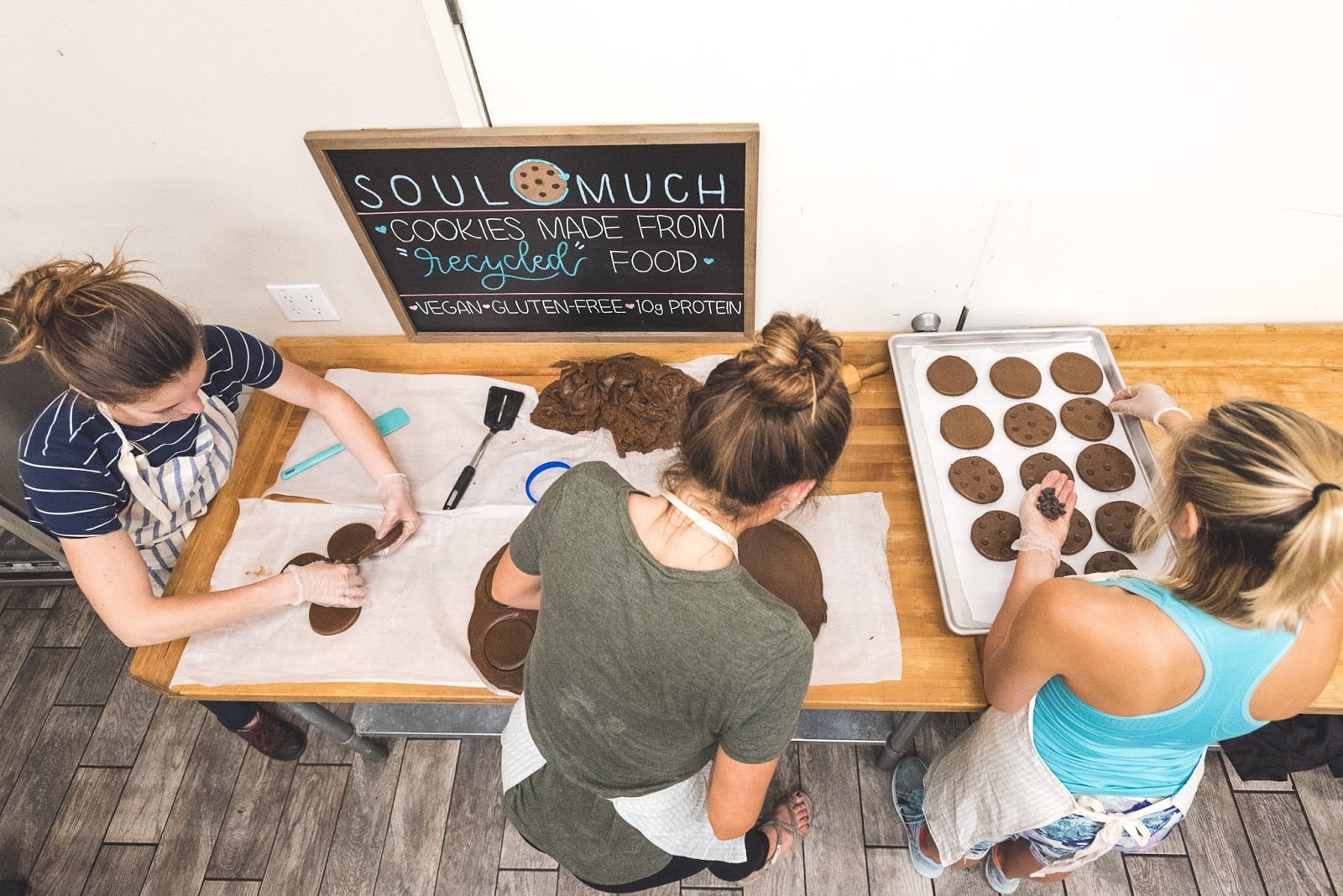 SOULMUCH is making a mark in the food industry with its unique approach to upcycling what would've been food waste and repurposing that into snacks that are good for you and the health of the planet and sustainability. As former servers in the restaurant industry, the founders noticed the constant waste of food each night and realized that they could solve this problem with a sustainable solution. That was the inception of SOULMUCH and the start of baking delicious cookies made out of untouched, nutrient-rich food.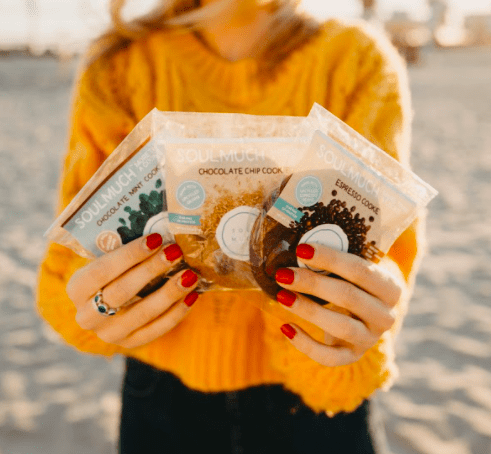 They offer vegan and gluten-free varieties. The price is $24 for a 6-pack. Chocolate Chip which is the top seller since day one! The delicious blend of flavors with a healthy twist on the traditional favorite will leave you craving more. Chocolate Espresso. This double chocolate espresso cookie packs the impressively rich flavors of organic cocoa with a decadent familiar taste of espresso. Mint Chocolate which is refreshing and satisfying, the mint chocolate cookie masterfully balances the rich flavors of organic cocoa with the coolness of mint. Consider this a healthy 2.0 version of the classic Girl Scouts Thin Mint. Beet Velvet: The classic beet "red velvet" cookie blends wholesome and nutritious upcycled beets with rich cocoa. Carrot Ginger Tumeric. This carrot cookie mimics the flavors of classic carrot cake by utilizing the warm taste of cinnamon and nutmeg but with a fun twist of fresh upcycled ginger, turmeric, and carrot pulp to add a wholesome taste.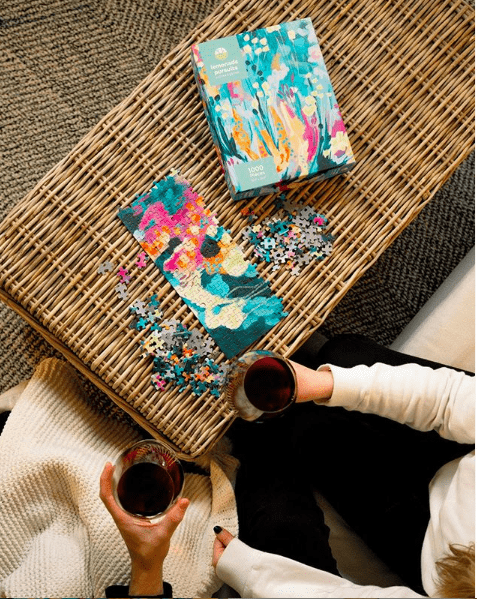 Lemonade Pursuits – Explore artist created designs as you surrender your mind to the relaxation of assembling a puzzle! Lemonade Pursuits features 500 and 1000 piece jigsaws that highlight design elements that let you turn off your buzzing brain and reclaim your down time. Take a stress-free mental break with natural fractals, seascapes, shades of blue, green landscapes and cheerful scenes. Priced at $24.99 this is a great gift idea for anyone who loves puzzles. It is perfect for quarantine too!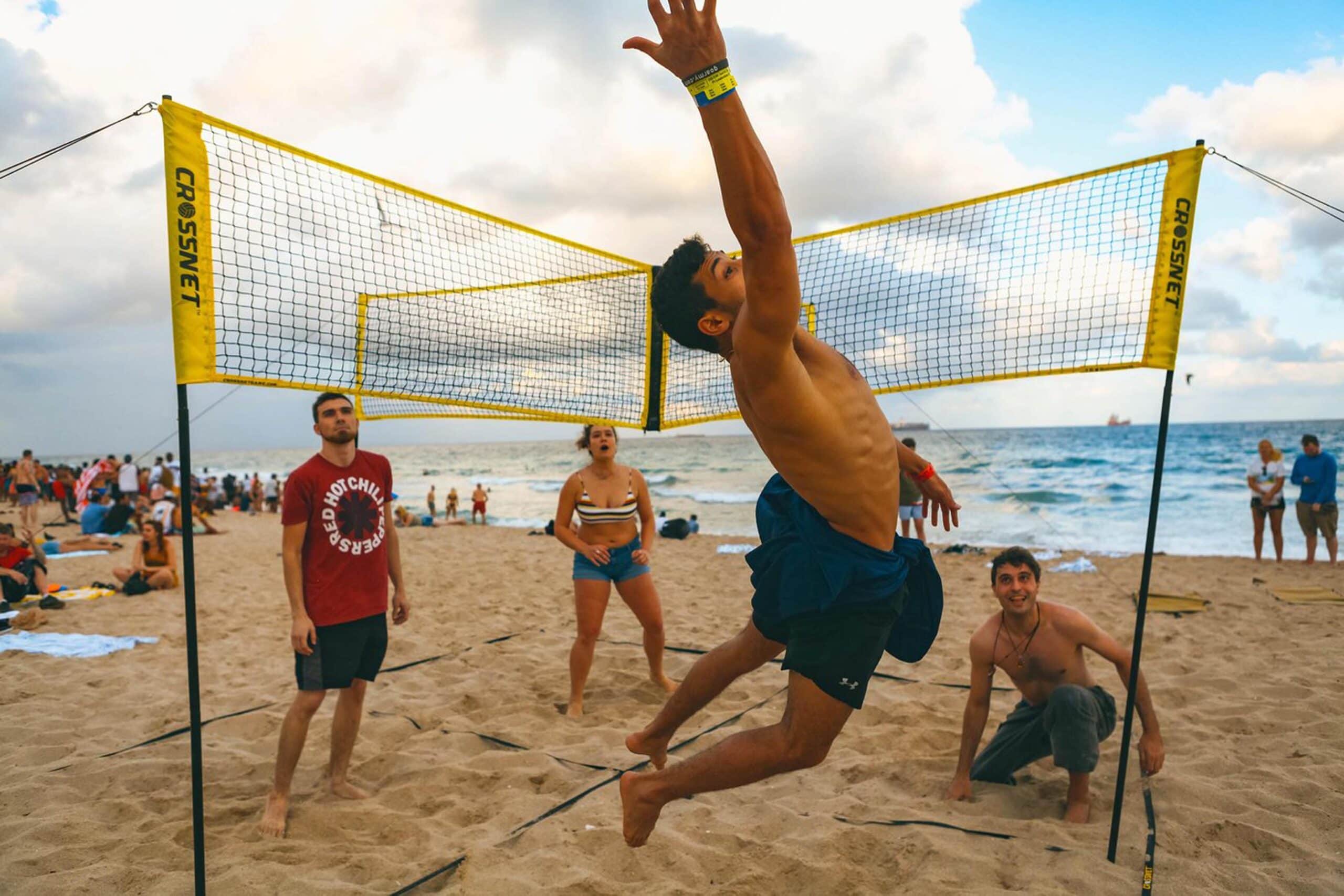 CROSSNET – It's the indoor/outdoor game that broke new sales records during the height of shelter in place! Created by two brothers and their childhood friend while brainstorming new sports, CROSSNET, a combination of volleyball and foursquare, is now played in over 7500 physical education classrooms. Now, it's the hottest gift of the 2020 holiday season that has hundreds of 5 star reviews on Amazon!
This innovative take on Volleyball is a foursquare model that folds up easily and can be played indoors or on the go! Sold on
crossnetgame.com
, Amazon, and available in 1500+ retail locations across the US, this innovative game is the must-have gift of 2020 and beyond! Priced at $149.99. Also available at Amazon, Target, Walmart, DICKS, Scheels, Academy and more!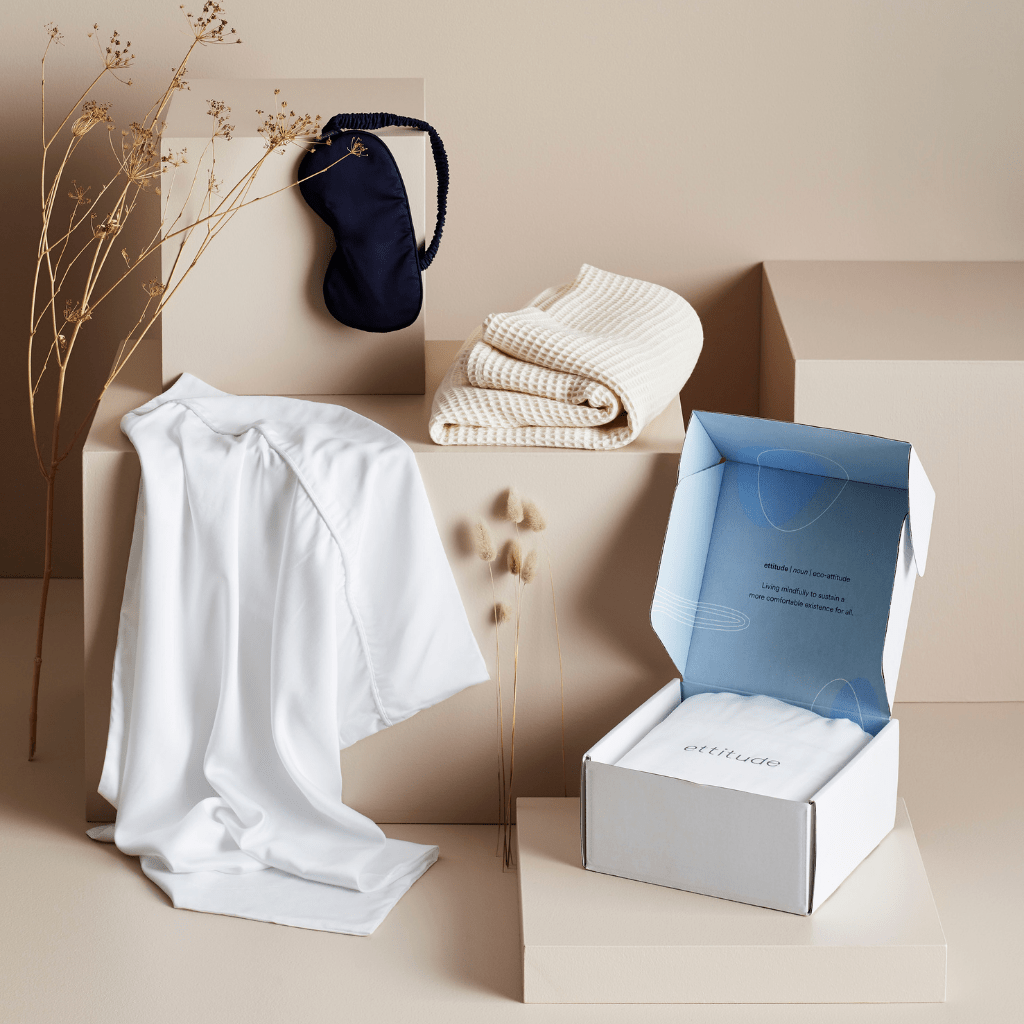 CleanBamboo – Nothing is better than self care this year! Check out this amazing Holiday Bundle/Starter Kit from ettitude. I am in love with it! Unpack the 3 bestselling essentials bundled in our Starter Kit – a Standard pillowcase set, Waffle bath towel, Unisex eye mask. At only $56 for this bundle. You can't go wrong with spoiling Mom (or Dad) this holiday season.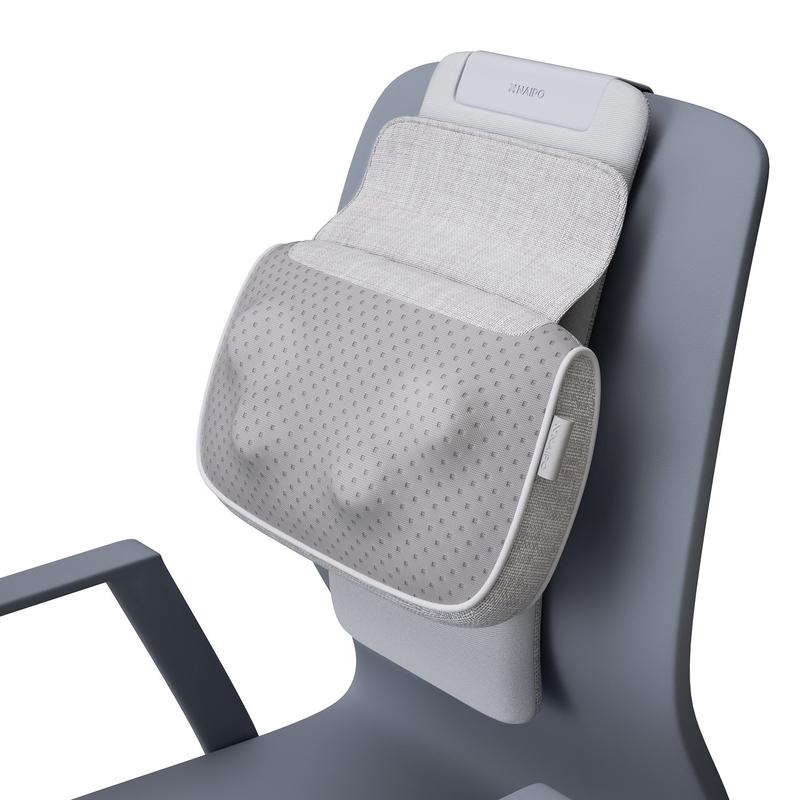 NAIPO oPillow Back Massager – This is the gift that keeps on giving! Perfect for relaxation and for anyone who suffers from neck and back tension. Enjoy a deep kneading massage experience. The four nodes move simultaneously, with rotational movement that reproduces the feel of an in-person massage. Personalize your experience by adding pressure to targeted regions.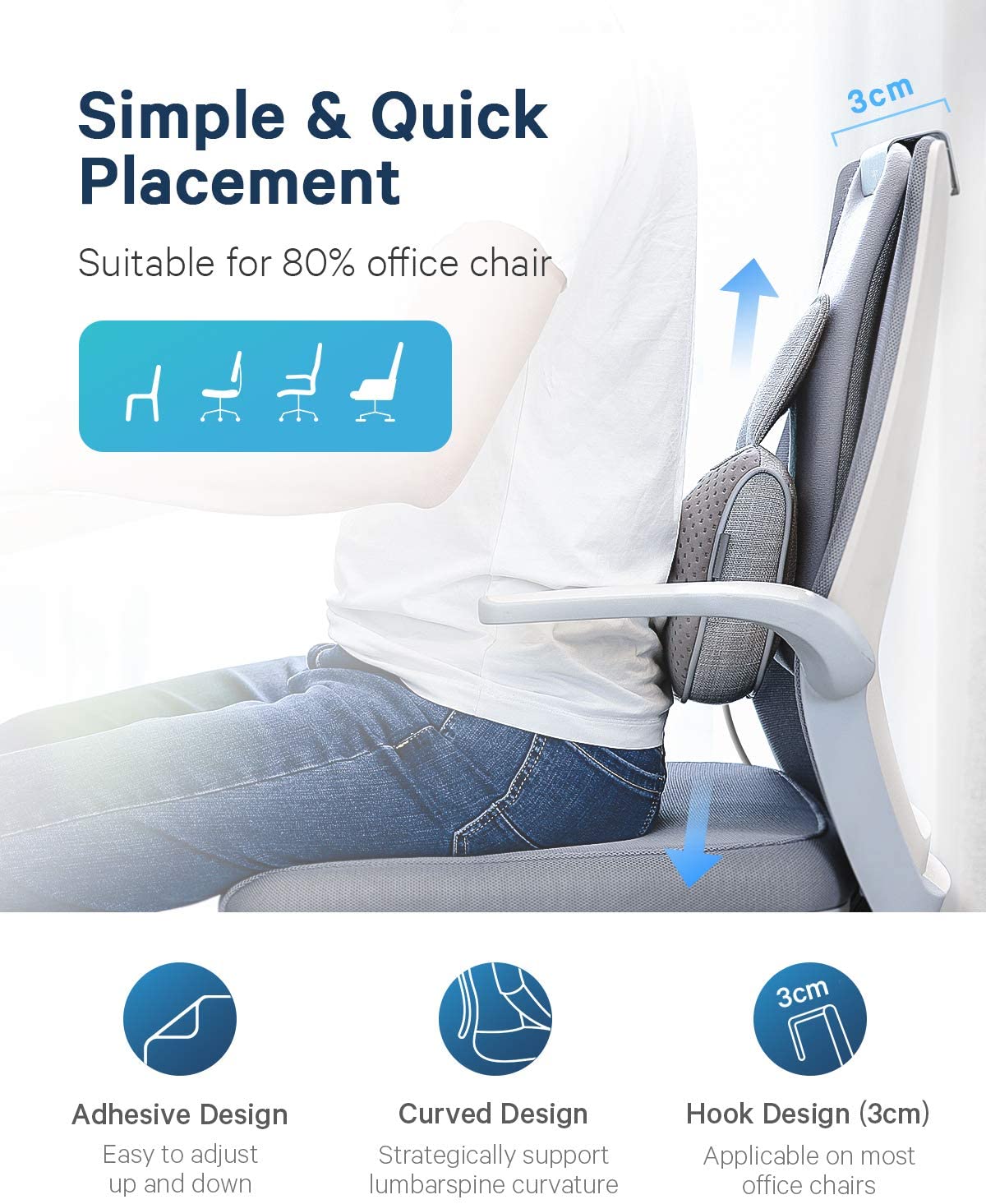 The oPillow is the latest in the popular O Series of massagers from NAIPO. The latest generation of massager technology, the oPillow challenges you to rethink the pillow massager. Imagine working at home or in the office when suddenly your back starts to ache. Instead of scheduling an appointment with a masseuse, simply affix the oPillow to your desk chair and let it go to work. The four nodes with rotational movement reproduce the feel of a professional massage, and advanced smart controls allow you target exactly the right spot. Able to treat your neck, back, waist and calves, the oPillow is equally effective for standalone use. If you are missing your massage therapist this is a great alternative! Priced at $49.99. Right now, you can save 10% with our exclusive code. To save use the code: BTOHD4FP. Valid until 12/10/2020.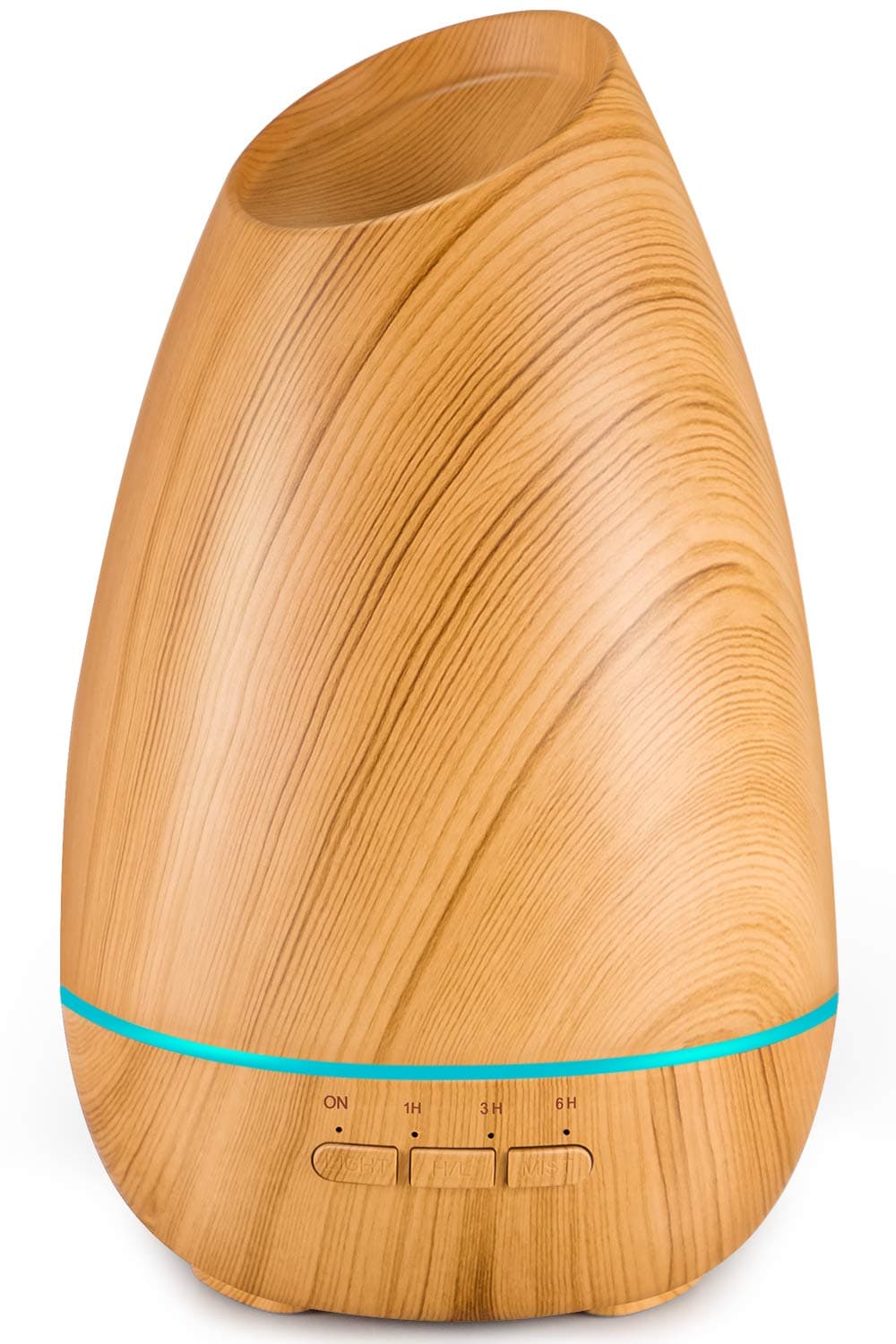 InnoGear Essential Oil Diffuser – With all the time we're spending at home, we want to keep it healthy and odor-free (please!). The diffusers from InnoGear do just that. They not only humidify your home, but they help remove odors, and with the healing benefits of essential oils, can also work to reduce stress, enhance moods, induce calm, and help relieve congestion.
This diffuser has two mist options (strong and light), as well as a timer. It is also whisper quiet and holds 400 ml of water: the large tank runs 5-6 hours in strong mode and 8-10 hours in weak mode, ensuring all night humidification. It also features an automatic shut-off when the water is out and is BPA-Free. If you are looking for the perfect gift this Christmas season consider an essential oil diffuser. Available in two color choices too!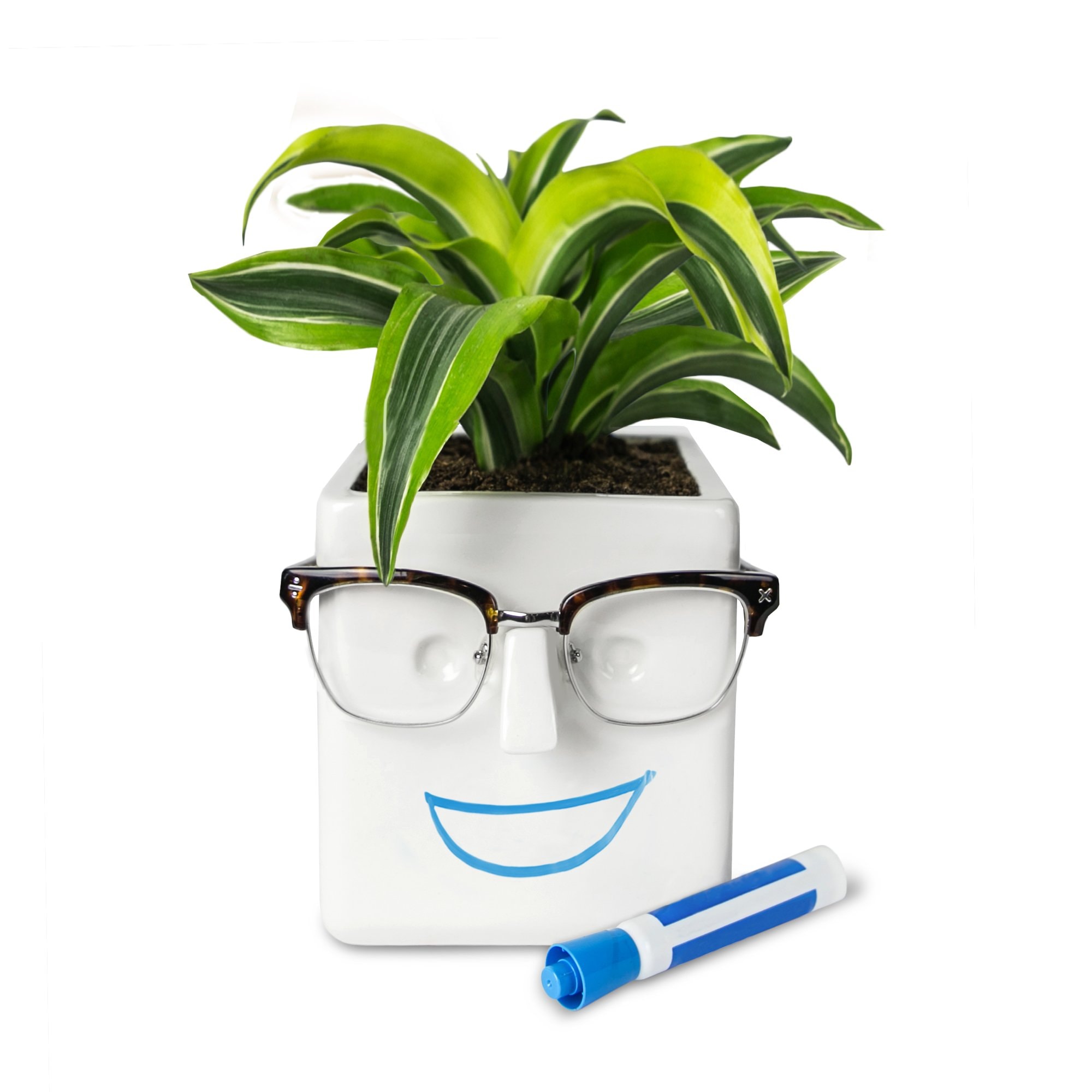 30 Watt's innovative Face Plant, or Silicone Planter – The planters are unique back-to-college gifts for someone living in a small space who loves plants, design, fun, functionality (*and may lose track of their eyeglasses often!). This is a great Christmas Gift!
The Face Plant gives plants a personality, so you never feel awkward talking to your plants again! The planter combines the functionality of a minimal, high-design house planter with the functionality of a creative place to keep your glasses in plain sight, so you never lose them. To add more fun to the mix, the Face Plant can be personalized with facial expressions and messages using any dry erase marker. It is made of 100 percent ceramic and has drainage holes in the bottom for proper plant care.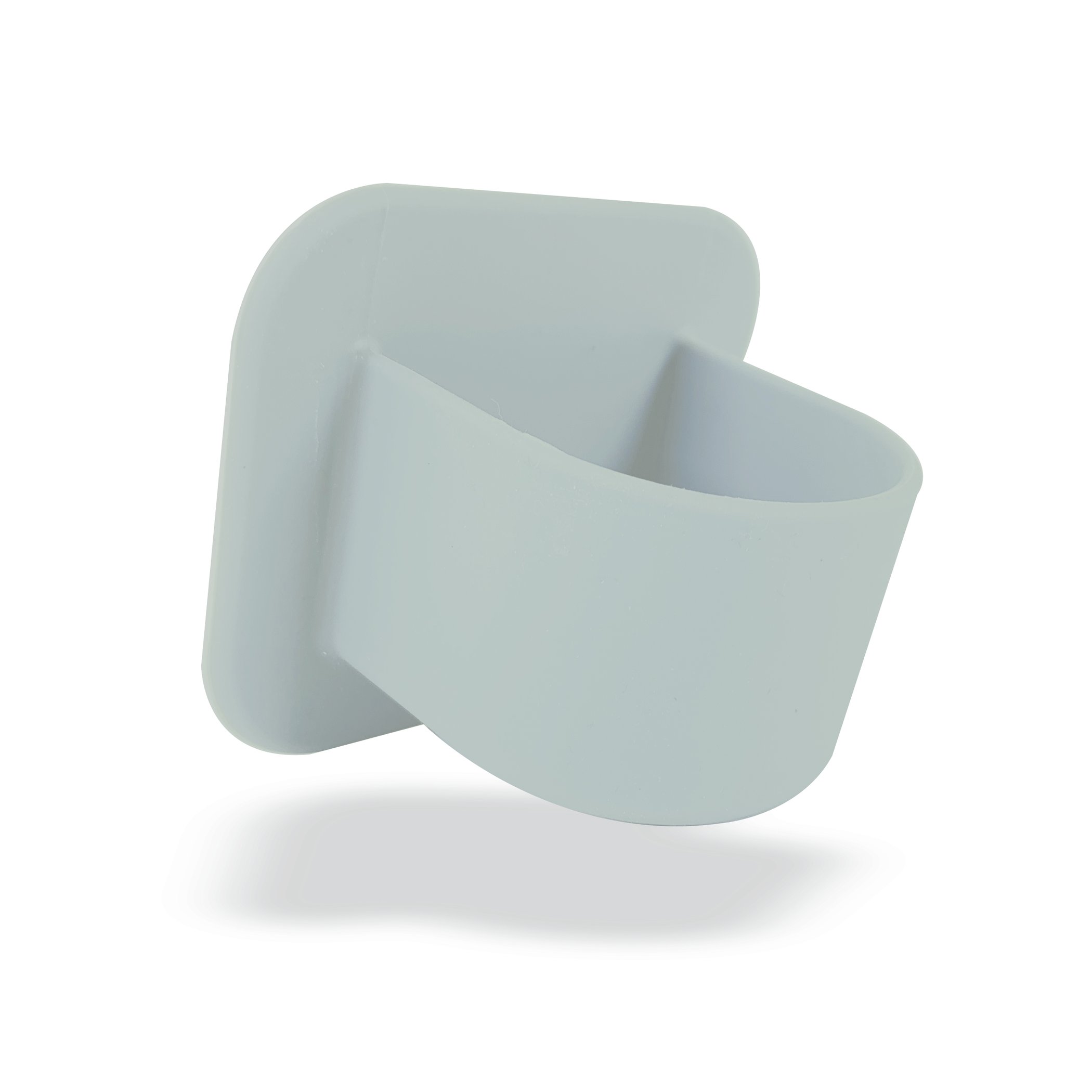 The Silicone Planter is the ultimate space-saving, natural light-absorbing planter. It clings to any shiny surface using a patented technology, without the use of glue or suction cups. The planter will hold most small plants two inches in diameter and works as a stylish accent décor piece. The Silicone Planter will cling to mirrors, windows, filing cabinets, whiteboards, and more.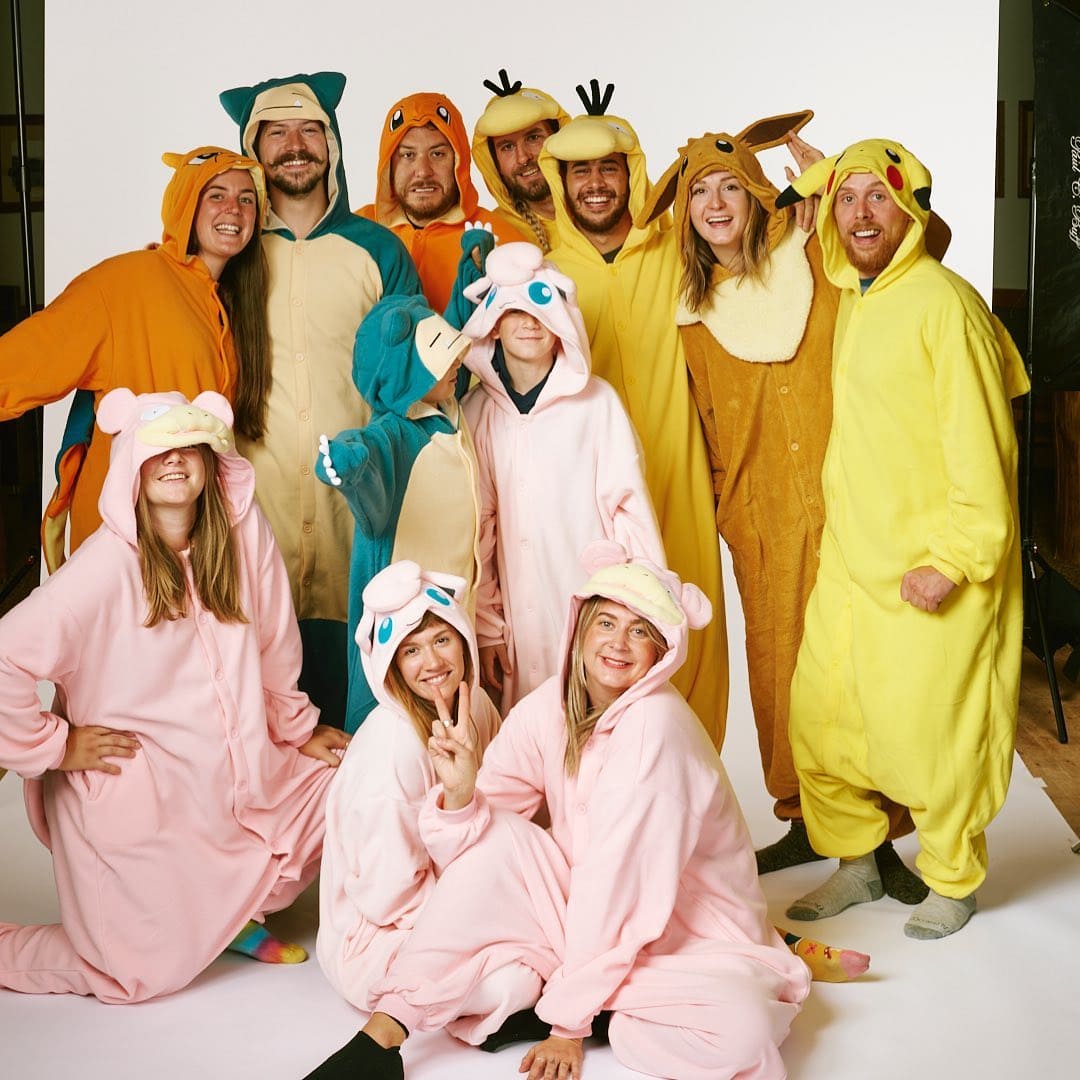 Kigurumi – has a great collection of onesies, which is the perfect gift for Christmas! You may think this is a silly gift but why not? I think it is exactly what we need. They have a great variety of comfy and colorful onesies for everyone in the family. If you are looking for the perfect quarantine gift this is it! So comfy and everyone can relax and unwind together in their favorite style.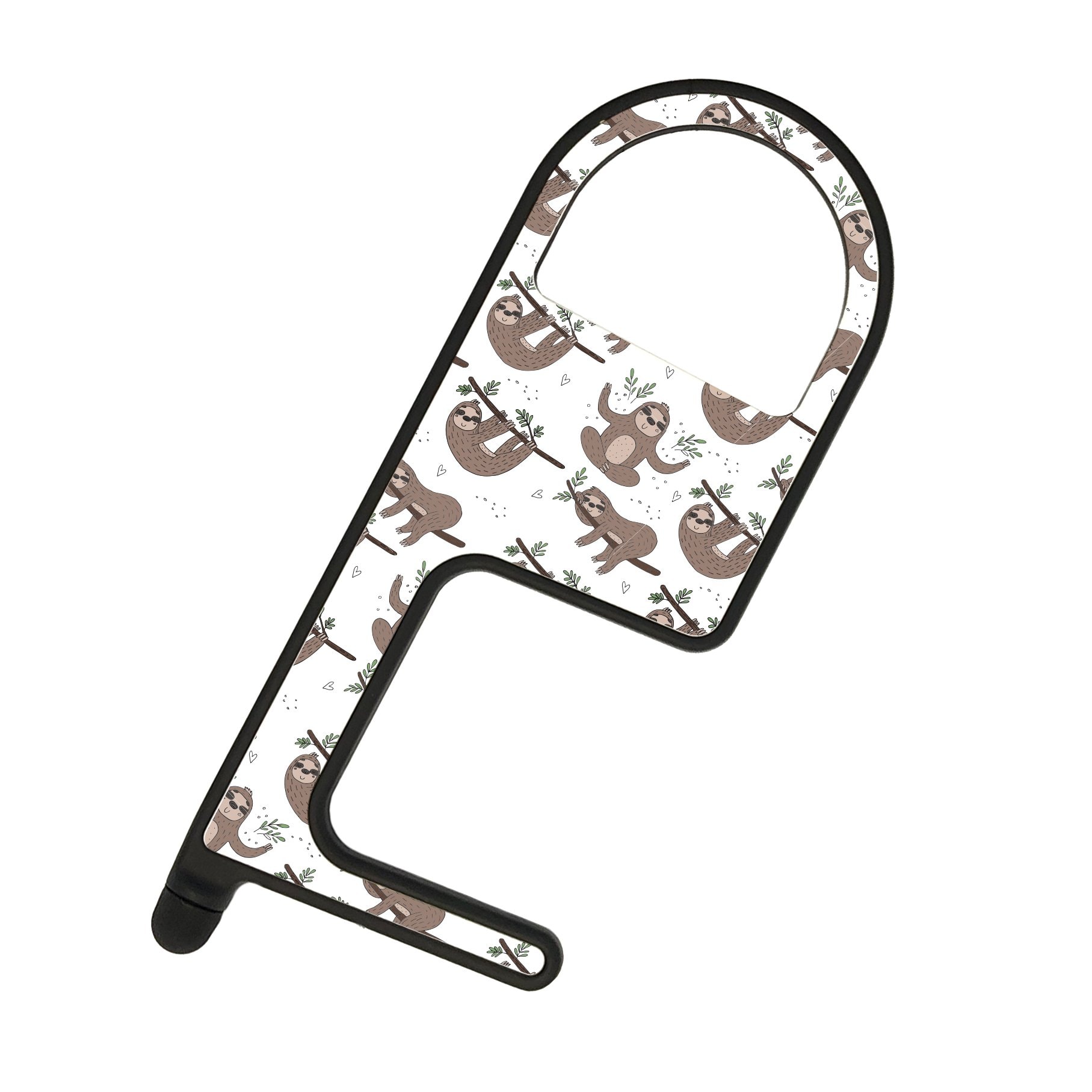 Touchie – Seriously this needs to be in the stocking of every adult in 2020. I have one and I love it! Touchie is a fun and functional no-contact tool that helps you reduce the number of times you come in contact with common shared surfaces. Priced at $15 it is a useful and creative gift idea for every adult on your list.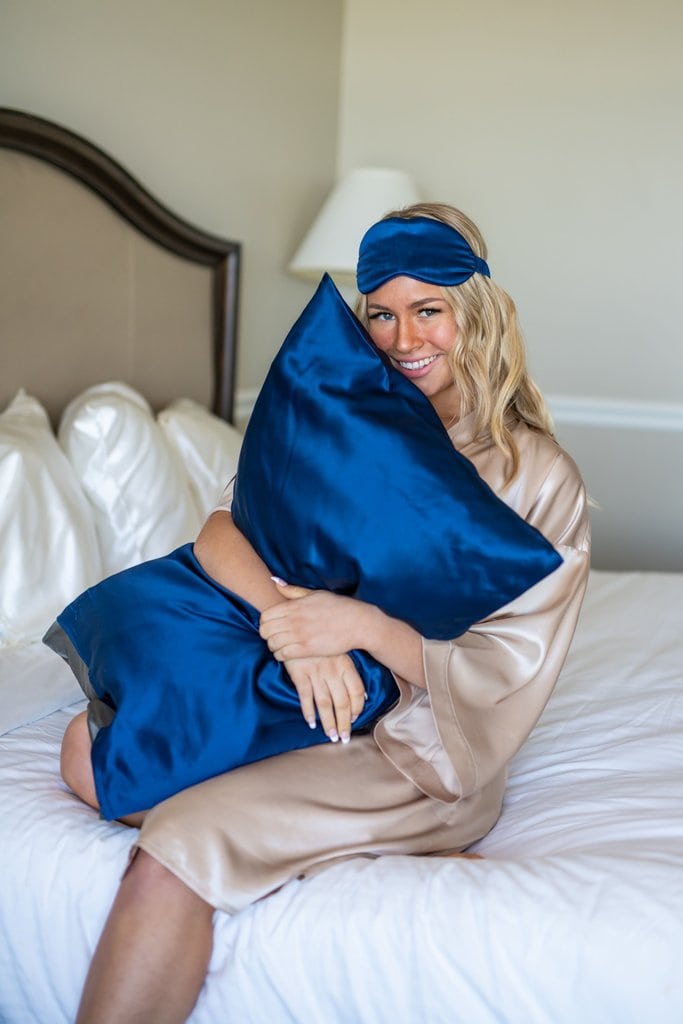 Silken Pure Pillow Case – Sleepless nights – something that seems to afflict more and more Americans, especially as we still haven't returned to normal since the pandemic has hit. Silken Pure creates pillowcases, sleep masks and robes from pure mulberry silk in which the supplier has an OKEO TEX 100 rating to ensure only non-toxic dyes and natural fibers are used.
The silk is full of protein-rich fibers that contain 18 different amino acids that your skin naturally absorbs and retains, which means your skin is hydrating while you sleep. Better yet, Silken Pure's pure mulberry silk has you moving past the synthetic, artificial, petrochemicals that are used in most cotton products. It also helps with anti aging, anti bedhead and anti sleep wrinkles. Plus it is hypoallergenic. The perfect gift for every adult on your list. Depending on your price point check out the sleep mask too!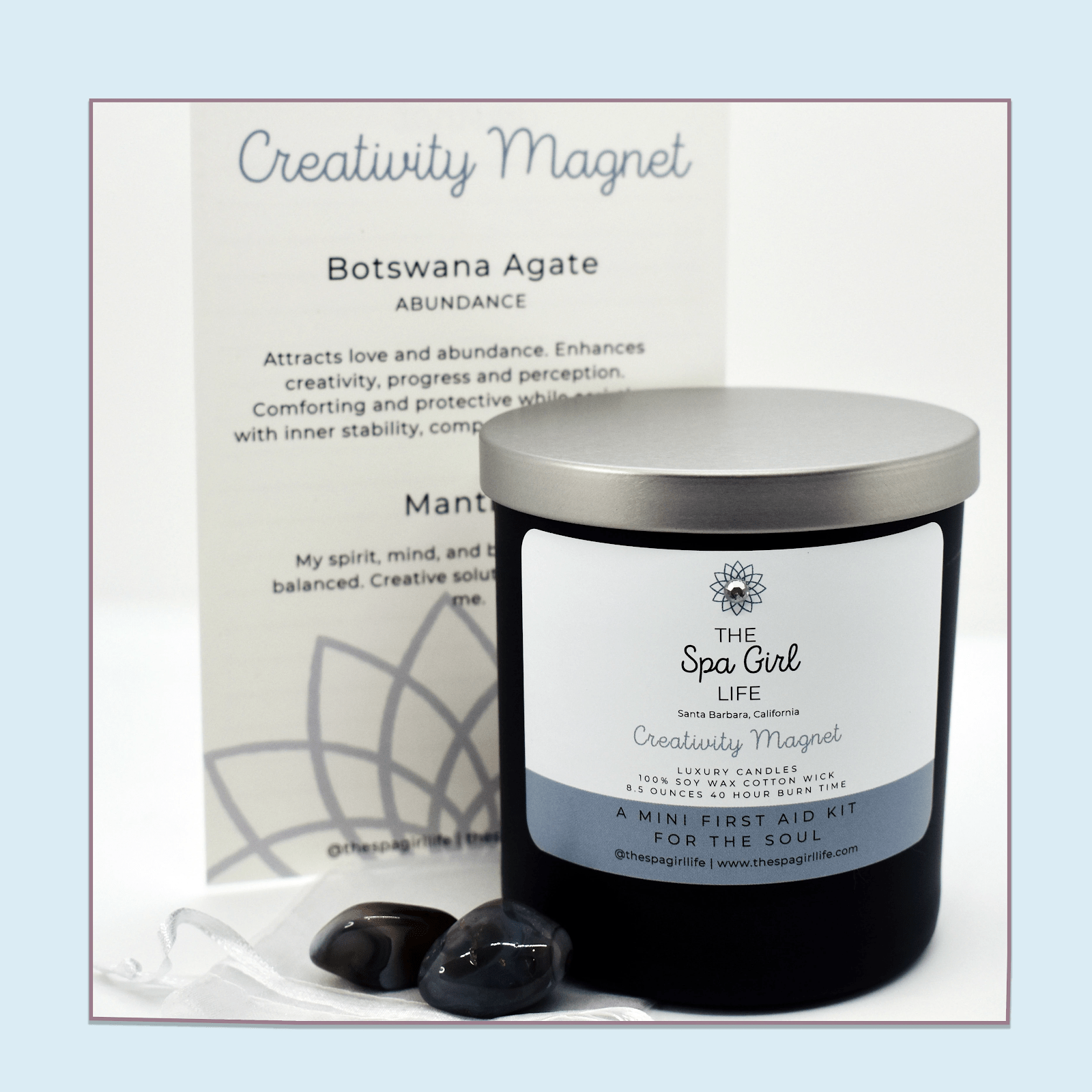 The Spa Girl Life Candle – This luxury candle and stone paring work to balance the spirit, mind, and body, allows creative solutions to flow easily, attracts love and abundance, and provides comfort and protection, all while assisting with inner stability, composure, and maturity. The Spa Girl Life offers eight fragrance and stone pairings that allow you to personalize a mind-body wellness experience. Each candle is paired with a guided meditation to help nourish your soul. I don't know what person wouldn't enjoy this one!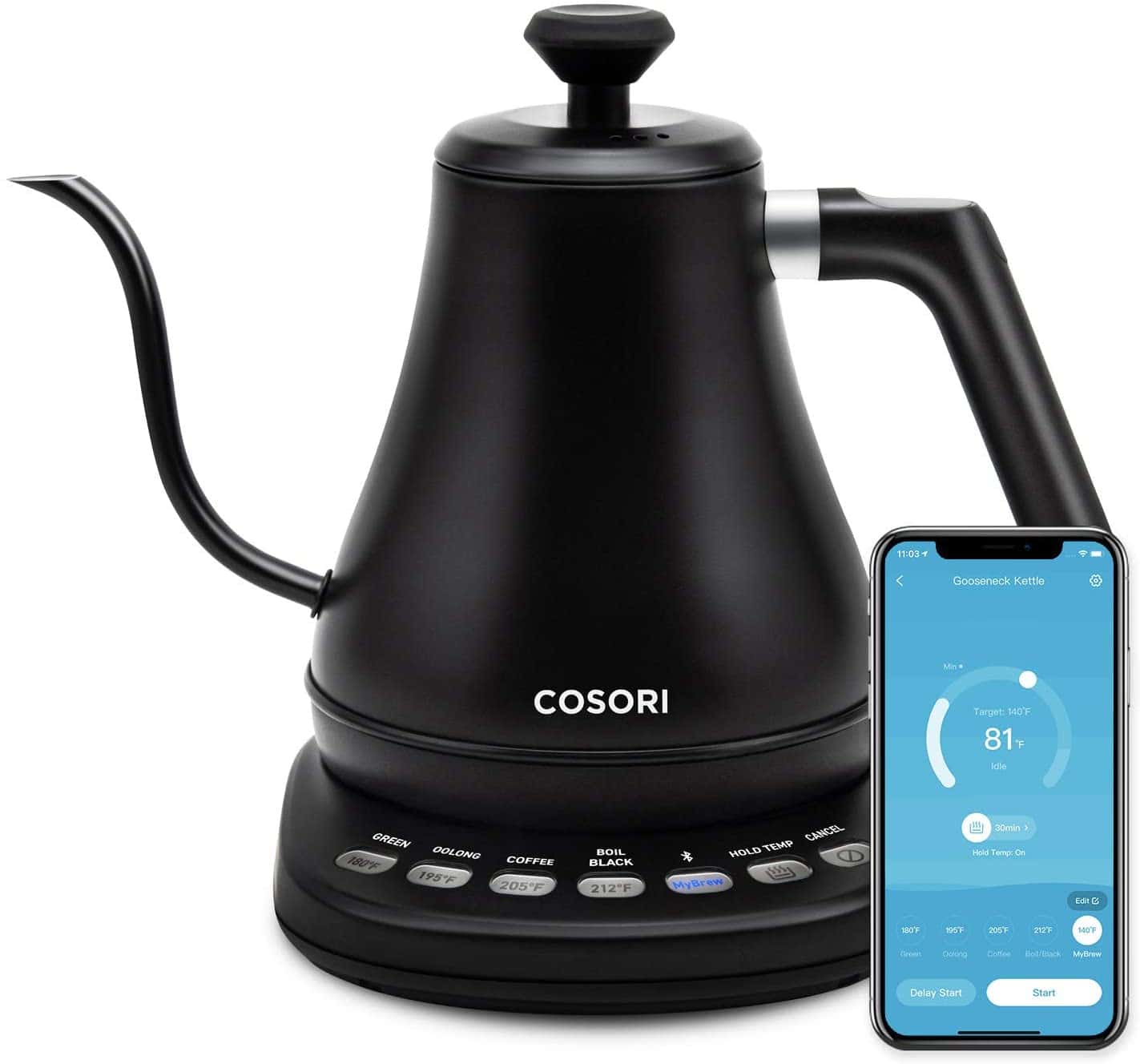 Cosori Smart Bluetooth Electric Gooseneck Kettle – If you have a tea fanatic on your gift giving list check out this awesome new kettle! No need to get out of bed before heating your water with this Smart Bluetooth feature. Enjoy full control of your kettle through your smartphone by connecting it to the free VeSync app. You can adjust the temperature, change the hold temp time and schedule when to boil with VeSync. Also you can customize your own preset using the "My Brew" function. The Rapid & Precise Boil takes 3–5 minutes to boil with powerful heating, 4 precise temperature presets and Hold Temperature function that keeps water at the same temperature for 60 minutes. The elongated spout allows for steady water flow. STRIX Thermostat Technology, automatic shutoff, boil-dry protection make use safely. Priced at $75.99 and is available on Amazon.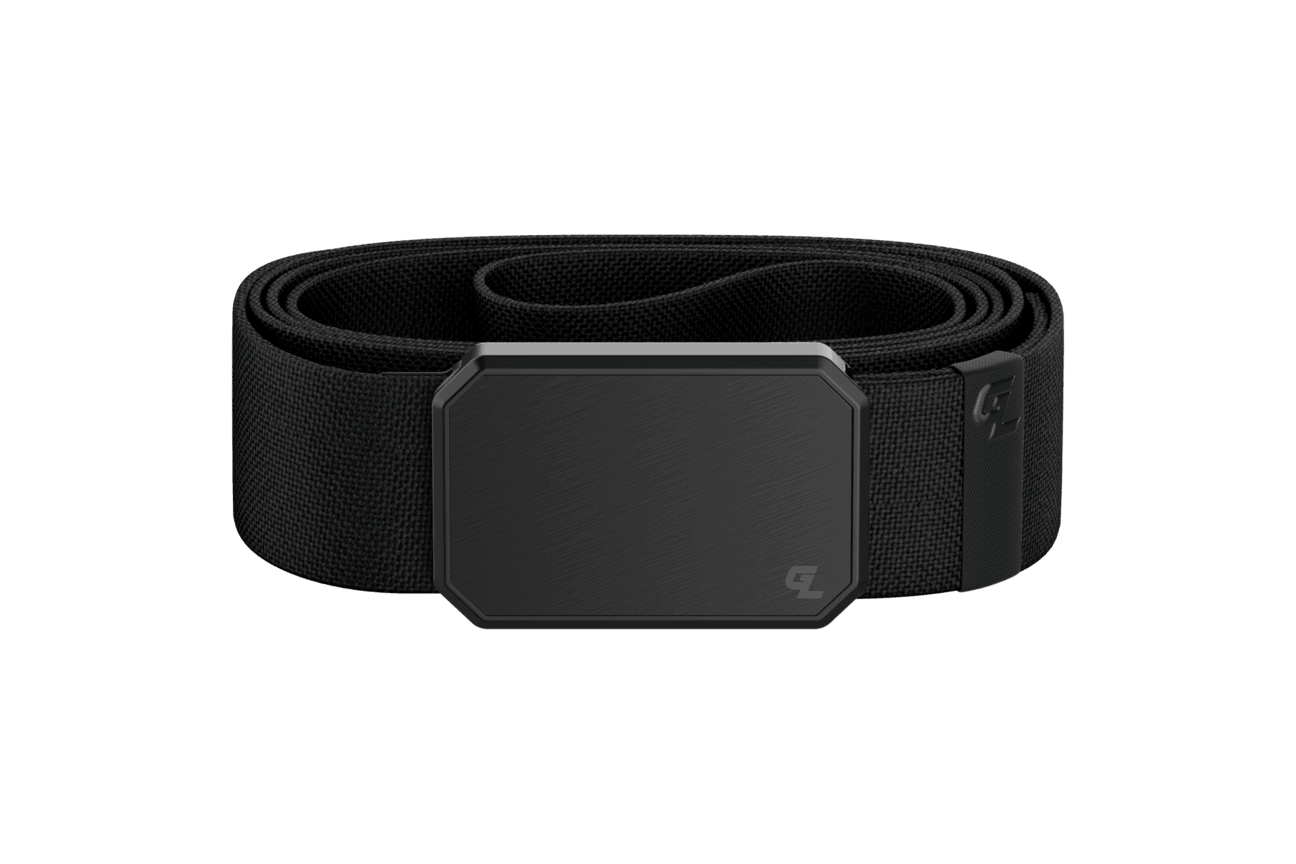 Groove Belt – Are you looking for the perfect and useful gift for Dad? This is it! The Groove Belt™ is good for the office, the woods, the backyard, and everything in between! Just adjust to fit once and forget. The Groove Belt has the perfect amount of stretch giving you the most comfortable all-day fit ever. The buckle uses high strength, neodymium magnets for an easy, seamless snap-on/snap-off. It features proprietary webbing, rare-earth neodymium magnets and an A380 aluminum alloy buckle. It is comfortable and useful! What more can Dad ask for? Priced at $49.99.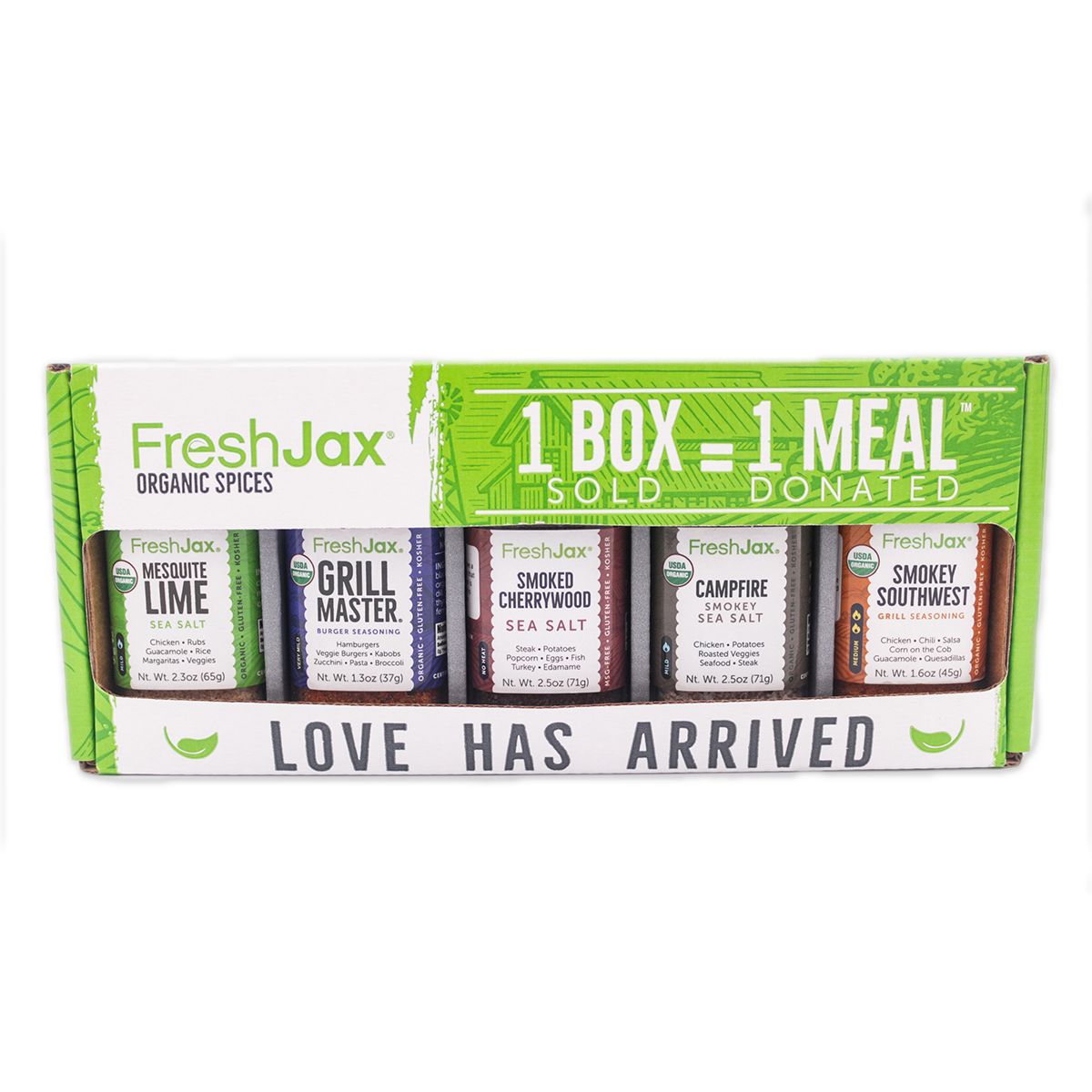 FreshJax – The most unique gift for the grill master in your life. These all-natural grilling spice blends are for newbies and seasoned chefs. When you purchase this gift, FreshJax donates one meal to a hungry child in need.
Most kids are excited for winter break. This year, 1 in 6 children will be hungry during the holiday season. When you purchase this organic gift set, FreshJax donates one meal to a hungry kid in need. Give a gift that truly gives back and join the fight to end childhood hunger. Make your purchase at FreshJax.com before December 10th to guarantee your gift arrives in thyme to put under the tree.


Dr. Plotka Toothbrush – Seriously the best toothbrush I have ever used. It features naturally antimicrobial* bristles that are embedded silver naturally eliminates 99.9% of bacteria that grows on the bristles between brushing sessions. My dentist even asked at my last cleaning if I was using a new toothbrush because she could tell! This makes for a fantastic stocking stuffer for every adult on your list.
It features Flossing Bristles™ – Dual-layered bristle structure provides superior cleaning: the longer, thinner bristles – thin as a human hair – reach deep into grooves, under the gumline and between teeth to brush away food and plaque other brushes miss while the thicker bristles ensure complete cleaning of gum and teeth. Dr. Plotka's travel toothbrush is the perfect size for everyone in your family and available where you shop on Amazon, Whole Foods Market, Sprouts Farmers Market, and on mouthwatchers.com.
We hope you enjoy this Christmas Gift Guide for Adults 2020. Be sure to check out all of our Holiday Gift Guides.
Stockpiling Moms can be found in all your favorite places. Hop on over to Instagram and follow the fun. We love posting memes, family fun, travel, and whatever we are feeling that day. Pinterest is also an amazing place to visit Stockpiling Moms. This is where you can pin all your favorite articles from our Food, Travel & Lifestyle Blog.
Disclosure: We were provided some of these items for our consideration. All opinions are 100% our own.
Melissa is a football and soccer mom who has been married to her best friend for 24 years. She loves sharing recipes, travel reviews and tips that focus on helping busy families make memories.