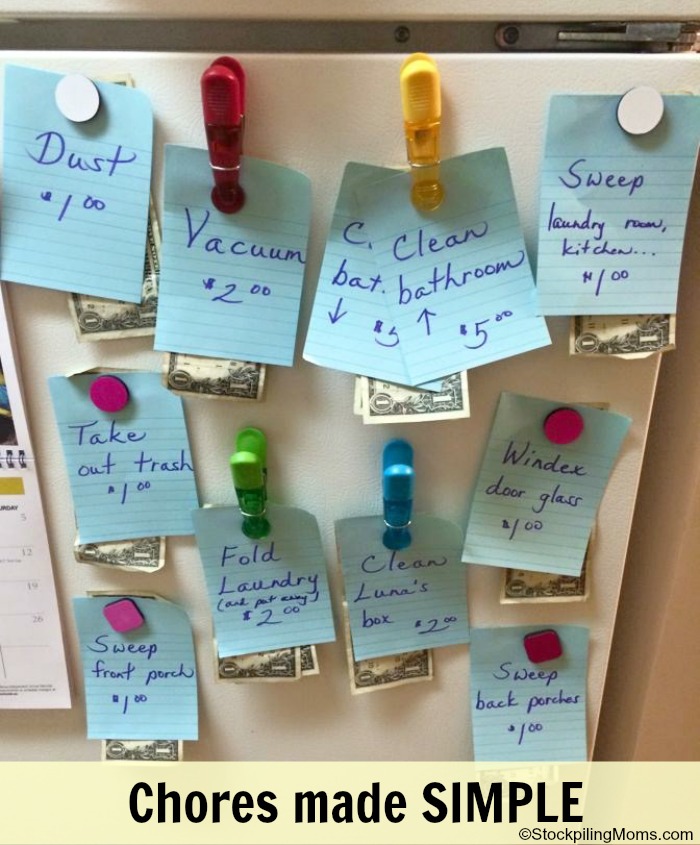 Chores Made Simple. I am in love with this chore made simple idea that my friend Debra posted to her Facebook wall. Now, we generally don't pay for chores at our house.
Chores Made Simple:
It is just part of contributing to our family to do them however if you do pay for chores or if you have a special event or occasion or even surprise company coming to town then this is a FABULOUS idea for kids and teens to make chores simple.
My friend Debra created a chore list by simply writing the chores on post it notes and clipping them to cold hard cash. She put the chores on her fridge with a magnet and announced to the kids – who needs money! Next thing she knew they were frantically cleaning her house for her. The only rule.
You can only take one chore down at a time. The reward. Immediate gratification. The kids were happy, Mom was happy, and the house was happy! Now that is what I call a mom win! Best of all they were going to a festival that weekend so chances are she would be giving them money to spend. Instead with this tactic she got a clean house, and they earned their money!
Natural Cleaning Tips
How to Remove Urine from a Mattress
How to clean your plants with banana peels
How to Clean Your Top Loading Washing Machine
DIY Static Free Ball for Dryer
Melissa is a football and soccer mom who has been married to her best friend for 24 years. She loves sharing recipes, travel reviews and tips that focus on helping busy families make memories.