Budget Friendly Spring Break Ideas for Kids
Check out these Budget Friendly Spring Break Ideas for Kids. Spring break seems to be a very anticipated break these days. I'm sure one of the first things that pop into your child's head is: Vacation! However fun a week long vacation sounds, it doesn't always fit into the budget. Have no fear though, you and your family can have an amazing spring break on a budget!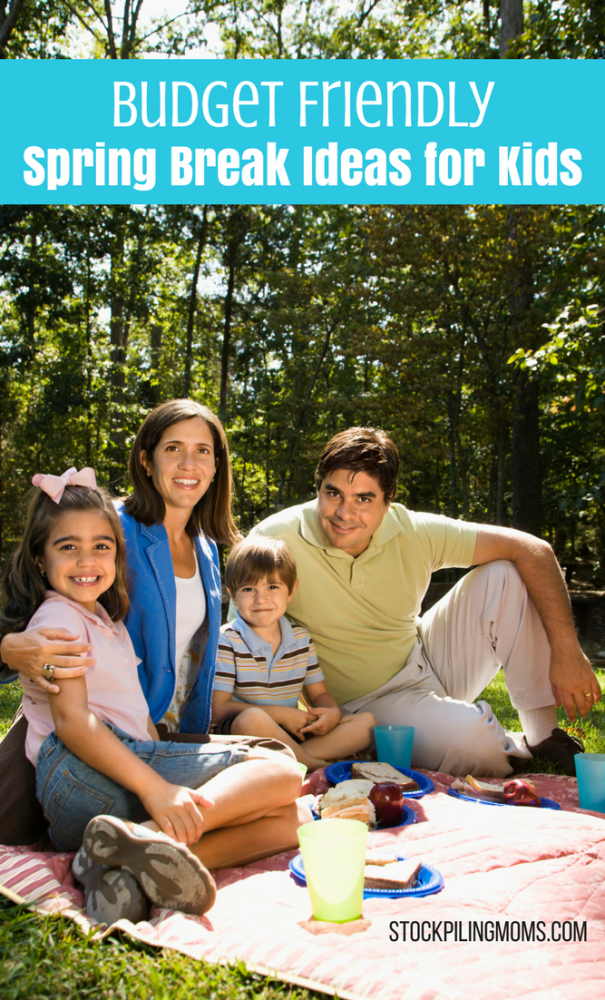 Budget Friendly Spring Break Ideas for Kids
Day Trips
Day Trips are great for when you want to get out of the house but, aren't up for (or have time for) a full vacation. Take advantage of the spring weather and be a tourist in your home town. Check out the sites or, drive a few hours away and check the sights there.
Mini Vacation
Take a mid-week two or three day trip. Just going a few hours from home is a great change in scenery which can help everyone reset.
I recommend mid-week because rates for hotels are sometimes cheaper than if you were to go during the weekend.
Staycation
I'm sure you have heard the term "staycation" before but, what exactly does it entail? It's simple. A staycation is when you take time off but, stay close to home.
Sometimes, families book a room at a local hotel with a pool for a night (or two). Doing this is just enough to get away from the responsibilities of being home and everyone is able to have a good time.
Stay Home
There is so much to do at home. While there are chores to do that isn't what I'm talking about.
Ignore the chores for a couple days. Spend time as a family.
Have an all day board game marathon or movie marathon. Set up an obstacle course outside. Have a food fight outside. Be creative and think outside the box!
Get Outside
There are hiking and biking trails all over. Many of them are free but, a few do have a small fee. If there aren't any trails close to your house find the closest State or National Park. The day passes are pretty reasonable and the views are pretty awesome!
Just because many people take off on a vacation to a warmer place during spring break, doesn't mean that fun can't be had closer to home. To keep it budget friendly you can search deal sites for places close to home and just remember: think outside of the box and have fun. That is what spring break is all about: fun.
More Spring Break Tips:
10 Travel Tips for Spring Break
Frugal Spring Break Fun in Cincinatti, OH
Melissa is a football and soccer mom who has been married to her best friend for 24 years. She loves sharing recipes, travel reviews and tips that focus on helping busy families make memories.