Betty Crocker Gluten Free Brownies Review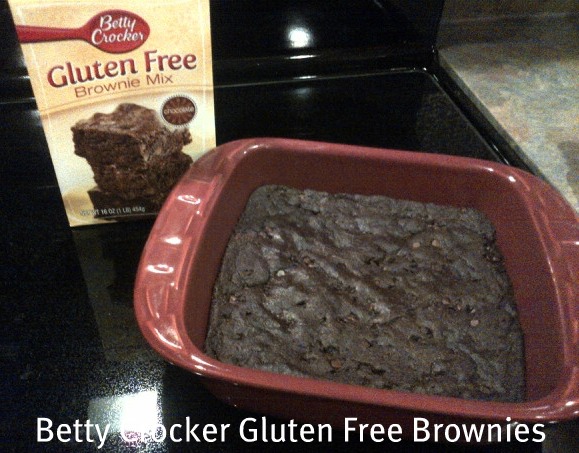 Betty Crocker Gluten Free Brownies Review. I often make brownies for my family, and I decided to try Gluten Free brownies for the entire family. I picked up a box of Betty Crocker Gluten Free Brownie Mix and decided to the "switch" and see if my family would notice.
Betty Crocker Gluten Free Brownies Review:
I made the brownies and discarded the box. As they were baking everyone began gathering in the kitchen. Once they cooled and I cut them I decided to see what the final verdict was. My son loved them! He did not even notice they were Gluten Free (or I should say he did not ask).
My husband liked them however he said he could "tell" they Gluten Free, but he still liked them. I personally loved them. I had not enjoyed a brownie since my diagnosis, so I was super excited and enjoyed every last bite. My Mom came to down and she also enjoyed the brownies. We microwaved them for 10 seconds and enjoyed them again with a fork. She did find them to be rich but very tasty.
This is not a sponsored post – just my personal opinion of this product.
Check out our Gluten Free Resources on the blog too!
Here is a list of Gluten Free Recipes that are full of taste and made with simple ingredients! If you are new to eating Gluten Free be sure to try our delicious recipes below. You will not be disappointed! You don't have to settle for tasteless food that resembles cardboard. If you have Celiac Disease or you are avoiding gluten, be sure to check it out. There is a wide variety from appetizers to main to dessert and more!
Gluten Free Recipes:
Gluten Free Rice Krispie Treats
Gluten Free Date Snowball Cookies
Melissa is a football and soccer mom who has been married to her best friend for 24 years. She loves sharing recipes, travel reviews and tips that focus on helping busy families make memories.