8 Gluten Free Snack Foods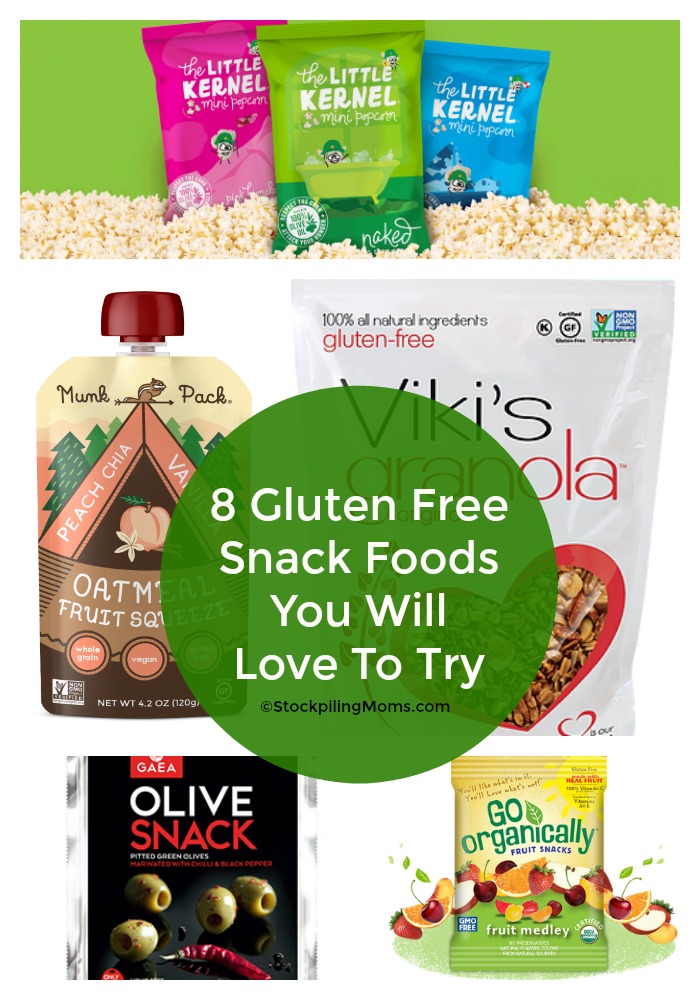 Here are 8 Gluten Free Snack Foods You Will Love to Try. Did you know February is National Snack Food Month? What better way to celebrate this yummy holiday than with some of the most delicious snacks available?! From granola and popcorn to on-the-go oatmeal, there are numerous ways to keep your energy up, stomach full and taste buds happy this month, especially while you are on the go. When you eat gluten free like I do, you often have a difficult time finding snacks that are tasty. I thought I would share some snacks that are new to me but that all taste delicious! I like to keep a stash of snacks in my purse at all times so that I have them when I get hungry.
8 Gluten Free Snack Foods:
1. The Little Kernel "Miniature" Popcorn – Try the newest popcorn brand on the market! This better-for-you snack with a unique, hulless "miniature" popcorn is popped with 100% pure olive oil, and is also gluten-free, non-GMO, dairy-free, kosher and certified whole grain. Available in flavors like Truffle Sea Salt and Pink Himalayan Salt! Trust me you will be glad you did!
2. Soybean Noodle Soups – Gluten-free, vegan meals perfectly crafted for a fast-paced lifestyle. Each cup of Soybean Noodle Soup contains 20g of healthy protein and only 3g of fat, feeding your body with balanced goodness from head to toe. The separate sodium packet lets you control how much salt is in your meal! Available in three delicious flavors: Vegetarian Beef Flavor, Vegetarian Chicken Flavor, and Vegetable Flavor. A great alternative to the traditional "ramen".
3. Viki's Granola – Viki's Granola is made with 100% all natural ingredients, gluten-free and baked with love. Unlike other granolas with hard clusters, Viki's has a fresh, soft, chewy texture and no artificial aftertaste. Available in five delicious flavors, Viki's Granola is great to enjoy on its own or with yogurt for a nutritious snack, and are even available in snack packs, perfect for on-the-go!
4. Carrington Farms Organic Toasted Quinoa – Touted as the "supergrain of the future", quinoa is a nutritious snack packed with nutrients. Carrington Farms NEW Organic Toasted Quinoa is ready-to-eat with no cooking required, making it the ideal, convenient, and good-for-you snack. Quinoa contains almost twice as much fiber as other grains and all 9 essential Amino Acids. Enjoy Carrington Farms Organic Toasted Quinoa on salads, soups, yogurt, cereals, or simply open & eat.
5. Munk Pack Oatmeal Fruit Squeezes – Packed with wholesome whole grains & real fruit bites, Munk Pack'sready-to-eat Oatmeal Fruit Squeezes are perfect as an on-the-go snack for outdoor activities, travel and a busy lifestyle. Even better, they are gluten-free, non-GMO, kosher and certified vegan. Munk Pack's Oatmeal Fruit Squeezes are available in five delicious flavors including Apple Quinoa Cinnamon, Blueberry Acai Flax, Raspberry Coconut, Peach Chia Vanilla and Maple Pear Quinoa. If you need breakfast on the go this is it!
6. Go Organically® Fruit Snacks – USDA-certified organic and made with real fruit, these tasty, smart and delicious snacks include 100% of the daily recommended value of Vitamin C and are an excellent source of Vitamins A and E. Go Organically® Fruit Snacks are GMO-free, gluten-free, preservative-free and made with natural flavors and colors from natural sources. Not to mention, each individual pack is only 70 calories, making them a smart snacking choice for on-the-go. Available in three flavor assortments including Fruit Medley, Mixed Berry and Tropical. I am LOVING these and so is Peyton. A great alternative to traditional fruit snacks and they have a great flavor with no aftertaste.
7. Gaea Organic Olive Snack Packs – Gaea's Organic Olive Snack Packs are a convenient way to enjoy organic olives on the go! 100% natural, containing zero additives or preservatives and very low salinity, the organic olives are packed in a handy re-sealable package, without liquid, allowing the convenience of snacking now and later. Additionally, each 2.3oz snack pack is only 80 or 140 calories– perfect for low-calorie healthy snacking! Two varieties are available: GAEA Organic Pitted Halkidiki Green Olives and GAEA Organic Pitted Kalamata Olives. If you love olives you are going to love these.
8. Simple Mills Baking Products – I am in LOVE with this brand. Made from simple ingredients. All of the products are gluten free, grain free, soy free and paleo-friendly. I tried the Rosemary & Sea Salt Crackers and I can't wait to try more from this brand. The muffin and cake mixes look amazing.
Gluten Free Posts:
Best Gluten Free Food at Universal Studios Orlando
Can you eat gluten free on a Disney Cruise?
Gluten Free Peanut Butter Cookies
Melissa is a football and soccer mom who has been married to her best friend for 24 years. She loves sharing recipes, travel reviews and tips that focus on helping busy families make memories.