75 Days of Summer Slow Cooker Recipes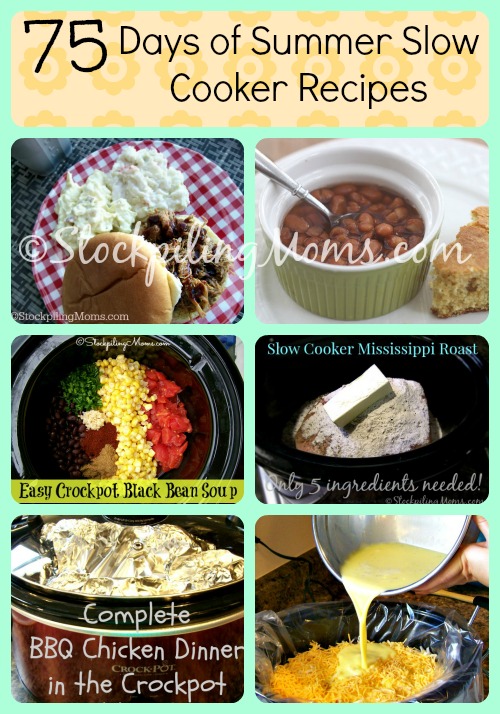 Here are 75 Days of Summer Slow Cooker Recipes. As you know we love to use our crockpots to cook dinner in the summer (well really all year).
Below you will find 75 Days of Summer Slow Cooker Recipes to help plan your fun-filled days. No need to worry about what's for dinner, side dish or dessert you can set the crockpot and go have fun with the family. By using the crockpot, you will save time and money. Best of all there is no need to worry about what is for dinner!
75 Slow Cooker Recipes
1) Slow-Cooker Saucy Swiss Steak
2) Crockpot Barbecue Beef Sandwiches
3) Crockpot Black Bean, Corn & Chicken Chili
4) Slow Cooker Buffalo Chicken Sandwiches
5) Slow Cooker Southwestern Chicken & White Bean Soup
7) Cowboy Beans
8) Crockpot Honey Mustard Chicken
9) Crockpot Easy Overnight Oatmeal
10) Crockpot Shredded BBQ Chicken
11) Copycat Olive Garden Crockpot Zuppa Toscana
15) Crockpot Breakfast Casserole
16) Crockpot Bacon Cheese Potatoes
17) Sour Cream & Bacon Crock Pot Chicken
18) Slow Cooker Mashed Potatoes
19) Crockpot Hearty Cheese Tortellini
20) Slow Cooker Macaroni and Cheese
21) Crockpot Tex-Mex Chicken with Black Beans & Rice
22) Crockpot Warm 'n' Fruity Breakfast Cereal Recipe
23) Crockpot Saucy Chicken with Veggies and Rice
24) Crockpot Moist N Tender Wings
25) Crockpot Italian Beef Sandwiches
28) Crockpot Southwest Chicken
29) Crockpot Chicken A La King
30) Slow Cooker Cheesy Baked Potato Soup
32) Easy Crockpot Black Bean Soup
33) Slow Cooker Mississippi Roast
34) 2 Ingredient Crockpot Pork Chops
35) Crockpot BBQ Pulled Pork Sandwiches
38) Complete BBQ Chicken Dinner in the Crockpot
41) Crockpot Cilantro Lime Chicken
42) Crockpot Honey Rosemary Chicken
43) Crockpot Pear, Apple and Pork Dinner
44) Crockpot Cranberry Orange Chicken
46) Crockpot Paleo Chicken with Butternut Squash, Pears and Cranberries
47) Complete Pork Chop Dinner in a Crockpot
48) Crockpot Stuffed Green Peppers
49) Slow Cooker Superb Beef Stew
51) Shredded Chuck Roast and Noodles
52) Crockpot Bacon-Wrapped Apple Chicken
53) Slow Cooker Mediterranean Pork Chops
54) Slow Cooker BBQ Beer Chicken
57) Complete Steak Dinner in a Crockpot
59) Crockpot 3 Ingredient Pork Chops
60) Crockpot Hashbrown Casserole
61) Crockpot French Onion Pork Chops
62) Crockpot Chicken Tortilla Soup
63) Crockpot Chicken with Apple and Sweet Potato
64) Crockpot Applesauce BBQ Chicken
65) Crockpot French Dip Sandwiches
66) Crockpot Chicken Cacciatore
67) Crockpot Apples and Porkchops
68) Crockpot Coca-Cola Pork Roast
69) Crockpot Chicken and Stuffing
73) Crockpot Chicken & Sweet Potatoes
74) Crockpot Cheesy Chicken & Rice
75) Crockpot Hawaiian BBQ Chicken
Shelley is a boy mom, marine wife, and is blessed with an amazing family. She loves sharing recipes, travel reviews and tips that focus on helping busy families make memories.