7 Ways To Save On Back To School Clothes
Back To School Shopping season is officially here, and many families are struggling to make ends meet while providing their kids with all the supplies and clothing needed. Since savings is our specialty, we have come up with 7 Ways To Save On Back To School Clothes. These are tried and true methods that have saved our families money in the past, and we know can fit within any budget. Even if you only have a few dollars to spend this year on your kids clothing, we can help you manage to grab a great new wardrobe that will be the hit of their classroom.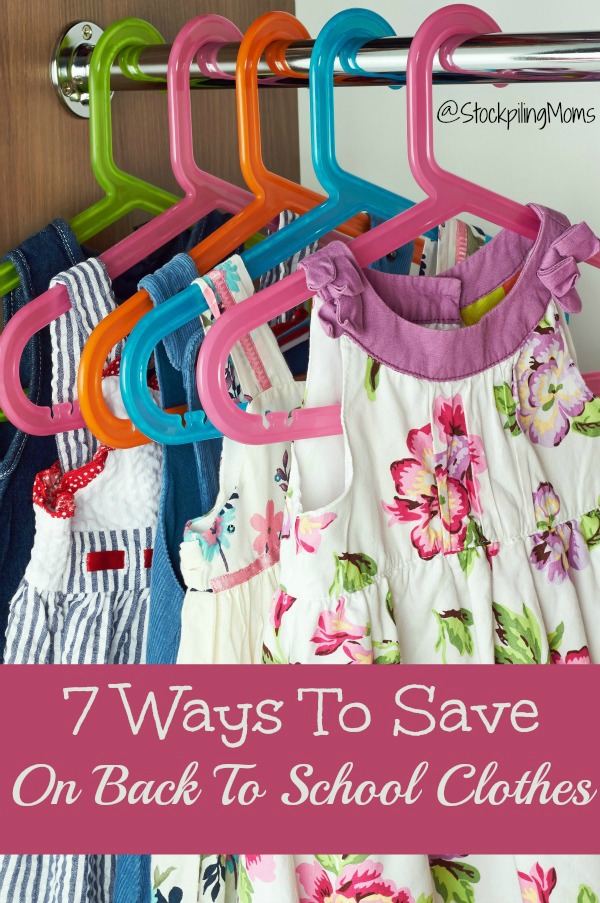 7 Ways To Save On Back To School Clothes
Shop Older Siblings Closets. If your kids are close in age, there are a lot of chances to shop from each others closets. You can even let your tween or teen go looking in your closet or your spouses. A few accessories added to one of your older shift dresses or a tie from your husbands closet thrown around a waist as a belt can create a whole new look with wardrobe basics they already own.
Thrift Shops & Second Hand Stores. While some are not much more than a low price garage sale selection, there are many great quality thrift shops that carry name brand clothing. Often new with tags on them! Many even have great deals on store credit when you bring in clothing of your own to "trade". If you have a Goodwill or Savers store near your home then you have an even better chance of grabbing brand new items at hot prices. Not only do select retailers donate clothing when it doesn't sell on their own clearance racks, but both of these organizations offer coupons, special "tags" on clothing that offers a higher discount and great in shop sales.
Thred Up. This online shop for gently worn clothing is focused on quality brands. Not only do they offer kids styles and sizes, but last year they introduced a women's section that will help you provide the teens in your life with brands like gap, Abercrombie, Aeropostale and more for super low prices. This is another site that allows you to ship your own gently worn clothing in to receive credit toward future purchases! Clean out your closets and see what you can sell to make money to buy more new for yourself.
Crazy 8's. This is one of our favorite stores to shop at during back to school and holiday time. Not only do they offer the latest designs and styles for kids, they do so at great prices. Whether it is the day they have all graphic tees for only $5, the under $10 basic denim or the awesome Buy One Get One For $.88 sale that happens several times a year, they are perfect for clothing deals. While their off the rack prices are average, their sales can be cheaper than some of the best garage sale prices we have seen. Make sure to sign up for their email newsletter or text alerts to get coupons, sales alerts and special offers for frequent customers.
Sew Your Own. While not everything can be sewn easily at home, there are tons of great styles of clothing that you can whip up on your sewing machine at home for a fraction of the cost. Whether you are making simple pillowcase dresses for your younger girls, a makeover of one of your own dresses for your tween or a few simple sun dresses, sewing your own can be cost effective, allow your child to show their own style and be a fun project to do together. Check out Craftsy for some awesome FREE patterns for all kinds of great ensembles perfect for back to school.
End of Season Clearance Racks. Every good deal shopper loves a clearance rack. We especially love stocking up at the end of season at Walmart, Target and Kohl's. They all have great deals ranging from $1-$10 on items that can be put aside for the following year. Think outside the box and shop not only the girls and women's, but boys and men's sections for great outfit ideas for tween and teen girls too. Boys can often wear smaller men's sizes that you can find at cheaper prices on clearance racks. Tween and young teen girls can wear simple solid tees as layering pieces that you have picked up from the boys or men's department for $1-$3 each.
Makeover Existing Clothing Pieces. As your kids get a bit older, you quickly discover they aren't growing as quickly year to year. Sometimes just the summer outfits you bought in early May or June may still be in great shape for the first few weeks or months of the school year. Instead of buying all new, revamp their existing pieces. Add a ruffle or fringe to a skirt to make it a bit longer. Grab a few packages of dye to upgrade a solid tee, pant, legging or dress into a fun tie-dyed outfit. Go old school with a Bedazzler and add some bling to a bag, neck line or jacket.
While every kid wants to start the new school year with a ton of brand new clothes in the latest trends, we can't always afford a large shopping spree. Instead of breaking the bank this year, use our 7 ways to save on back to school clothes to create new and unique ensembles your kids will love. Girls and boys alike will find a fresh new wardrobe filled with new to them, brand new or made over pieces that will carry them through the school year in style this year.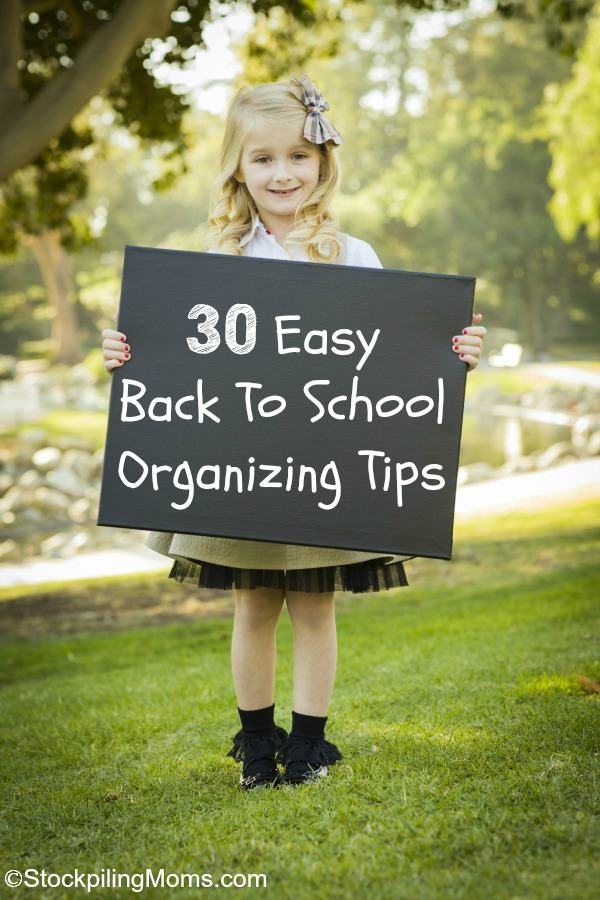 30 Easy Back To School Organizing Tips
Melissa is a football and soccer mom who has been married to her best friend for 24 years. She loves sharing recipes, travel reviews and tips that focus on helping busy families make memories.