3 for 3 Lunch Challenge – Lunchbox Ideas
3 for 3 Lunch Challenge – Lunchbox Ideas
Each week I will try to help you stretch your food budget by showcasing 3 different ways to serve 3 main ingredients in your lunchboxes. I will use additional ingredients but will try to keep them limited to common pantry or refrigerator items. At times I will also suggest tools and techniques to help enhance your lunch packing. I have not accounted for any dietary considerations but you can swap out for Gluten Free, Nut Free or other types of products as appropriate for your family!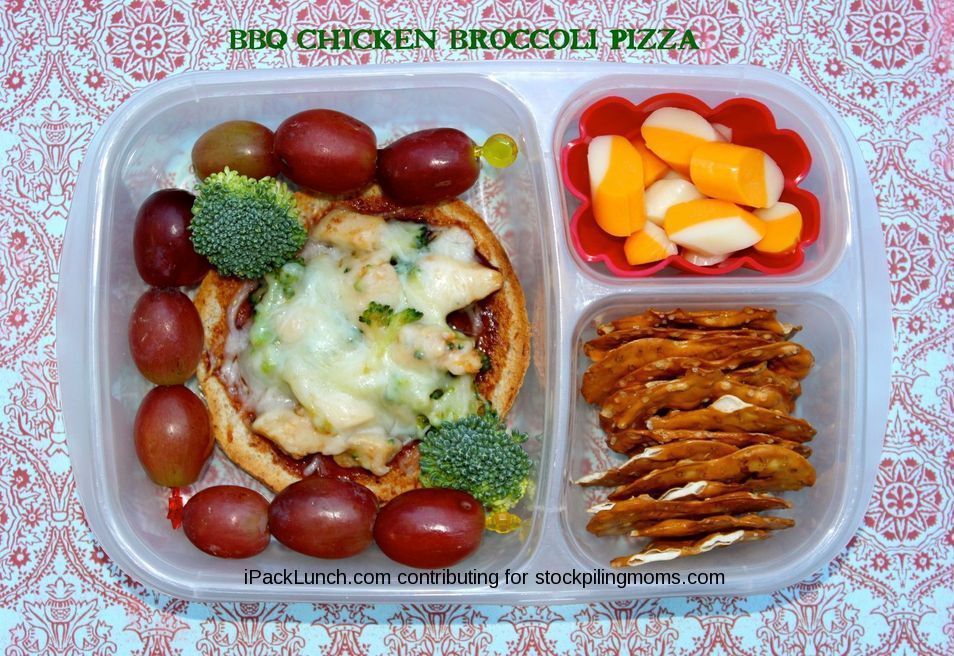 3 for 3 Lunch Challenge – Chicken, Broccoli & Grapes
This week I purchased 1 package of Broccoli Florettes, 2 LBS of Red Seedless Grapes and 1 package of Perdue Shortcuts Chicken Strips (but swap out for your own home cooked chicken breast or a rotisserie chicken if you prefer). After making the 3 lunchboxes below I still have some of each item in my fridge!
3 for 3 Lunch Challenge – Lunchbox Ideas
#1 Chicken & Grape Salad Sandwich Roll-up
First I chopped up enough pre-cooked chicken and grapes for an individual sandwich portion.
I added mayonnaise and a spoonful of relish for flavor (to taste). You could also add slivered almonds and some celery seed if you happen to have those items in your house.
I spread my salad along the inside of a spinach flavored wrap along with some lettuce and rolled the sandwich up. You could actually serve the chicken salad between 2 slices of bread to keep it simple! Also swap for Gluten Free bread products as necessary.
Slice the sandwich into quarters and secured each roll with a food pick (or use a toothpick).
You can add some additional grapes around the sandwich.
I then added my broccoli florets (cooked or raw is fine) and some cherry tomatoes for color but you could skip that.
Finally I added a snack I had on hand, pretzel sticks. You could swap out for whatever your snack of choice is or for a gluten-free option.
#2 Chicken Broccoli Pasta Salad
For my next lunchbox I combined cooked broccoli, chopped chicken shortcuts and cooked pasta (in this case Rotelle but any type is fine or gluten-free pasta as applicable).
I tossed the items in a bottled ranch dressing and served over some red pepper quarters (simply for color and crunch but certainly you could skip this). You can use the dressing of your choice.
I added grapes and some veggie straws (one of my family's favorite snacks) but again swap out for your choice of snack.
If you have bacon bits on hand they make a great topper for this salad!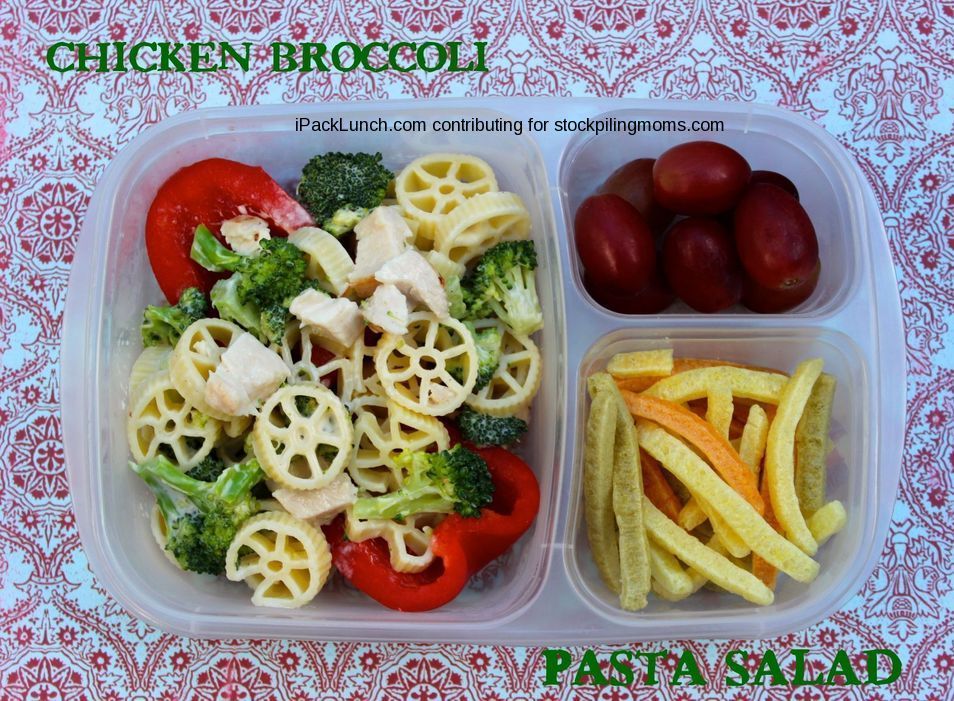 #3 BBQ Chicken & Broccoli Pizza
I then tossed chopped chicken shortcuts and cooked broccoli florets in a BBQ Sauce (just a spoonful or so for flavor but not enough to make it saucy).
Lightly toast (in my toaster) one half of a round sandwich thin but you could also use an English muffin or a bagel. You can also swap out for gluten free products as needed.
Spread additional BBQ Sauce on the sandwich thin and covered with the chicken broccoli mix
Top with shredded Italian blend cheese but again swap out for a different sliced or shredded cheese as you may have on hand.
I broiled for just a few minutes to melt the cheese and give the pizza some crunch
I then added grapes and raw broccoli accents (I used food picks but you don't have to).
My snacks of choice for this lunch box were pretzel thins and a cheese stick sliced diagonally (placed inside of a silicone cupcake cup). Again swap out for whatever snacks you have on hand.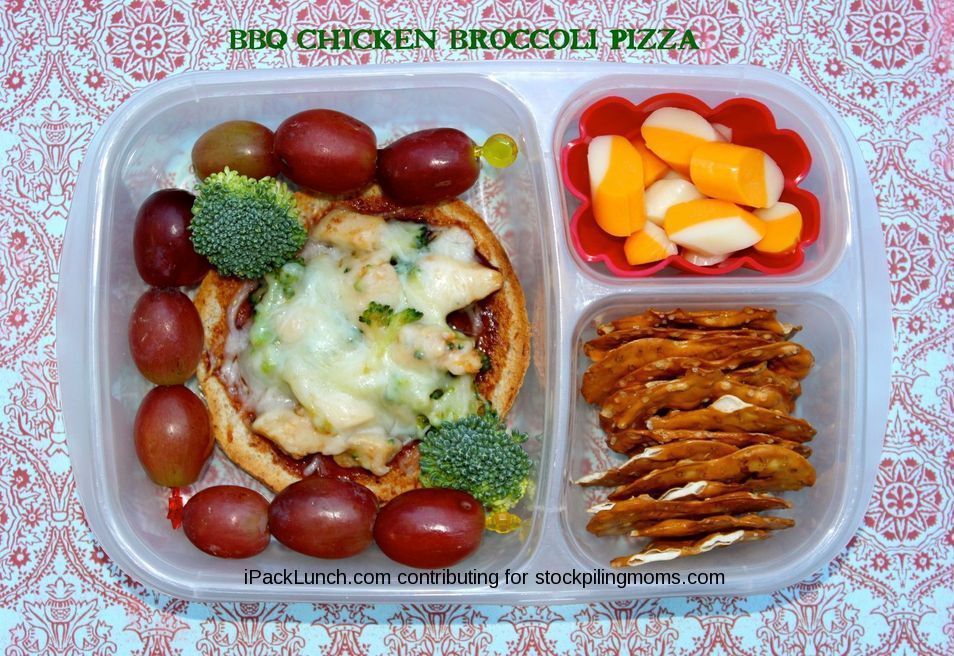 I was able to prepare all 3 lunches in a short time period on the weekend and now have those lunches good to go for the week! Although I made these meals all at the same time you could make them day by day. Save time by precooking your broccoli all at once and slicing up all your chicken in advance.
Tip: Add crunchy snacks in the morning so they stay crunchy! All three lunches are shown in an Easy Lunch Box.
3 For 3 Lunch Challenge Articles!
You may also want to check out:
Here is a how to get started Menu Planning Monthly. We believe it helps us to stay on budget and cook from our Stockpile and save more!
Melissa is a football and soccer mom who has been married to her best friend for 24 years. She loves sharing recipes, travel reviews and tips that focus on helping busy families make memories.