3 for 3 Lunch Challenge – Lunchbox Ideas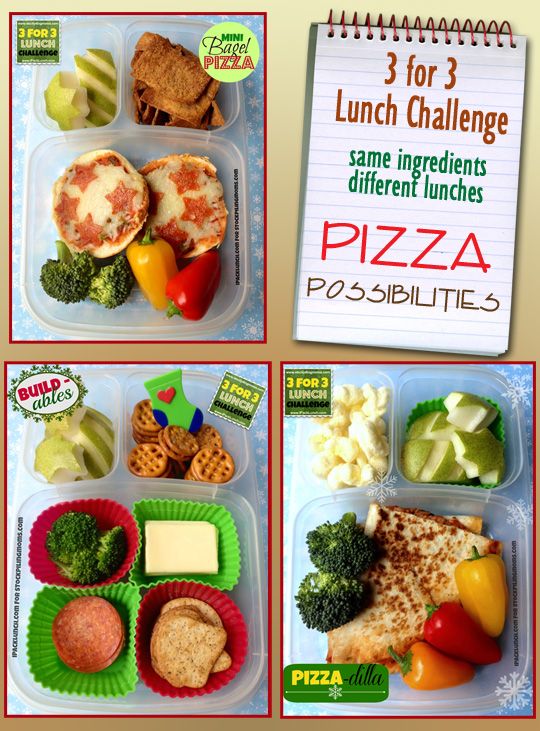 Welcome to our 3 for 3 Lunch Challenge. Each week I will try to help you stretch your food budget by showcasing 3 different ways to serve 3 main ingredients in your lunchboxes. I will use additional ingredients but will try to keep them limited to common pantry or refrigerator items. At times I will also suggest tools and techniques to help enhance your lunch packing. I have not accounted for any dietary considerations but please swap out for Gluten Free, Nut Free or other types of products as appropriate for your family!
For this weeks challenge I am featuring pepperoni, broccoli and pears – This week presenting kid's favorite snacks!
#1 Mini Bagel Pizzas (pictured above)
Place your mini bagel halves on a cookie sheet. Make as many as you want (you can freeze some). I lined mine with a silicone baking mat first. Next mix some finely chopped, cooked broccoli into your pizza sauce! Trust me! My boys did NOT notice and there was a lot in there! Spread a tablespoon or so of sauce on each bagel half and then top with shredded mozzarella cheese. Finish with pepperoni. I cut my pepperoni into stars with a cutter but you don't have to! Bake at 350 degrees until cheese is melted and edges of bagels look/feel crisp. Cool completely before adding to a lunch box.
Add some fresh pears (or drained canned/cup variety if you prefer). If using fresh pears as I did, soak in cold water with a squirt of citrus juice or use another anti-browning method.
Finally add your favorite snack. I have added Stacy's Gingerbread pita chips.
I also added some mini sweet peppers and additional broccoli to fill out this lunch box. I have done this to add additional veggies to this lunch and make it more filling.
#2 Pizza-dillas (pictured above)
Place your favorite tortilla in a frying pan coated with cooking spray over medium-high heat. Put on one half of the top of your tortilla: pepperoni slices (I used what I had cut stars out of), shredded mozzarella and a couple tablespoons of your pizza sauce (filled with cooked broccoli). Fold in half and flip over grilled cheese style until both sides are browned. Remove from heat and cook completely. Cut in halves or quarters to serve.
Add your fresh or drained canned/cup pears.
Add your favorite snack, in this case I used Pirate Booty.
I have also filled this lunch out with mini sweet peppers and raw broccoli. Again to add additional veggies and make this lunch more filling.
#3 Build-ables Stackers (pictured below)
Fill your lunchbox with some small containers. In this case I have used silicone cupcake liners. We are trying to mimic store bought stackable type lunches. Fill each compartment with the following: a cracker of your choice (I used a baked cracker here), a sliced cheese of your choice (cheddar used here) and pepperoni slices.
Add cooked broccoli (or serve raw) to the last cupcake liner.
Add your pears whether fresh or drained canned/cup variety.
Finish with your favorite snack. In this case I have used Snyder's Brnand Peanut Butter Pretzel Sandwiches. I added the stocking food pick just as a festive decoration for the photo, totally not necessary to do this!
Always substitute for the snack of your choice and make adjustments for dietary considerations as necessary!
Please adjust portions for your family members, lunches shown in photos are just for a reference!
Tip: Remember to add crunchy snacks in the morning so they stay crunchy!
Tip: Food picks can be found in most party stores or stores with a party section. Food picks can also be ordered online.
You may also enjoy:
3 for 3 Lunch Challenge – 9/30
3 for 3 Lunch Challenge – 10/7
3 for 3 Lunch Challenge – 10/14
3 for 3 Lunch Challenge – 10/21
3 for 3 Lunch Challenge – 10/28
3 for 3 Lunch Challenge – 11/4
3 for 3 Lunch Challenge – 11/11
3 for 3 Lunch Challenge – 11/18
3 for 3 Lunch Challenge – 11/25
3 for 3 Lunch Challenge – 12/2
You may also want to check out:
Here is a how to get started Menu Planning Monthly. We believe it helps us to stay on budget and cook from our Stockpile and save more!
Melissa is a football and soccer mom who has been married to her best friend for 24 years. She loves sharing recipes, travel reviews and tips that focus on helping busy families make memories.