3 for 3 Lunch Challenge – Lunchbox Ideas
Each week I will try to help you stretch your food budget by showcasing 3 different ways to serve 3 main ingredients in your lunchboxes. I will use additional ingredients but will try to keep them limited to common pantry or refrigerator items. At times I will also suggest tools and techniques to help enhance your lunch packing. I have not accounted for any dietary considerations but you can swap out for Gluten Free, Nut Free or other types of products as appropriate for your family!
Canned Tuna, Orange Peppers and Kiwi
#1 Tuna Pasta Salad (pictured above)
Completely drain 1 can of tuna packed in water.
Throw in cooked pasta of your choice.
Add a handful of chopped greens (your choice).
Toss with your favorite vinaigrette.
Add some chopped fresh herbs (optional).
Layer sliced kiwis with strawberries (for color, you could substitute for something else or omit).
Annie's Homegrown Organic Pizza Snack Mix is added as a snack.
Be sure to send a fork!
#2 French Bread Tuna Pesto Melt (pictured below)
Cut french bread in half lengthwise and brush with olive oil (you could also sprinkle with garlic powder). You could also make this on a bagel.
Toast for 5 to 10 minutes at 350 degrees to start the crisping of the bread.
Remove and cover with tuna salad of your choice (mine contains mayo and pesto).
Layer sliced tomatoes and sliced swiss cheese (you could omit the tomato).
Return to oven and toast 5 to 10 minutes longer until cheese is melted and bread at desired crispness.
Add orange peppers cut into strips and halved.
Peel and slice a kiwi.
Throw in a crunchy snack, Way Better Snacks Simply Naked Blues is included here!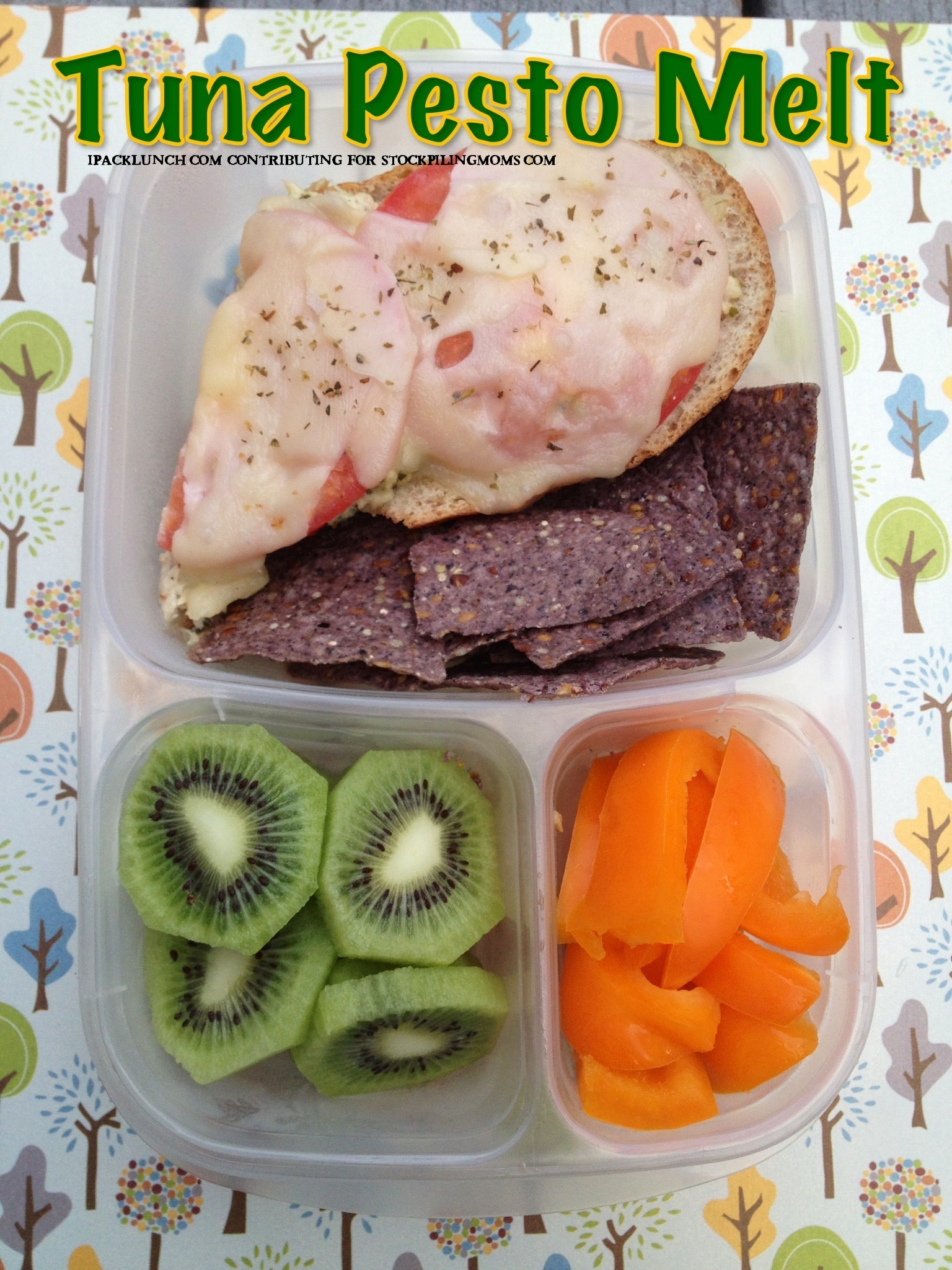 #3 Tuna Salad Sandwich (pictured below)
Layout your bread, swirled wheat bread cut into hearts with a cookie cutter are used here.
Cover with lettuce.
Pile on the tuna salad prepared to your taste (mine contains diced onion, mayo and relish).
Add white cheddar popcorn (use brand of your choice).
Place a Babybel Cheddar cheese along side the sandwich.
This lunch contains a special treat of an Enjoy Life Vanilla Honey Graham Cookie.
Always substitute for the snack of your choice and make adjustments for dietary considerations as necessary!
Please also feel free to adjust portions for your family members, lunches show in photos are just for a reference!
Tip: Remember to add crunchy snacks in the morning so they stay crunchy!
All three lunches are shown in an Easy Lunch Box.
You may also enjoy:
3 for 3 Lunch Challenge – 9/30
3 for 3 Lunch Challenge – 10/7
3 for 3 Lunch Challenge – 10/14
3 for 3 Lunch Challenge – 10/21
3 for 3 Lunch Challenge – 10/28
3 for 3 Lunch Challenge – 11/4
3 for 3 Lunch Challenge – 11/11
3 for 3 Lunch Challenge – 11/18
3 for 3 Lunch Challenge – 11/25
3 for 3 Lunch Challenge – 12/2
You may also want to check out:
Here is a how to get started Menu Planning Monthly. We believe it helps us to stay on budget and cook from our Stockpile and save more!
Melissa is a football and soccer mom who has been married to her best friend for 24 years. She loves sharing recipes, travel reviews and tips that focus on helping busy families make memories.