Trader Joe's Gluten Free Brownie Mix Review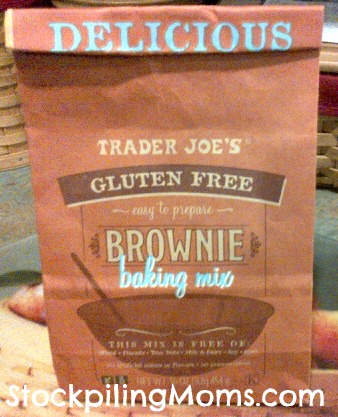 Trader Joe's Gluten Free Brownie Mix Review. My good friend Teresa bought me a bag of Trader Joe's Gluten Free Brownies Mix and I proud to say that I saved them for Mother's Day. I had never tried the Trader Joe's Gluten Free Brownies so I was interested to see how we would like them.
Trader Joe's Gluten Free Brownie Mix Review:
My goal is to make them and hope that my son doesn't realize they are gluten free. He is a brownie fanatic! I was a little concerned because they were really dark in color, and they seemed to be a little denser than a traditional brownie.
I mixed chocolate chips into 1/2 of the pan and left the other 1/2 without. I made them and it took only a couple of minutes. It did take a little longer to bake them (30 minutes) and then I had to put them back in for a few more.
When it came time to serve, I was saddened that my son didn't like them. My husband and I did though. They do seem heavier and richer than a traditional brownie but very good. I can only imagine with a scoop of vanilla ice-cream how good they would be. I would suggest this brand for sure. In fact, I liked it a little better than the Gluten Free Betty Crocker Brownies.
Disclosure: This is not a sponsored post. I did not pay for the brownie mix; it was a gift from a very special friend. However all opinions are 100% my own.
Read this post on How To Save Money Gluten Free.
Check out our Gluten Free Resources and Gluten Free Recipes Roundup on the blog too!
Follow Saving Gluten Free on Facebook where we post only our Gluten Free posts.
Other posts you may enjoy:
Gluten Free Strawberry Scones – Every juicy bite of strawberry is sweetly divine! I am so proud that I can say that the biscuit holding the strawberries, is light, fluffy, moist, and holds together well.
Gluten Free Zucchini Carrot Muffins – These Gluten Free Zucchini Carrot Muffins are so light and delicious. If you are looking for a muffin to sneak a few fresh veggies into your kids diets this is it!
Gluten Free Sourdough French Toast – Melissa had this delicious French toast on a trip. She came home and recreated it and it is amazing!
Melissa is a football and soccer mom who has been married to her best friend for 24 years. She loves sharing recipes, travel reviews and tips that focus on helping busy families make memories.