Tips for Saving Money at College
Here are some Tips for Saving Money at College. So, you are in college…Making possibly one of the most expensive investments you will make in your adult life.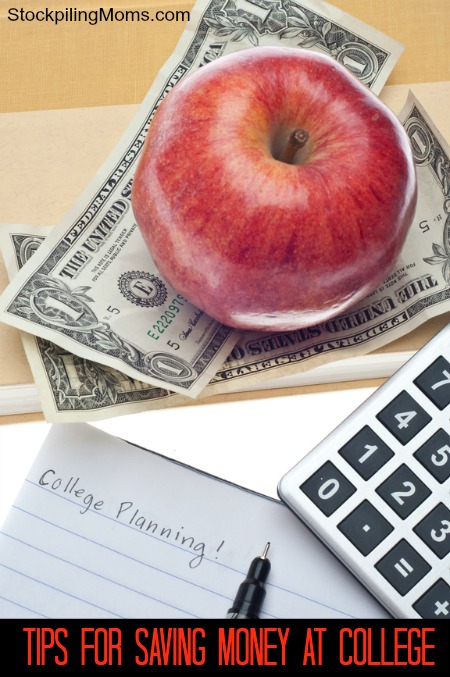 Reality sets in really quick that your cash can be gone in the blink of an eye! How can you make those precious few dollars stretch? It's time to start a lifetime of good habits of spending smart and saving right now.
Tips for Saving Money at College
The first thing you need to do is Set a Budget! Know how much you can spend a month. Make a realistic breakdown of your needs (Be sure to add a little "fun" money in your budget). And then spend wisely. Once your cash is gone for the month, don't get tempted to pull out your shiny new credit card! The last thing you need is another bill with interest piling up.
Probably the biggest money sucker in college is food. Pizza, vending machines, soda, trips to the closest fast food… getting the munchies during those late-night study groups… Add them up and it can be very expensive.
Here are a few tips for saving on food:
1. Stay away from vending machines. The mark up on the soda and snack food is high and while a $1 may not seem like a lot, it can add up fast.
2. Stock up on essentials. Make a trip to your closest superstore and make a little stockpile of your favorite snacks and drinks. (Be sure to mark what is yours. Unmarked food in a community space is usually considered a free for all)
3. Invest in a hot pot, microwave or electric griddle (if the school allows them). You'd be surprised how good you can eat using two small appliances. Cook with your friends. Dinner together is a great way to make some awesome memories.
Don't forget that this is one of the most exciting times of your life! Make great friends, study hard, and enjoy every moment. Remember, you don't have to spend crazy to have a crazy, awesome college experience!
4. Rent textbooks. It is a great way to save money! Why pay full prices for textbooks that you are only going to use for 1 semester? A great way to get cheap textbooks is by renting them instead of paying full retail price only to sell them back for a few bucks.
5. Take advantage of student discounts. Most college towns offer discounts for college students when dining out and for activities.
6. Utilize the student center at your college. Many colleges provide free or reduced activities and discounted trips for college students. Take advantage of these offers. Many offer games you can check out and use and some even rent camping or kayak equipment for a reduced rate.
By using these tips for saving money at college you will have more money to study abroad and hang out with friends on the weekends!
Stockpiling Moms can be found in all your favorite places. Hop on over to Instagram and follow the fun. We love posting memes, family fun, travel, and whatever we are feeling that day. Pinterest is also an amazing place to visit Stockpiling Moms. This is where you can pin all your favorite articles from our Food, Travel & Lifestyle Blog.
Melissa is a football and soccer mom who has been married to her best friend for 24 years. She loves sharing recipes, travel reviews and tips that focus on helping busy families make memories.