Tips for Organizing a Trunk or Treat
Here are some Tips for Organizing A Trunk or Treat Event. It's no wonder why trunk-or-treats turn out to be huge and successful events. Not only do kids love getting the extra candy, but they're a lot of fun to go to as well.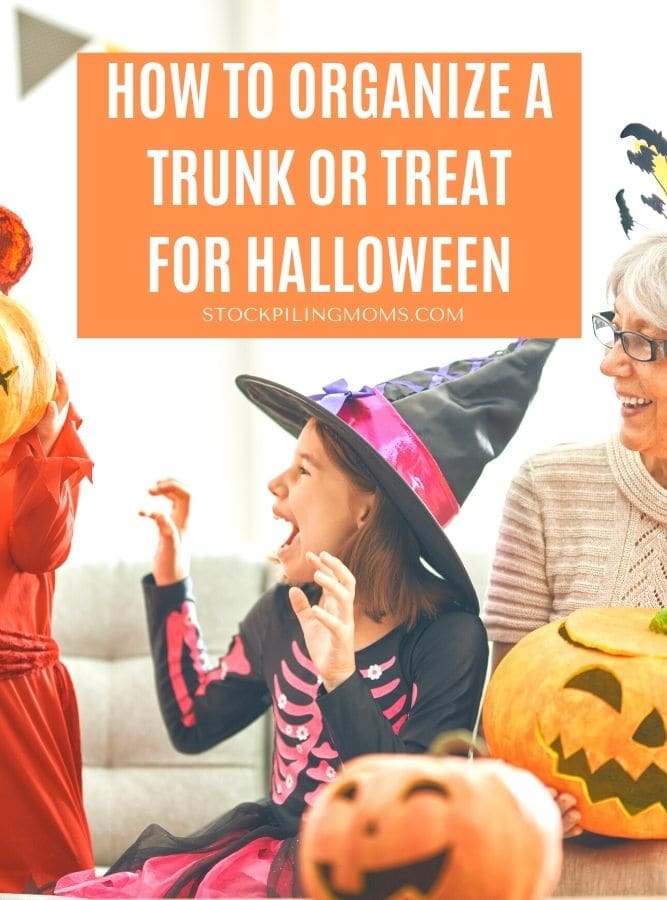 If you're thinking about hosting a neighborhood trunk-or-treat event but needing a few ideas on how to get started, you've come to the right place. Here are several tips for organizing a neighborhood trunk-or-treat event in a fun and safe manner.
Tips for Organizing A Neighborhood Trunk or Treat:
In 2020, Halloween will definitely be different than in past years. The COVID-19 pandemic has changed everything about how we manage events and holidays. This year, a trunk or treat may be a much safer option for friends, family, and neighbors. Consider social distancing options with pre-packaged treats on a table that can be picked up easily without interaction.
Ask Neighbors, Family, and Friends
A neighborhood trunk or treat wouldn't be much fun if there were only one or two cars that were passing out candy. Kids would walk away disappointed and with bags mostly empty. To pull off this event as a success, it's going to require a larger group effort and other resources. Ask as many people in your neighborhood, along with your family and friends, and see if they'd be interested and committing to something like that. Now's the time to see if they can come up with an activity that kids would love.
Choose a Location
It's all about location, location, location. Choose a place that's close to your neighborhood so that it's easy for everyone to get to. There are several places that would be more than willing to help you host your event, whether it's a church or school parking lot, your local park, or even where you work. As long as you tidy up at the end, you'll probably be able to throw the event there again.
Pick the Right Night
Your first thought may be to choose Halloween Night as the most obvious date, but you'd be wrong. Many families have parties or plans that evening. Although Beggar's Night is not as big as it used to be, some people still may not be able to attend because of other obligations. Consider choosing a weekend night that's prior to Halloween so that the event is not on a school night.
Include Other Activities
Kids love to go trick-or-treating just to get candy, but why not add other excitement to advertise your event? Organize other things to do, such as face painting, Halloween dance party, costume contest, bobbing for apples, other prizes, and desserts. Don't forget the hot apple cider to warm everyone up on a cold chilly evening.
Remember Your Targeted Audience
One important thing that everyone in your group should remember, is that a trunk-or-treat event is for a younger audience. Thus said, every one of your volunteers that dresses up their trunk, should do so with extra thought in mind, not trying to make it too scary for smaller children. Here are a few of my favorites to give you some ideas for trunk decoration ideas.
Have Plenty of Candy Ready
If you carefully organize and advertise your trunk-or-treat, you don't need to worry. Children will show up… and in droves. Make sure that everyone helping with the event has several large bags of candy for the event.
There may come a point where a trunk is running low on candy and need help from another family to keep in stock. If the event is nowhere close to over and your entire team is running low, be sure to have a runner that can scramble to the grocery store to pick up a few extra bags.
Organizing a trunk-or-treat can be stressful, but seeing all those happy faces, in the end, will make it all worth it. Don't forget to have fun yourself and roll with the punches, because there will be one or two of them. But that doesn't mean that it won't be a successful night and one that kids will always remember.
More Halloween Tips and Crafts
Melissa is a football and soccer mom who has been married to her best friend for 24 years. She loves sharing recipes, travel reviews and tips that focus on helping busy families make memories.