Once A Month Cooking – Freezer Cooking
Freezer Cooking which is often referred to as Once A Month Cooking is a great way to save both time and money. This is something that is all new to me. I am excited to give it a try. I don't think I have ever been busy enough to consider it until now. Between the blog, being a wife, mother, chauffeur, soccer assistant coach, PTO and the list goes on and on, I just don't have the time to cook like I used too. I decided to give the idea of freezer cooking or "once a month cooking" a go. I thought it would be something that might interest you so I am sharing it on the blog.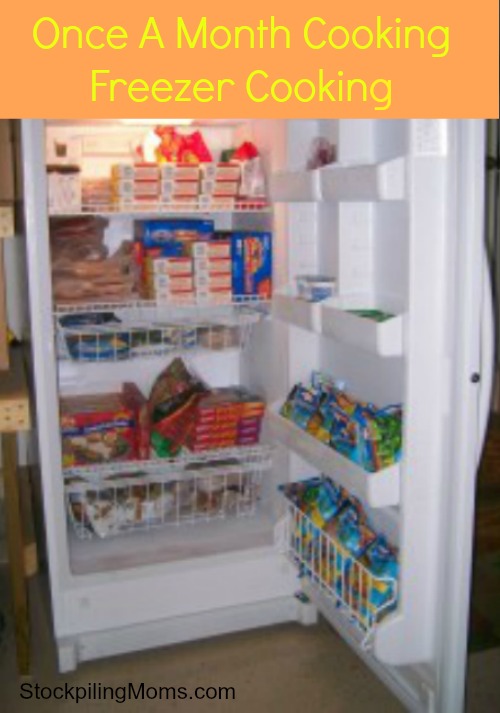 As you know we practice monthly menu planning so taking the idea of monthly menu planning to freezer cooking/once a month cooking is not a huge change for me. The big difference is that you spend a day cooking your meals and then freezing them to use later. So your time spent prepping is all at one time but then you have meals for the month ready to go. What it means is that I will spend 1 full day cooking and prepare 20 meals so that my family has dinner "ready" and all I have to do is put in in the oven, in the slow cooker or on the grill and we are good to go.
I am very excited to tackle this project here on the blog. There are a couple of ways to go at it.
You can prepare a large quantity of meats/vegetables and use them in a variety of dishes.
You can double your recipes or even triple them and repeat the same dish multiple times in the month.
I personally decided to look at the recipes that my family likes to eat and what I thought would freeze well. Of course in order to do this you do need freezer space and I suggest a food saver (or freezer bags). It is also very important to label and date your food before placing it into the freezer.
In order to be successful you need to be organized, shop one day, prep/cook another. Another tip is to start out small. Try 1-2 weeks the first time and then gradually increase to a month.
I personally choose to freeze in either disposable aluminum containers or line my casserole dish with foil. Once the dish freezes I can pop it out and wrap it in foil and freeze. Once I am ready to bake I just place it back into my baking dish and place it into the oven.
Once A Month Cooking – Freezer Cooking
Here is my plan for 20 meals.
Meatloaf ala Stockpiling Mom – Double
Homemade Marinara – Triple
Pumpkin Pancakes – Triple
Christa's Chicken Casserole – Double
Christa's Lasagna Squares – Double
Impossibily Easy Vegetable Pie – Double
Pineapple Chicken – Triple
Country Bob's World Famous Burgers – Tripled
Tips:
Most importantly have fun! This truly needs to be a day that you devote to cooking your meals.
Crank up the music and have a great time. Think about your reward at the end of the day! You will have dinner prepared for the next month!
Clean up as you go (and ask for help).
If you are new (or even experienced) to freezer cooking you may enjoy these posts:
How to Freezer Cook Series – Part 1 – Sample Menu and Getting Started
How to Freezer Cook Series – Part 2 – Why Does Freezer Cooking Work
How to Freezer Cook Series – Part 3 – Planning Your Meals
How to Freezer Cook Series – Part 4 – Tips and Tricks for Freezer Efficiency
How to Freezer Cook Series – Part 5 – What Can You Freeze?
How to Freezer Cook Series – Part 6 – Freezer Storage
How to Freezer Cook Series – Part 7 – Tips for Thawing Your Meals
How to Freezer Cook Series – Part 8 – Make Your Own Freezer Pancakes
Stockpiling Moms can be found in all your favorite places. Hop on over to Instagram and follow the fun. We love posting memes, family fun, travel, and whatever we are feeling that day. Pinterest is also an amazing place to visit Stockpiling Moms. This is where you can pin all your favorite articles from our Food, Travel & Lifestyle Blog.
Melissa is a football and soccer mom who has been married to her best friend for 24 years. She loves sharing recipes, travel reviews and tips that focus on helping busy families make memories.