Best Whole 30 Snack Options
The Whole 30 diet plan is a great choice for many. Especially those who already have gluten issues. Having some great snacks throughout the day can help you on any diet and healthy lifestyle change. This list has what we believe are the Best Whole 30 snack options. They are satisfying, easy to prepare, and of course, can also fit into your budget with ease.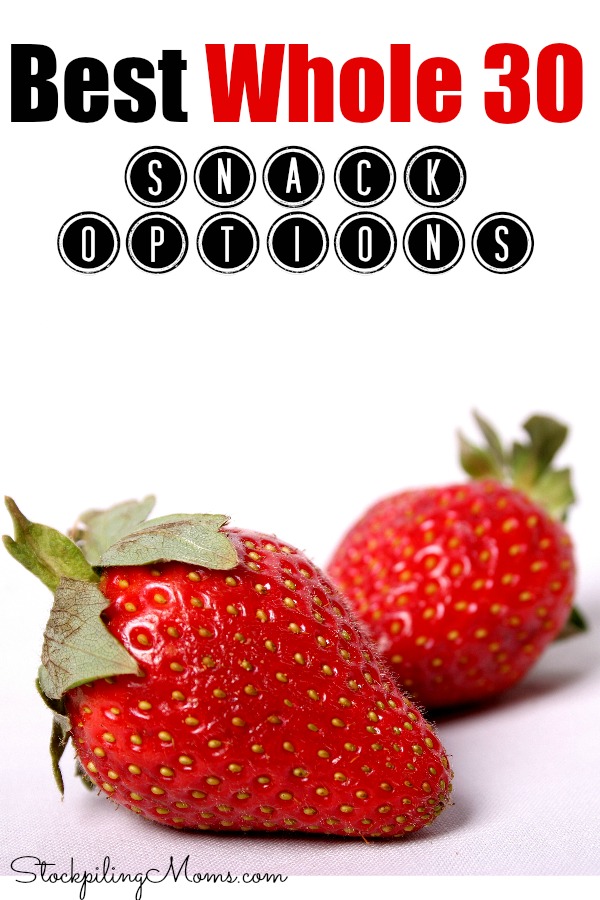 Best Whole 30 Snack Options
For those who are strict with Whole 30, there is a lot to be said about not snacking. While the ideal way to be Whole 30 compliant means you would eat only 3 meals a day and no snacks in between, we realize that some people need to have some snack options for travel, blood sugar related issues, or even those busy days when sitting down to a regular meal just isn't possible.
Jerky: We love beef jerky, turkey jerky, and even bison jerky. There are many Whole 30 compliant organic brands to choose from, or you can use a dehydrator and make your own. While this may be a bit pricier than other options, it is a great high-protein option to have on hand when out and about. Nick's Sticks are Gluten-Free and one of our favorite choices since they have so many flavor options.
Larabar: These are one of the few Whole 30 compliant snack bars. Since there are multiple flavor choices, and of course great deals to be had on these on a regular basis, they are often found in our pantry. They are shelf-stable, nutritious, satisfying, and help with that sweet tooth you are trying to get rid of. Larabar Banana Bread is my favorite to have on hand. However don't rely on these daily. They should be more of an emergency food.
Mixed Nuts: I love almonds, cashews, pistachios, and even hazelnuts but I get tired of eating the same thing over and over again. The solution for me is buying mixed nuts instead. This gives me a variety to choose from and keeps me from getting tired of this snack. Mixed nuts are high-protein, contain natural fats, and are super easy to portion control.
Guacamole: Avocados are one of the best options for healthy fats in your diet. They are delicious by themselves, but when you add a bit lime juice, some chopped onion, tomato, salt, pepper, and cumin you have a quick guacamole snack that is even better. I like making it to have with meals, but it's also great for eating with raw veggies or just by itself.
Fresh Berries: While all fruits and vegetables are good, my personal favorite are berries. Blueberries, strawberries, blackberries, and raspberries are so satisfying and have tons of great cancer fighting antioxidants. They are also heart healthy which is of course important for me.
Veggie Chips: If you are wanting something crunchy, veggie chips are the way to go. Kale chips are very popular, but you can make your own zucchini chips, carrot chips, kale chips, or even sweet potato chips. These are always fun to make. Especially when you use different seasonings to create your own unique flavors.
Matt's Munchies: With 1-2 servings of real fruit per serving, Matt's Munchies organic fruit leathers are satisfying, healthy and have NO added sugar. Each of the eight island-themed flavors utilizes less than five pure, wholesome ingredients and is Gluten-free, Kosher, Vegan and Non-GMO. They are great to take on the go or throw in your purse when you are traveling.
These are my personal favorite best Whole 30 snack ideas. Not only will they satisfy your craving, they won't go against your diet plan. Healthy and nutrient-dense options like these are just what you need to stay healthy and satisfied while changing your food lifestyle.
Stockpiling Moms can be found in all your favorite places! Hop on over to Instagram and follow the fun! We love posting memes, family fun, travel, and whatever we are feeling that day! Pinterest is also an amazing place to visit Stockpiling Moms. This is where you can pin all your favorite articles from our Food, Travel & Lifestyle Blog!
Melissa is a football and soccer mom who has been married to her best friend for 24 years. She loves sharing recipes, travel reviews and tips that focus on helping busy families make memories.