Enjoy these 20 Easy Crockpot Recipes that make meals, side dishes and desserts a little less stressful when it comes to dinner time. I know how busy life can get especially with three children. After school activities, sports and homework make me literally want to throw in the towel when it comes to stress and prepping dinner. I am feeling like I am always on the go and don't have time to cook. It can be so temping to want to go out to dinner or pick up fast food.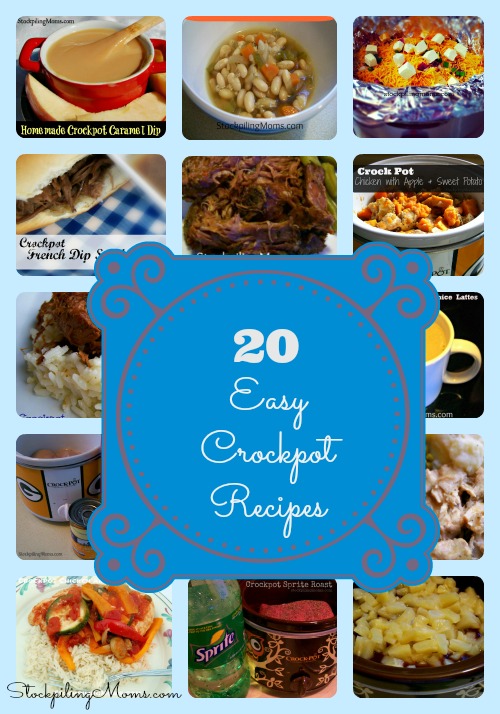 Thank goodness for my crockpot that we can still have home cooked food! Life can get hectic sometimes, but these easy crockpot recipes will help to make your meal prep worries end. Simply plan ahead and get these recipes ready for busy weeknight dinners. This way everyone can eat when they have time. Maybe before or after a practice or after a busy day of work. Regardless everyone will enjoy a delicious home cooked meal. It is a great way to save time and money by using your slow cooker. We hope you enjoy these 20 Easy Crockpot Recipes that will make dinner time a breeze stop the age-old question, what is for dinner Mom?
Be sure to add these recipes to your Monthly Menu Plan. They are great busy days!
20 Easy Crockpot Recipes
Crockpot Ranch Porkchops – StockpilingMoms Popular Recipe
Crockpot Chicken and Veggie Delight
Crockpot Bacon Cheese Potatoes – Stephanie's Favorite
Homemade Crockpot Caramel Dip (Dulce de Leche) – Melissa's Favorite
Crockpot Chicken with Apple and Sweet Potato
Crockpot French Dip Sandwiches
Crockpot Chicken and Stuffing – Shelley's Favorite
If you are new or just catching up here are our most popular posts:
Crockpot Bacon Cheese Potatoes
Weight Watchers Peanut Butter Cool Whip Treat
Downy Unstoppables in my Wax Burner? Who Knew?
Shelley is a boy mom, marine wife, and is blessed with an amazing family. She loves sharing recipes, travel reviews and tips that focus on helping busy families make memories.