Coupon Organization is the key to stockpiling success and saving money at the grocery store. If you are not organized with your coupons then you can not save as much money at the store than when you are organized. If you have ever flipped through an envelope of coupons at the checkout trying to locate a coupon you "know" that is "in there" then you know what I mean.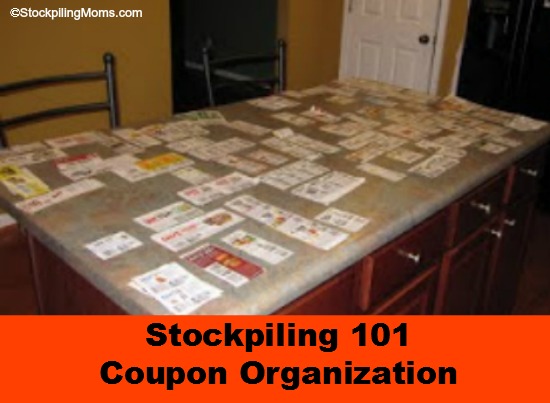 These articles will help you get organized and save both time and money at the store.
Stockpiling 101 – Organizing Your Coupons
Stockpiling 101 – Coupon Organization How I sort and file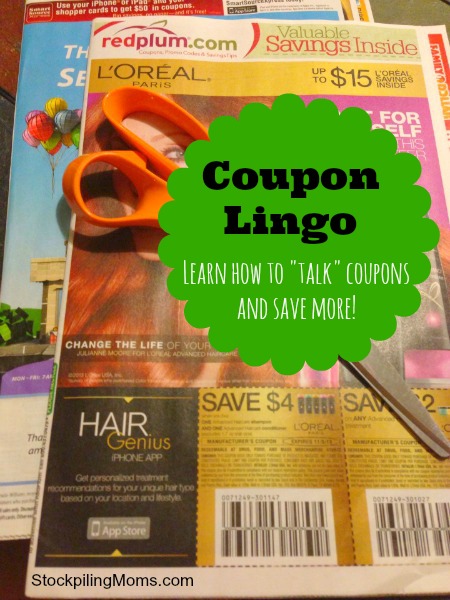 Coupon Lingo is valuable to know so you can understand terms used on the wording of the coupons. This is some basic coupon lingo that will help you on your journey to Stockpiling. These are common abbreviations in the coupon world. It is important to understand this lingo so that you can get the biggest bang for your buck while shopping. This is a list that you should refer back to often in understanding how to strategically use coupons. Know your Coupon Lingo so you can "talk" in coupons and save more money at the store!
If you are new we suggest that you start by reading through our Stockpiling 101 Series and watching our YouTube Videos.

Coupon Lingo:
BOGO – Buy One Get One Free coupon or offer
B2GO – Buy 2 Get One Free coupon or offer
BLINKIE – Coupon machine at the grocery store with a red blinking light on it. Coupons that come from the machines are referred to as 'blinkies'.
BRICKS – "Bricks" coupons are internet printable coupons. If you print a "bricks" coupon, you will know based on a picture of a computer/printer with a small blinking dot as it sends the information to your printer. You can normally only print 1 of these coupons. However if you hit your back button 3 times after it is sent to the printer it will generally print a second copy of the coupon for you. If you want additional copies then you will need to use another computer.
CAT – Coupon that prints from a Catalina machine at the register. A Catalina Machine is a marketing tool that manufacturers use to print coupons as incentives to shop.
COUPON POLICY – Each store has a coupon policy. The policy stipulates what their procedure is in regards to using coupons. It is important to know that policies change often and can vary from store to store based on manager's discretion. Some policies are corporate policies and some vary by store. It is important to contact the store you shop and find out their coupon policy before you shop.
DEAD – Refers to a dead deal, or that an offer is no longer valid, this is often used in terms of a coupon that runs out of prints.
DND – Do Not Double – in reference to coupons. Some manufacturers place a DND at the top of the coupon by the expiration date, meaning that the coupon should not be doubled at the store.
ECB – Extra Care Buck, Earned at CVS
ES – Easy Saver, Walgreens rebate booklet
EX or Exp. – Expires or Expiration date, in reference to coupons or rebates, they must be used before they expire.
GM – General Mills Coupon Insert, found in the Sunday Paper
HBA – Health & Beauty, in reference to products at the store
HOT – Hot Deal or Coupon, a deal or coupon that will not last long
INSERTS – Coupons found in the Sunday paper
IP – Internet Printable Coupon, a coupon that you can print online
IVC – Instant value coupons, Walgreen's rebate booklet
MANAGER'S DISCRETION – A store manager often has the discretion to set limits on coupons used and items purchased.
MQ – Manufacturer Coupon, provided by the manufacturer to use when making a purchase
MIR – Mail in Rebate, provided by the manufacturer to use when making a purchase. You will pay out of pocket and receive a rebate in the form of a check back from the manufacturer.
NED – No Expiration Date, a coupon that has no expiration date.
NT WT – Net Weight, in reference to coupons that stipulate based on the wording that you must purchase a product with a specific net weight.
OOP – Out Of Pocket, this is the total that you pay or your expense
OOS – Out of Stock, when an item is not available to purchase
OTC – Over the counter medication, in reference to products at the store
OYNO – On Your Next Order, this is an incentive where you make a qualifying purchase and then receive an incentive to use on your next purchase.
P&G – Proctor & Gamble Coupon Insert, found in the Sunday Paper
Peelie – Coupon found attached to a product. You have to peel it off to use it. It comes from the manufacturer attached to the product to use when you make that purchase.
POP – Proof of purchase, used when remitting a MIR.
Q – Coupon, the same as cash
QQ – Coupon Queen, a person who uses coupons to stockpile or save big
RC – Rain-Check, obtained when an item is OOS. You can extend the price of the sale when you obtain a Rain Check from the store. Not all stores write rain checks.
RP – Red Plum, Coupon Insert, found in the Sunday Paper (formerly called Valassis)
RR – Register Reward, from Walgreen's – This is a manufacturer coupon and is an incentive from the manufacturer to make a qualifying purchase.
RUN – Going to the grocery store to use your coupons
SCR – Single Check Rebate (Rite Aid), an incentive program that offers you MIR when you make qualifying purchases.
SS – Smart Source, Coupon Insert, found in the Sunday Paper
STACKING – Using 1 manufacturer coupon and 1 store coupon on the same product (if store coupon policy allows)
STOCKPILE – Is a pile or storage location for bulk materials, including groceries, personal care or household products.
DOUBLE – A coupon that the store doubles the face value of, if the coupon policy is to double coupons.
TEARPAD – A pad found hanging from a store shelf or display. This could be either coupons or MIR.
TRIPLE – A coupon that the store triples the face value of, if the coupon policy is to triple coupons.
UPC – Universal Product Code, barcode on the product, used for MIR.
WYB – When You Buy, the wording on a coupon.
YMMV – Your Mileage May Vary. This deal worked for me; however it may not work for you.
We suggest purchasing our Savvy Saving Book as we provide a step-by-step guide on how to be successful!
If you are new or just catching up here are our most popular posts:
Crockpot Bacon Cheese Potatoes
Weight Watchers Peanut Butter Cool Whip Treat
Downy Unstoppables in my Wax Burner? Who Knew?